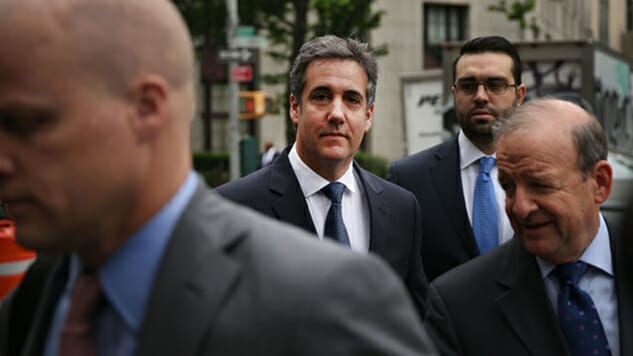 Late Sunday night, it was reported that Michael Cohen is being investigated for "well over $20 million" in potential fraud. Today, the shoe we were all expecting to drop finally dropped. Per CNN:
Michael Cohen, President Donald Trump's former personal attorney, is in talks to plead guilty to criminal charges in a deal that would bring an end to a months-long investigation that has riled the President, according to sources familiar with the matter.
The details of the plea are still being negotiated, the sources cautioned, and talks could fall apart. The US Attorney's Office for the Southern District of New York is investigating Cohen for potential bank fraud, tax fraud and campaign finance violations. If talks fall apart, federal prosecutors are expected to indict Cohen.
CNN went on to detail that Cohen is not expected to cooperate with the federal government as part of his plea deal.
As part of the plea deal under discussion, Cohen is not expected to cooperate with the government, one source said. However, by pleading guilty both Cohen and prosecutors would avoid the spectacle and uncertainty of a trial.
This means that Cohen either didn't want to cooperate with federal prosecutors, or didn't have the goods to get them interested in reducing his sentence. Regardless, this is still bad news for Trump, as we will soon be able to say "the president's former fixer, who pleaded guilty to crime(s)," which will logically beg a follow-up question: is Trump implicated in any of his fixer's admitted (or unadmitted) crime(s)? Cohen has a court hearing at 4 pm EST today, and we will undoubtedly have more information tomorrow on the details of the president's fixer's expected guilty plea.
UPDATE: Fox News' Chief White House correspondent is reporting that Cohen's plea includes 3 to 5 years in prison. What that means is anyone's guess, because that not insignificant amount of time makes it clear that there's a whole lot that we don't know about this whole ordeal. In other news, Donald Trump has a campaign event in Charleston, West Virginia tonight at 7 EST. I wonder what he'll talk about.
UPDATE #2: In court, Cohen said that he was pleading guilty on counts "in coordination with and at the direction of a candidate for federal office." Holy cow.
Jacob Weindling is a staff writer for Paste politics. Follow him on Twitter at @Jakeweindling.