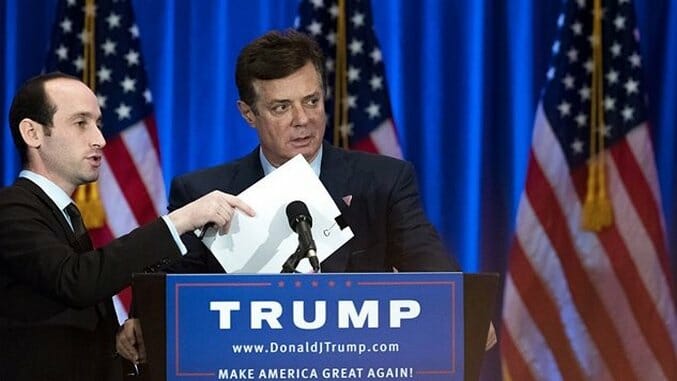 On July 25th, Paul Manafort spoke to the staff of the Senate Intelligence Committee, and the next day, the FBI executed a search warrant and raided his home for "documents and other materials" according to The Washington Post. Manafort's spokesman confirmed that this did occur.
Breaking: "FBI agents executed a search warrant at one of Mr. Manafort's residences." – spokesperson for Trump/s fmr. campaign chmn confirms

— Jim Sciutto (@jimsciutto) August 9, 2017
Those close to Manafort are concerned, as they told WaPo:
Manafort's allies fear that Mueller hopes to build a case against Manafort unrelated to the 2016 campaign, in hopes that the former campaign operative would provide information against others in Trump's inner circle in exchange for lessening his own legal exposure.
At this July 25th meeting with the Senate staff (or a separate one that same day with investigators on the Intelligence Committee), Paul Manafort secured a deal that ensured he wouldn't have to testify publicly about Russian meddling in the 2016 election. Manafort has been providing evidence to the committee, but the fact that they obtained a search warrant to snag more documents in his home suggests that he may not be as forthcoming as investigators would like, and reaching the high bar of obtaining a warrant for his home indicates some level of wrong-doing. Whether he broke the law is a separate question, but search warrants are difficult to get for a reason.
Back in May, The Wall Street Journal reported that Manafort's bank records from Citizens Financial Group were requested by the Justice Department. Citizens provided Manafort with a $2.7 million loan to refinance the debt on his Manhattan condominium and borrow additional cash, according to New York City real estate records. In June, the WSJ reported that the Foreign Agents Registration Act (FARA) is central to the investigations into both Paul Manafort and Michael Flynn. On June 27th, Manafort retroactively filed as a foreign agent, which in itself is an admission of some level of guilt—although to be fair, Tommy Vietor, who used to be Obama's spokesman for the National Security Council, said on this week's Pod Save America podcast that Manafort is far from the only person in D.C. who has played "fast and loose" with the FARA Act. However, five days before Manafort met with the Senate Intelligence Committee, the WSJ reported that "Special Counsel Robert Mueller is investigating possible money laundering by Paul Manafort." The progression of this storyline is not a good look for Manafort.
If you take a step back and look at the WSJ reports and combine them with the fact that the FBI obtained a search warrant to raid Manafort's home, a pretty clear pattern emerges, and a central fear takes root: that Paul Manafort may have been laundering money through his real estate for a foreign entity. Looking at that possibility in a vacuum doesn't really provide a great explanation as to what was going on, as it's hard to conjure up a reason for a man who has made millions throughout his life to suddenly begin to launder money. It seems safe to say that this is not the last time you will hear Manafort's name in the news.
There is a ton of smoke surrounding this saga and the cloud gets thicker seemingly every day. If there was no there there, then Robert Mueller would not have impaneled a grand jury—whose sole purpose is to use subpoena power along with other legal tools to compel people to testify in order to figure out what really happened. As much as Donald Trump wants to declare this a "WITCH HUNT," all evidence suggests otherwise. This saga is accelerating, and this search warrant suggests that Trump's former campaign manager is sitting squarely in the Special Counsel's crosshairs.
Jacob Weindling is a staff writer for Paste politics. Follow him on Twitter at @Jakeweindling.