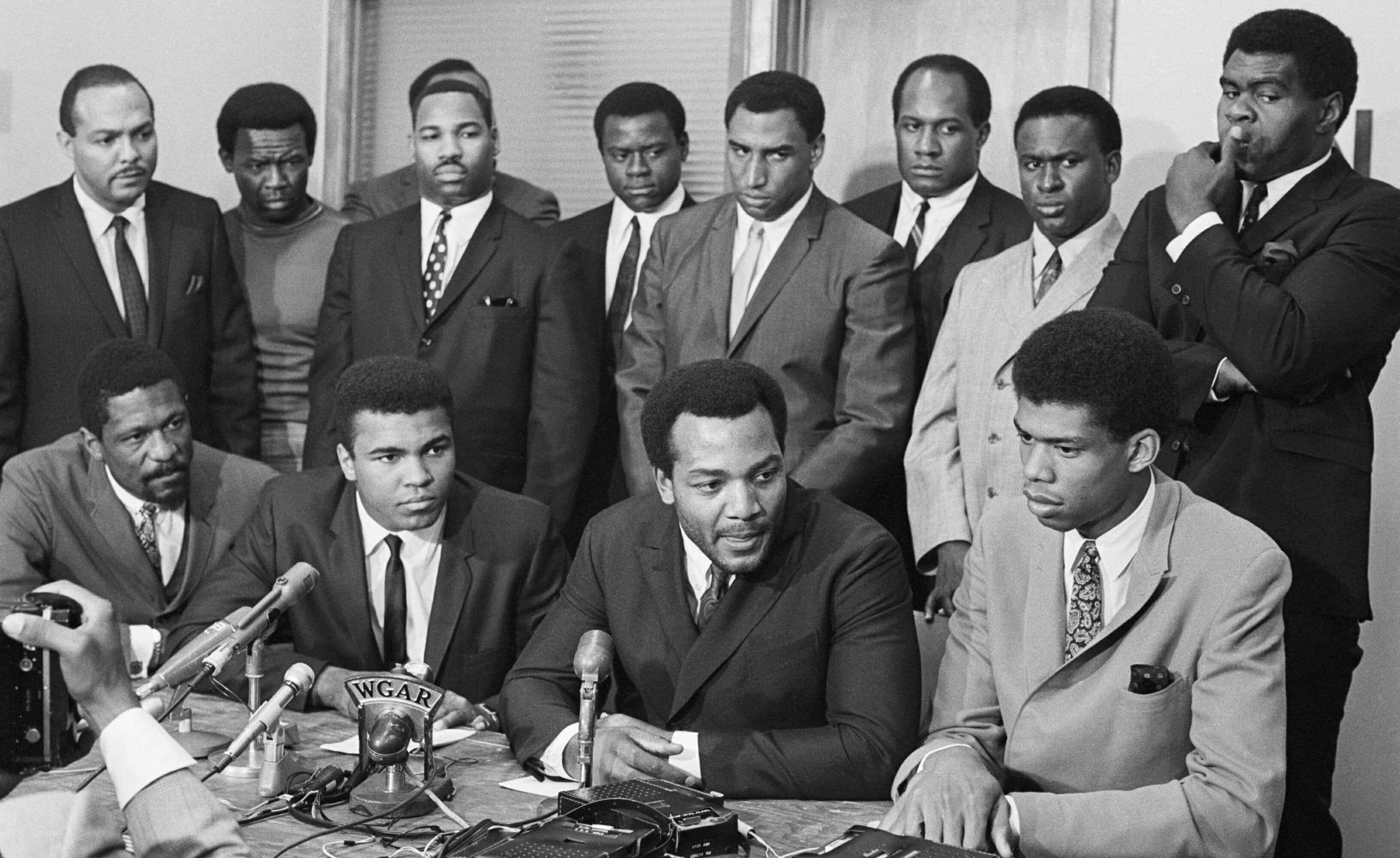 This is a tricky list, because not only does the word "most" make this an unanswerable and subjective question that I am attempting to answer (I can guarantee you that a certain stripe of conservative will hate this column), but because the nature of what is political is not always under the control of the athlete.
From Jesse Owens to Michael Sam, there have been an endless line of "political" athletes who are only political because Europe and America's white supremacist culture deems their existence so. I have left people like Owens out—whose 1936 Olympic dominance in front of Adolf Hitler is one of the most important high profile denouncements of white supremacy in the history of western culture—but who nonetheless did not intend to create nor manipulate the politicization around their very being.
Countless athletes throughout history have vociferously spoken out against America's inherent inequalities, and this list will focus on those outspoken ones. That said, a list confined by the attention span of the internet will inevitably leave some very deserving people off, and this is an attempt to cobble up a wide swath of politically activist athletes to demonstrate how U.S. soccer star Megan Rapinoe's recent high-profile spat with President Trump during the World Cup has deep roots in many other sports.
Carlos Delgado, Mahmoud Abdul-Rauf, Vince Matthews, Wayne Collett
Protesting the national anthem was not invented by Colin Kaepernick. Hell, in 1973, Madison Square Garden announced they were not going to play the national anthem at the Olympic Invitational track and field meet because "its purpose and relevance to sports events has never been established" (they quickly backtracked under immense public pressure). The anthem's forced fusion with sports has always been a source of tension, and its inherent politicization of sports (because a flag is a political symbol, after all) has provided an opportunity for many athletes to make political points that anyone paying attention to the Kaepernick saga would be familiar with.
Major League Baseball's Delgado protested the Iraq and Afghanistan Wars in 2004 by sitting during the anthem. He explained that "It's a very terrible thing that happened on September 11th. It's (also) a terrible thing that happened in Afghanistan and Iraq, … I just feel so sad for the families that lost relatives and loved ones in the war. But I think it's the stupidest war ever." Delgado was subsequently traded to the baseball purgatory known as the New York Mets where he was booed by New York Yankee fans for the rest of his career.
In 1996, Abdul-Rauf sat for the national anthem because he said the flag was a symbol of oppression and conflicted with his Islamic beliefs. After being suspended for a game, he and NBA commissioner David Stern worked out a compromise where Rauf would bow his head, close his eyes and recite a Muslim prayer during the national anthem. Despite being a terrific three point shooter and setting the single season record for free throw percentage in 1994, he was let go by the Denver Nuggets after the 1996 season, and he only played one more full season in the pros before being out of the league entirely before he turned 30.
Track athletes Matthews and Collett stood on the Olympic medal stand in 1972 with their backs to the American flag. They were subsequently banned from competition by the International Olympic Committee. These four men, and the countless others I have inevitably left off this list, have demonstrated immense bravery, as they lost some to all of their careers over a simple, but powerful patriotic protest that cuts at the heart of what this country is all about, in ways both good and bad.
Colin Kaepernick
Speaking of Colin Kaepernick, he has become a lightning rod in American culture, and we have forgotten how good he really was and what he lost by speaking out against oppression. Kaepernick was one play away from winning a Super Bowl, and a tip by the league's best corner away from making it to a second Super Bowl. He set the single game playoff rushing record for a quarterback against the Green Bay Packers in one of the most electrifying individual performances any of us have ever seen. At his peak, Colin Kaepernick was perhaps the number one asset in the NFL. He wasn't the same great player when he staged this protest, but he was still a starting caliber-QB in the NFL, even in his last season in 2017, when he finished only behind Tom Brady in touchdown to interception ratio. Given that you can count the number of legitimately good NFL quarterbacks on two hands and maybe half a foot, it is preposterous that this man does not have a job, and his continued unemployment from a QB-needy league proves that the fights of the Civil Rights era are still ongoing to this very day.
Megan Rapinoe
Rapinoe did not begin her activism at this last World Cup. She was the first white pro athlete to take a knee in solidarity with Kaepernick. Given how little investment America makes in women's sports and how disposable we set their leagues up to be, taking a stand like that with very little to gain and everything to lose is incredibly brave. Now she's a cultural icon, in large part because she has been on the right side of history for so long, and she has been unapologetic in support of her moral vision. The world would be a much better place if we had more Megan Rapinoes.
Martina Navratilova
Navratilova is one of the greatest tennis players of all time. She won 18 Grand Slam titles—with six of them coming an astonishing six years in a row at Wimbledon. From 1982 to 1986, she won an unfathomable 96.8% of her singles matches. Not only is that one of the greatest athletic accomplishments of all time for any gendered athlete in any sport, but it came on the heels of 25 year old Navratilova coming out as bisexual to 1981 America (because this was 1981 America, her partner asserted that while Navritalova was bisexual, she was straight—but at a later, more tolerant time, Navratilova clarified that she identifies herself as a lesbian). She was the first (and only?) superstar to come out while she still was a superstar—a massive political statement of its own given the industries and financial interests that always spring up around sports superstars—and that's before you get to the lifetime of activism she has devoted to advocating on behalf of gay rights.
Arthur Ashe
Arthur Ashe is the only black man to ever win the singles title at Wimbledon, the U.S. Open and the Australian Open. He won his first ever singles title in the 1968 U.S. Open—the year Martin Luther King Jr. was assassinated. Like many people on and off this list, Ashe did not set out to be a "hero," nor did he welcome the weight it heaped upon him. Like Tiger Woods, his mere existence in this country club sport politicized his very being, and it took him years after winning that famed tournament to become, unlike Tiger, the Civil Rights activist he is celebrated as today. Ashe even went as far as getting arrested for protesting apartheid at the South African embassy in 1985, and he also championed AIDS awareness in the 1980s up until it claimed his life in 1993—he contracted the disease from a blood transfusion he received during heart bypass surgery in the 1980s. Ashe was posthumously awarded the Presidential Medal of Freedom in 1993, and is widely revered as one of the classiest, most humble humans to ever step on to an athletic field.
Billie Jean King
Billie Jean King was the number one tennis player in the world, winning 39 Grand Slam titles, but thanks to one TV event, an entire generation is far more familiar with one victory of hers that didn't count in the world rankings. Bobby Riggs, a 55 year old former top tennis pro, said that the women's game was inferior and even at his age, he could beat a current female pro (this is an extraordinary charge because tennis is a young man's game—players often retire before they hit 30, so 55 may as well be at death's door on this sport's distorted timeline).
In 1973, an estimated 90 million people around the world tuned in to ABC's Battle of the Sexes and watched King sweep Riggs in straight sets, proving how ridiculous his assertion truly was. At the time, it was a revelation. This particular event is a cultural milestone for women's sports—as they gained athletic legitimacy in the eyes of a generation overnight—and King followed that up with a lifetime of activism fighting for equality on behalf of women in sports and all walks of life.
Babe Didrikson Zaharias
I said I was not going to put any athlete whose main contribution was that their very existence was political on this list, but I am making an exception so I can remind everyone about America's forgotten sports superduperstar. Babe Didrikson Zaharias was an all-American basketball player, won two gold medals in track and field at the 1932 Summer Olympics, and is one of our greatest golfers—winning a mind-blowing 14 tournaments in a row at one point. She was the first woman to ever play against the men in the stodgy PGA Tour, and she also excelled at baseball, softball and tennis. Given the distorted split Americans still have today of the supposed athletic difference between men and women's sports, Babe Didrikson Zaharias' domination in multiple sports could not help but double as an emphatic political statement that forcibly advanced the national conversation around what women can do—the same statement the U.S. Women's Soccer team made at this past World Cup: sports are great because of their celebration of humanity—women are human—therefore women's sports can be great because of their celebration of humanity. Duh.
Jackie Robinson
A big reason why "stick to sports" is such an inherently political statement is because sports are one of the few public spaces left in America, and they are where the American state's crimes become undeniable. Politics is where we lie to ourselves. Sports are set up to be a meritocracy, and Americans love the story of an underdog. When a real-life underdog escapes out from under the boot of state-sanctioned bigotry and succeeds on the field, we turn their life into a sepia-toned SportsCenter puff piece about overcoming adversity. The reality is that the horrors America has imposed upon black Americans create these real-life underdogs, and athletes like Jackie Robinson become something more to the sport solely because of the uniquely American evil they have no choice but to fight back against or surrender to.
Everyone knows Jackie Robinson for breaking down the color barrier in Major League Baseball in 1947, but he was so much more than that. After becoming the first UCLA athlete ever to earn varsity letters in four sports (baseball, football, track, basketball), he was drafted into the U.S. Army. Five years before he would become MLB's first black player (since the 1880s, when many black players were initially welcomed into the young league), he fought to desegregate the Officer Candidate School in the Army. While his application was suspiciously delayed, he received the help of heavyweight boxing champion Joe Louis to get his application finalized, and Robinson was eventually commissioned as a second lieutenant in 1943.
Bill Russell
Russell is one of the most outspoken leaders the sports world has ever seen. If you have watched an NBA Finals this decade, you have seen titans of the sport like LeBron James and Steph Curry inevitably pass by an old black man with glasses and a bushy white goatee, and stop everything they're doing to pay their respects. That man—whom the Finals MVP is named after—is a walking monument to the morality and social activism embedded in the NBA's DNA, largely because he helped create that DNA as much as anyone in the league's history. Not only was Russell one of his generation's foremost civil rights leaders in the entire sports landscape, but he was a major hero to the labor fight in America. The 1964 NBA All-Star Game is probably the most consequential all-star game in American sports history, as Russell led the players in threatening to strike and not play the game unless the owners recognized their union. Being the first televised All-Star Game, the owners caved, the game was played, and Russell helped usher in the era of player movement and free agency that we experience today.
LeBron James
It is difficult to properly compare the modern athletes on this list with the titans from the Civil Rights era, but LeBron is probably as close as our current era gets to a Bill Russell type (a superduperstar working for political change at the peak of his powers). After one of America's school shootings, and an infant was killed in Cleveland the same weekend, James called for stricter gun control. He has spoken out against systemic racism after every single high profile police killing, and has enlisted teammates in his cause, like when LeBron's Miami Heat, probably the most famous team in America at that point, took this picture after Trayvon Martin was shot and killed by George Zimmerman.
#WeAreTrayvonMartin#Hoodies#Stereotyped#WeWantJusticehttp://t.co/tH6baAVo

— LeBron James (@KingJames) March 23, 2012
LeBron has also openly feuded with President Trump, and even opened up a school back in his hometown. You wouldn't think of the latter being a political act, but infrastructure is inherently political. It cannot exist without understanding the political process or having a vision. LeBron clearly possesses both, and it is going to be fascinating watching him become more and more political the further he gets away from his basketball prime.
Craig Hodges
You probably don't know who Craig Hodges is, because the NBA did everything within their power to erase him from Michael Jordan's 1990s Chicago Bulls as quickly as possible. Hodges came into the league in 1982, and carved out a twelve year career, becoming one of the better shooters in a sport entirely dependent on shooting a ball into a hoop. Hodges played on Jordan's first two title teams, shooting 94% and 96% from the line both years (the all time career record free throw holder is Steve Nash at 90%), and Hodges never played in the NBA again. Why?
The same fate which befell Kaepernick hit Hodges a quarter-century prior. Hodges tried to organize a boycott of Game 1 of the NBA Finals over the lack of black owners and executives, and after the Bulls won the title, Hodges went to the White House in a dashiki, and delivered an eight-page letter to George H.W. Bush outlining discrimination and asking the administration to do more for black communities. Hodges recently said of this political statement that effectively ended his career, "The choice that I made was: I wanted to be on the right side of history. When people are oppressed, somebody has to stand up."
Los Angeles Sparks
There is a ton of activism in the WBNA. I could have included a lot more examples of brave women risking their careers in a highly entertaining league our national discourse somehow still deems to be disposable, but I will stick with perhaps the most high profile and daring move—one that would rock the sports world to its very core if the same thing happened in the NBA. During the entire 2017 WNBA Finals, the Los Angeles Sparks did not come out for the national anthem.
The LA Sparks stayed in the locker room for the national anthem of Game 2. pic.twitter.com/GskV27Vq3y

— SB Nation NBA (@SBNationNBA) September 27, 2017
Like all protests of the national anthem in history, this was about the bigoted injustices embedded in America, and how that flag will remain a hypocritical symbol until those wrongs are righted.
Jim Brown
Brown may be the greatest football player of all time, and while he trampled over the NFL, he spent much of his time investing in the black communities left behind by America. A few years after being the number one overall pick, he joined Muhammad Ali, Kareem Abdul-Jabbar and Bill Russell at the famous "Cleveland Summit" to found the Black Economic Union that invested in black entrepreneurs (the title photo of this piece). He was one of the first athletes to vociferously speak out during the Civil Rights era, and his legacy on that front is widely celebrated. What is less-known is his long history of violence against women and the institutions that protected Brown from any culpability for his crimes, and it is why the great sportswriter Howard Bryant said that Brown "is heroic, but he's no hero. And I think that's the best way to look at his life."
Kareem Abdul-Jabbar
One of my favorite tirades to go on is how underrated Kareem is in all aspects of his life. He played 20 years in the NBA (making 19 All-Star teams)—which is astonishing in a sport that is specifically deisgned to grind seven-footers into dust—retiring as the all-time leader in points, games and minutes played, made field goals, blocked shots, defensive rebounds and career wins. As Lew Alcindor, he won 71 consecutive games in high school, then won three straight national titles at UCLA before dominating the NBA for his first four seasons. In 1973, after all this dominance, he converted to Islam and changed his name to Kareem Abdul-Jabbar. Imagine if Kevin Durant had done this in 2013. Fox News would still be going dizzy over it.
It's astonishing how often Kareem gets left out of greatest player ever conversations—as well as greatest sports activist ever—especially since he was heavily involved in his activism during the peak of his powers (which is to say, his entire freaking career). Kareem's countless achievements and insights deserve their own column, and you can still find his sage wisdom in outlets like Time, Jacobin and the TV show Veronica Mars (yes, really).
John Carlos and Tommie Smith
There is nothing I can say that will be more eloquent or informative than this iconic image provided by the two Olympic medalists during the 1968 Olymipcs.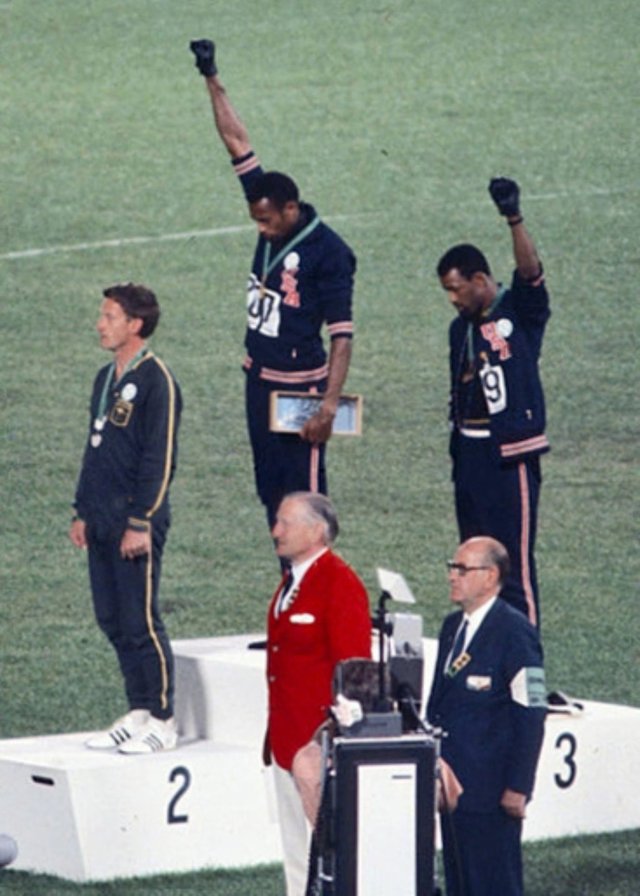 Like many others on and off this list, this moral stand on the Olympic medal stand effectively ended not just their careers, but also the career of the white silver medalist who stood with them on that podium, Peter Norman.
Pat Tillman
No one on this list has had their life more distorted by the American propaganda complex more than the former NFL free safety killed in action in Afghanistan in 2004. In an overwhelming act of patriotism, months after the September 11th attacks, Tillman turned down a three year $3.6 million contract from the Arizona Cardinals to enlist in the Army. An investigation by the U.S. Army Criminal Investigation Command found that he was killed by friendly fire, but that vital complexity in this brave man's story was papered over in favor of jingoistic nationalism, and conservatives have not hesitated to place the (white) Tillman against the (black) Kaepernick to prove…something. Tillman was far, far more complex than conservative media even has the capacity to understand, as he was scheduled to meet with famous anti-war activist Noam Chomsky had he returned from war, and even said the 2003 invasion of Iraq was "all bullshit."
Muhammad Ali
Imagine if Colin Kaepernick had made good on his ultimate potential and became the best quarterback in the NFL, turned into a cultural force in broader American society, converted to Islam, changed his name, and then protested and got blackballed out of the sport. Imagine the furour around a recent Super Bowl champion QB in his prime not being signed by teams who supposedly want to win championships. That gives you an idea of how important The Greatest of All Time's fight with the federal government was to American culture in an era where boxing dominated both the national conversation and imagination.
In 1965, only 24% of Americans thought the Vietnam War was a mistake. By 1968, a majority, 46%, believed it to be a mistake and in 1970, the War had Trump-like approval numbers with 57% saying it was a mistake.
In 1966, Muhammad Ali, formerly Cassius Clay, refused to be conscripted into the armed forces, and was subsequently denied a boxing license in every single state and stripped of his passport, effectively ending his boxing career. From March 1967 to October 1970—Ali's athletic prime at ages 25 through 29—perhaps the most famous fighter in the world did not fight. Ali spent most of this time traveling the country rallying support against the war and for racial justice.
It's not that Ali is responsible for turning public opinion against Vietnam—as this was also the bloodiest period of the war that saw a Democratic President abandon his post at the top of the party due to its destabilizing unpopularity—but Ali became a major symbol at home for it, and he put the most charismatic face in sports history on a righteous cause. Ali was robbed of his athletic prime, and he responded with a campaign connecting the oppression in America to Vietnam in a way that helped inspire a political movement that still reverberates into new generations today, as exemplified by this strikingly poignant excerpt from a March 1967 speech he gave in Louisville. This is a perfect quote to end on.
"Why should they ask me to put on a uniform and go 10,000 miles from home and drop bombs and bullets on brown people in Vietnam while so-called Negro people in Louisville are treated like dogs and denied simple human rights?"
"No, I am not going 10,000 miles to help murder kill and burn other people to simply help continue the domination of white slavemasters over dark people the world over. This is the day and age when such evil injustice must come to an end. I have been warned that to take such a stand would put my prestige in jeopardy and could cause me to lose millions of dollars which should accrue to me as the champion."
"But I have said it once and I will say it again. The real enemy of my people is right here. I will not disgrace my religion, my people or myself by becoming a tool to enslave those who are fighting for their own justice, freedom and equality…"
"If I thought the war was going to bring freedom and equality to 22 million of my people they wouldn't have to draft me, I'd join tomorrow. But I either have to obey the laws of the land or the laws of Allah. I have nothing to lose by standing up for my beliefs. So I'll go to jail. We've been in jail for four hundred years."
Jacob Weindling is a writer for Paste politics. Follow him on Twitter at @Jakeweindling.