Didier Drogba Is Joining A USL Team In Phoenix– As A Player AND An Owner
Photo by Vaughn Ridley/Getty
Soccer
News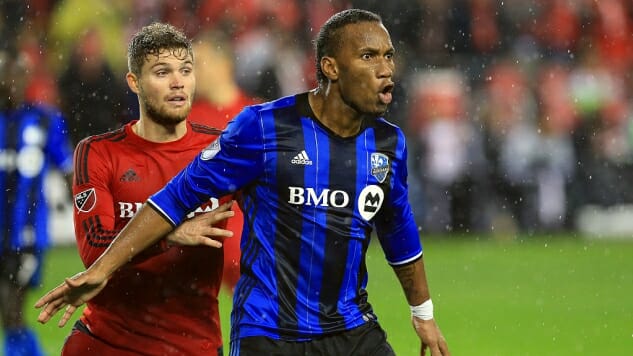 When Didier Drogba came to Major League Soccer two years ago, it caused something of a minor scandal. By the league's arcane and inscrutable player acquisition rules, the Chicago Fire had dibs on Drogba, and by all accounts the club really wanted him, both for his star power and because the team was in desperate need of a proven goalscorer. But despite the Fire's supposedly air-tight claim on his MLS playing rights, Drogba ended up signing with the Montreal Impact. The city's Francophone population and culture was supposedly the main draw, but more to the point, Drogba, like Jermaine Jones the year before, really just didn't want to go to Chicago. The Fire ended up getting some MLS funny money for their troubles, but it ended up cementing the club's reputation as the kid who never gets picked for kickball at recess.
Drogba has since moved on from Montreal and his new gig follows the same logic. The former Chelsea striker wanted to live and work somewhere that reminded him of home, and what better place than the Paris of the Southwest, Arizona's Alouette, that world-renowned center of art and culture.
I'm referring, of course, to Phoenix.
Phoenix Rising FC, formerly Arizona United, is a USL club founded just three years ago. Though the club be small, as is their 6000-ish capacity stadium in Tempe, their aspirations are mighty. The ownership group includes such luminary figures as Diplo, LA Dodgers pitcher Brandon McCarthy, Fall Out Boy bassist Pete Wentz, and assorted individuals with money to burn.
And, as of this week, Didier Drogba.
After the 39-year-old weighed a variety of options for continuing his career— including lower league clubs in France and England, Corinthians in Brazil, and the Chinese Super League. But Drogba opted to stay in North America, joining both the ownership group of the nascent USL club and, for one season at least, the first team roster.
While he's intent on making his last season as a player— under head coach Frank Yallop, who, ironically, was the Chicago Fire manager when the club tried and failed to sign him two years ago— a successful one, Drogba isn't keeping his true role at the club secret. "They called me and asked me to be the face of the franchise," he said. "That was amazing for me."
With Drogba and the ownership group's star power (and money), Phoenix Rising are positioning themselves to win one of Major League Soccer's upcoming expansion slots. If successful, they'll be the only MLS team in the Southwest, giving them a huge opportunity to tap into a potentially very lucrative market.
Beyond that, Drogba is framing this move as a way to figure out what life post-football will look like. He said that while he could never extricate himself from the game entirely, he still hasn't quite picked a direction to go in. In addition to his last season as a player and various owner/brand ambassador duties, Drogba plans to pursue coaching credentials in advance of a possible future move into management.
"This is a transition for me," Drogba said. "It is time to prepare for the next stage of my life, to get everything ready for the next phase."