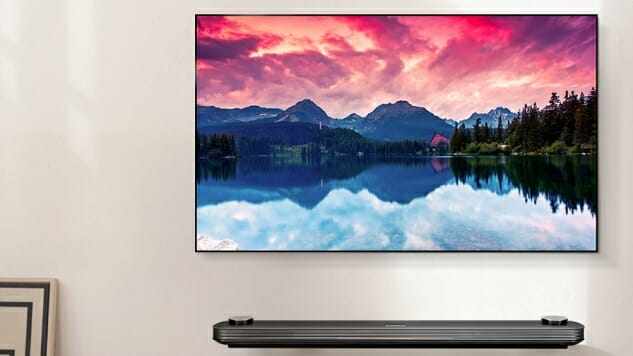 Televisions are a large part of the Consumer Electronics Show every year, and the 2017 is no different. Some of the early stars of the show are amazing new panels from LG, Sony, Samsung and even Xiaomi. In years past, 4K or OLED or HDR or Quantum dot were the buzzwords associated with TV technology, but this year the focus is less on the incredible picture and more on the form factor.
Led by LG's Signature 4K OLED W series TVs, which are just 2.57-millimeters thick, the TVs making noise at CES all deliver impressive designs that take the traditional flat-panel look and elevate it to something akin to art. They are beautiful, but you could easily argue the beauty comes at the sake of user friendliness. The idea of form overtaking function is one that's been much discussed recently thanks, in large part, to Apple's biggest 2016 releases, the iPhone 7 and new Macbook Pros. Last month, veteran tech critic Walt Mossberg argued the whole industry has allowed design to take the lead too aggressively, giving us products that may be beautiful, but don't work as well for consumers.
The latest crop of stunning screens is no different. LG's new W series, Sony's A1E Bravia, Samsung's QLED panels and Xiaomi's Mi TV 4 all offer great design, but lack either a simple and intuitive way to connect peripherals, making it more of a chore to fit them into your life, or a traditional audio setup or both.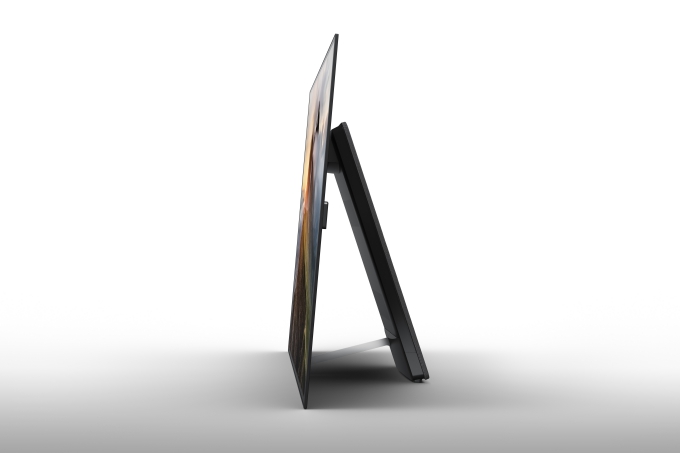 But that's okay, in fact I like that these companies are prioritizing design over function.
Apple is pushing the industry too far, too fast by only including USB-C in the latest Macbooks and removing the headphone jack from the iPhone. There's very little tangible evidence either of those moves needed to be made by Cupertino, despite what Phil Schiller says. The one obvious advantage is that it improves the look of the device. The story is different with televisions, however.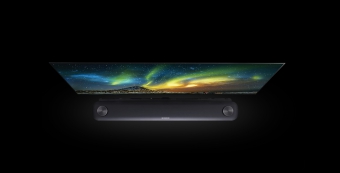 The separation comes primarily from the device's intended use. Unlike a phone or laptop, a television is something you generally set up once and never touch again. If you happen to move a lot, or are constantly changing your home theater setup, a TV that complicates the ease with which you can do so would be troublesome, but for the majority of consumers, the TV in their living room is not a gadget they'll fiddle with often. It's meant to be looked at, not handled, meaning it can get away with sacrificing some of the user facing aspects.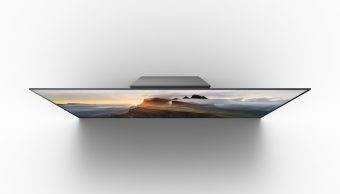 Of course, there is a limit. The two most spectacular designs from CES are the aforementioned flagships from Sony and LG. Both are gorgeous, but with drawbacks. The W series requires users to mount the panel on a wall because of how thin it is, meaning anyone without adequate wall space is immediately thrown under the bus. LG has gone so far in service of great design that it has forced users not only to mount the TV, but also use the included Dolby Atmos sound bar for all of the input and output. On the other hand, the Sony design is a little odd and not totally practical with its "stand-less" design, but it doesn't pigeonhole users quite as aggressively. Yet, the A1E Bravia does use an unconventional sound concept, one the company calls Acoustic Surface technology.
Sony said in a statement the "entire screen resonates with rich sound emanating directly from the screen itself." How that plays out in terms of quality remains to be seen, which could mean that LG has the right idea in packaging a sound bar to give customers the most bang for their buck. But if I'm throwing down several thousands dollars on an OLED 4K TV, I'd rather pick the soundbar myself, and adding in a sound bar is less of a hassle than building a new wall. In truth, while the designs making headlines at CES are stunning, CES is a platform for stunning gadgets that aren't exactly practical. Most of the TVs mentioned above are the respective best-of-the-best of each company, meaning the highest quality and most expensive option each offer. The average user will not shell out the dough needed to pick up a A1E Bravia, which has yet to be priced, or a W series, which is rumored to run customers around $10,000. Thus, LG can afford to have the W series straddle the line between incredible and ridiculous because it doesn't expect to sell many. Instead, consumers will likely stick around the KS8500, which I reviewed this summer and can be snagged for less than $2,000. But even panels in that price range are getting slimmer and more beautiful each year, and the KS8500 itself sacrificed function for beauty.
One of my main gripes was the panel didn't have any I/O. Instead, the company included a separate, small black box containing all the port connections you'd want. Initially, it threw me, but in the month I spent with the television, I grew to not care about that little box because I hardly ever had to interact with it and the tradeoff was an impeccable display that had near non-existent bezels. If removing all the ports from the rear of the television is what was needed to achieve the design, by the end of my time with the KS8500, I was more than willing to make that sacrifice many times over. That's how I see these new TVs, as well. They aren't subjecting us to #donglelife the way Apple is, but instead pushing the limits of design in ways that will force sacrifices that are livable.
The trick for manufacturers is to not lose sight of the fact that televisions are still gadgets. Apple has strayed too far into the belief that its products are more than tools, but also pieces of art. Sony, LG, Samsung and all the others making beautiful panels need to keep pushing to make them more beautiful, while understanding at the end of the day they are a tool, and tools are meant to be used, even if their purpose is to simply be looked at.