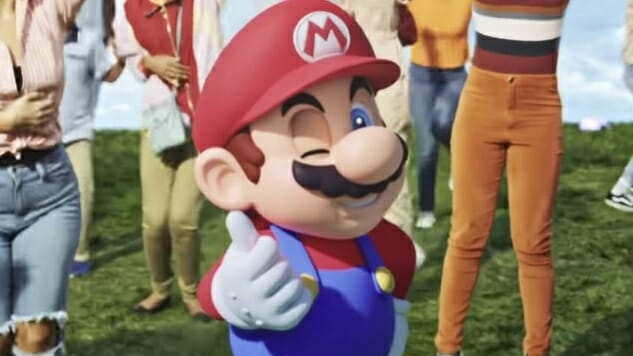 We're only a few months away from the opening of Super Nintendo World at Universal Studios Japan, and we're finally starting to get some concrete information about the whole thing. Universal and Nintendo announced their theme park partnership almost five years ago, all the way back in 2015 (or, as I like to call it, earlier this morning), and the first of at least four expansions planned for around the world will be open later this summer in Osaka. It's only right that Japan gets first dibs on what is essentially a Mario theme park—despite his stereotypical Italian accent that little plumber is as Japanese as the Japanese green pheasant. (That's the national bird of Japan. Yes, I had to use Wikipedia.)
Although we've known for a while where the various Super Nintendo Worlds were going to be built, and roughly when the first one would be opening, we haven't known that much else about the project. Nintendo and Universal are starting to fill in the dots, revealing some new details earlier this week, and releasing a very fun video starring Charli XCX that's devoid of any actual footage of the new expansion or its attractions. Let's start off by sharing that video with you once again, and then getting into some of the specifics that we've learned about Super Nintendo World.
Super Nintendo World Comes to Japan First, in Summer 2020
We have no idea what day Super Nintendo World will be opening, but Universal has confirmed that it'll happen at some point this summer. We can narrow it down a little bit based on the schedule of the Olympics—the plan is to have everything up and running before the Games start in Tokyo, which happens on July 24, 2020. So we can reasonably expect the first outpost of Super Nintendo World to launch before late July at Universal Studios Japan, which, again, is in Osaka, and not Tokyo. If you plan on hitting Tokyo up during the Olympics, and want to swing by Mario's new theme park, you should know that a train from Tokyo to Osaka takes anywhere from two and a half to four hours, so plan ahead. Don't think you can just roll out of bed one morning in your Tokyo hotel and pop down to Super Nintendo World.
If you don't think you'll be in Japan anytime soon, don't worry. Universal Studios Japan's branch of Super Nintendo World is just the first of what is planned to be…
A Global Roll-out
Universal Studios has three other theme park resorts around the world, and each one of them will be getting its own version of Super Nintendo World. We don't know the timeline for any of them, or the order in which they'll be built, but Universal Studios Singapore, Universal Orlando Resort and Universal Studios Hollywood in California will all be getting their own Nintendo attractions at some point in the future. This hasn't been confirmed, but it's believed that the Orlando version could be part of Epic Universe, the third theme park that Universal has announced for its Orlando resort. That means Mario fans could be waiting a while for his American theme park debut—Universal has released no information about when Epic Universe might open, and construction hasn't begun in earnest since the park was first announced last August. Within the industry it's believed a 2024 opening of Epic Universe makes the most sense—which means Universal Studios Japan could see a potential second phase of its own Super Nintendo World open before Universal Orlando launches its first.
Also, apologies to any of our loyal Chinese readers: the upcoming Universal Beijing, which is scheduled to open in 2021, won't have its own Super Nintendo World. At least not at launch, and there are no announced plans to open one there. Bummer.
If you're the kind of person who likes to travel around the globe, hitting up every possible version of your favorite theme parks, good news. (Yes, those kinds of people exist—I'm one of them!) Although every international version of Super Nintendo World will likely have the same (or at least very similar) E-ticket ride as its highlight (more on that in a bit), there will apparently be some differences in both the attractions and the overall design of the land from park to park, according to this Eurogamer article from last September. As long as any one of these places lets me high five a Lakitu, I'm good.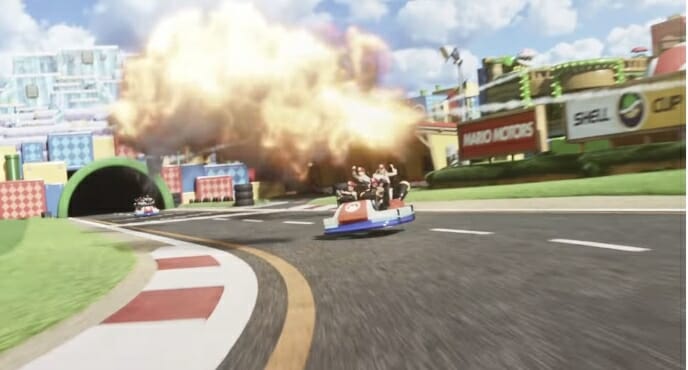 Speaking of Rides…
Japan's Super Nintendo World is believed to launch with two attractions. One will be a major new E-ticket (that's theme park speak for "big honkin' deal"—the kind you'll wait hours in line for without feeling like you've wasted your time) based on the Mario Kart games; if you closely watch that Charli XCX video above, you'll briefly see a family riding in what looks like a real-life Mario Kart. Expect something fast-paced and thrilling, and that tries to replicate the feel of the game (although hopefully without blue turtle shells randomly blasting you into trash). The second ride will be a slower, more sedate, but potentially even more charming Yoshi ride that takes you on a scenic journey throughout the Mushroom Kingdom, with guest appearances from a variety of Mario characters. It will supposedly run on a system similar to Disney's Omnimovers—think the Haunted Mansion—and might have some kind of interactive elements.
Universal itself hasn't released much information about these attractions, but the site Orlando Park Stop has compiled a variety of leaks and rumors. Paste can not verify the accuracy of these whatsoever, but I won't lie: this is the kind of conjecture I actively enjoy engaging in. According to Orlando Park Stop's analysis of various leaks and rumors, the Mario Kart ride will have two side-by-side tracks to simulate a race. You'll roar down tracks from the games (Park Stop specifically mentions Rainbow Road), with other cars (some potentially holding other guests, some potentially holding characters from the games) alongside you. The ride supposedly won't be trackless, but will use a version of the bus bar ride system that has been common in dark rides for decades, and will make heavy use of practical effects and actual physical sets instead of digital projections. It also might use augmented reality headsets to add in other elements from the videogames, like the items you can use against other racers. Again, these are all rumors and leaks, so take 'em with a grain of whatever Bowser uses for salt.
Park Stop also has some similarly unverifiable information about the Yoshi ride. It sounds like a relatively short trip on the back of a Yoshi, with only a handful of scenes, although one that is apparently "epic" in scale. Based on concept art and leaked images, it looks like it'll have both an upper and lower level, with scenes that are both outdoors and indoors. Yes, this makes it sound a bit like the Alice in Wonderland dark ride at Disneyland, but with an entirely different set of whimsical plant- and animal-based characters. As a big fan of classic Fantasyland rides, and somebody who loves theming and aesthetic at least as much as thrills, this ride excites me as much as Mario Kart does.
Again, there should be some differences in attractions between the different Universal parks. In fact, it's believed that Universal Hollywood is currently only scheduled to get the Mario Kart ride, due to the lack of space at that smaller theme park. There are rumors of a third ride, something involving mine carts based around Donkey Kong, that could come to some or all of the Super Nintendo World locations, but if that does happen it would be a part of second phase development. For now Mario Kart is the only ride that Universal has confirmed, and there's enough information out there about the Yoshi ride that it's all but certain to exist..
There'll be more ways to interact with Super Nintendo World than rides, though, and I'm not talking about hugging an employee in a Koopa suit.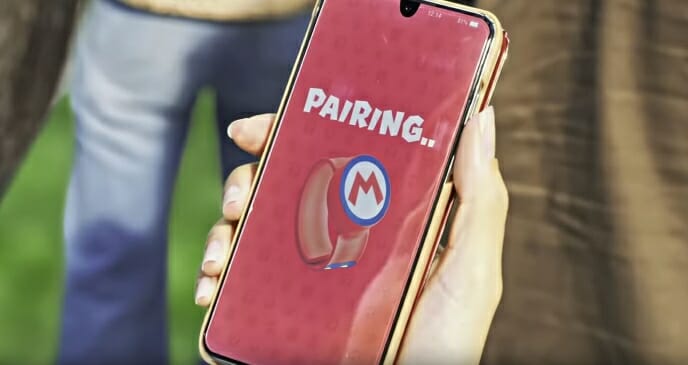 Power Up Bands Will Link Up to the Universal Studios App and Let Guests Collect Items and Compete Against Each Other
Ever since The Wizarding World of Harry Potter launched with those dang wands, theme park designers have been trying to work in fun new ways for guests to interact with their surroundings. Disney's taken a stab at it with Magic Bands and the Datapad app for Star Wars: Galaxy's Edge, and now Super Nintendo World will have its own cool little gimmick to add an extra bit of immersion. As Attractions Magazine reported last September, Super Nintendo World visitors will be able to wear a wristband that will somehow keep track of your actions and performance throughout the land, storing your "score" and letting you collect coins or other items. The bands will also, in the words of Universal Parks & Resorts CEO Tom Williams, connect to "your game console so you can build on it and come back again."
Earlier this week Universal officially gave these bands a name. The Power Up Band is an optional purchase that interfaces with an app to turn Super Nintendo World into a giant, living videogame. As Thierry Coup, the Senior Vice President and Chief Creative Officer for Universal Creative said in that press release, the Power Up Band "will connect guests with dozens of iconic Nintendo items throughout the land in a truly seamless and innovative way—and the app will keep track of their adventures and any coins, stamps or other iconic elements they earn along the way."
Does that mean guests will be able to collect coins by jumping and "punching" question blocks throughout the park? There are shots of people doing that in the video above, but there are also shots of large groups of people randomly breaking into a heavily choreographed dance in the middle of a CGI theme park, so we maybe shouldn't put too much credence into everything in that video. There's also this video on Twitter, though, from Bloomberg's QuickTake, that confirms that there will, indeed, be physical question blocks that will reward guests with items when they "punch" them.
This "Power Up Band" lets visitors collect coins and battle bosses while exploring the physical environment Progress will be tracked via a smartphone app #SuperNintendoWorld#???

Read more: https://t.co/YdnKPB9ssApic.twitter.com/RfYefvo3qF

— QuickTake by Bloomberg (@QuickTake) January 14, 2020
These Power Up Bands seem like an ingenious way to make guests feel even more like they're living in the world of Mario, but the price point could be an issue. Hopefully they're closer in price to Disney's Magic Bands than the wands at Harry Potter. Still, this is an exciting wrinkle to a park expansion that already has Nintendo fans like me all atwitter with anticipation.
There Could Be New Attractions Based on Other Nintendo Characters Down the Line
From the moment Super Nintendo World was first announced, there's been speculation and rumors of attractions based on The Legend of Zelda and Pokémon. This first wave is clearly just based on Mario, but Universal hasn't ruled out additional development down the line. Considering that the company split The Wizarding World of Harry Potter across two different theme parks in Orlando, it wouldn't be a surprise to see them do the same with Nintendo. Could Link and Zelda help guests fight Ganon in Universal's Islands of Adventure? Could we see some pulse-pounding thrillride based around Metroid at Universal Studios Florida? With a whole new theme park to fill out in Epic Universe, could Pokémon or Animal Crossing or, I don't know, Rusty's Real Deal Baseball wind up being opening day attractions alongside all the Mario biz? I literally have no idea. It'd be nice. That's all I'll say. Especially if they can do something with Gumshoe—I need a Mr. Stevenson meet-and-greet.
Will Toad Be Carrying a Boombox Everywhere Like He's Radio Raheem?
If not, why even bother?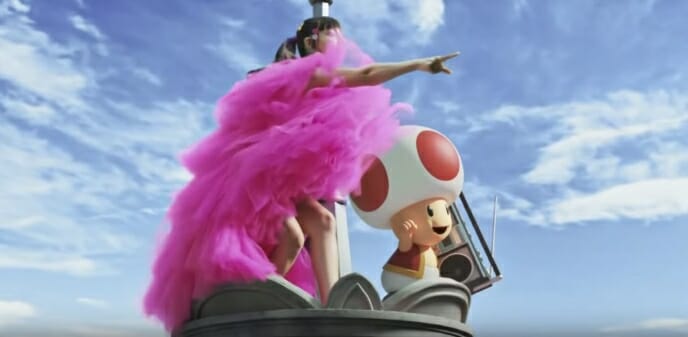 ---
Senior editor Garrett Martin writes about videogames, comedy, travel, theme parks, wrestling, and anything else that gets in his way. He's also on Twitter @grmartin.