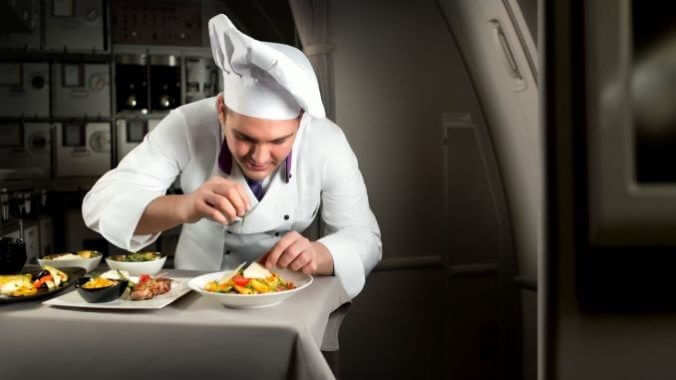 I'd barely finished sipping a glass of fresh-squeezed raspberry juice when a dark-haired man outfitted in a smart white jacket and a floppy toque leaned over the wall of my cubicle. "For you, ma'am," he said, handing me three printed menus: dinner and breakfast, snacks, and beverages. "Would you like me to suggest a wine for dinner?"
Yes, please. And also yes, please to the entire business class experience on Turkish Airlines, which celebrates its 90th anniversary this year. To mark the occasion—and the 100th anniversary of the Republic of Turkey—the airline has added several programs. 
Among them, and the biggest draw for a foodie like me, is the return of the airlines' signature Flying Chefs program. Selection criteria for Flying Chefs is rigorous, and, according to the airline, based on a "diverse set of culinary and customer-service driven skills." 
Thanks to these sky-dwelling catering virtuosos, a flight of 8 hours or longer in Turkish Airlines business class is like dining at Michelin-starred restaurant—only 30,000 feet in the clouds and at your own private table. Not only are you treated to a centuries-old tradition of Turkish hospitality, but the food is so good, and so plentiful, you might start to feel a little guilty at the extravagance of it all.
Once aboard the Airbus A350-900, I located my seat. This particular aircraft didn't have the newest seating, but my cubicle-style suite was plenty spacious and comfortable. It had dozens of bells and whistles, from the lie-flat seat to dedicated suite and reading lamps, multiple ports for electronics charging, and a mirrored storage cabinet for small items like my cell phone, Kindle, and toiletry case.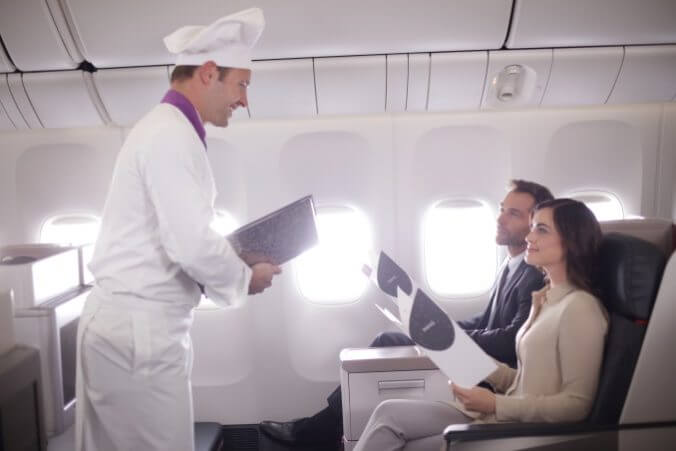 The flight went wheels-up from Boston Logan International Airport at 11:10 p.m. Meal service began about an hour after, and I was skeptical I'd be able to eat an entire meal so late. But after perusing the menu, which had three choices for appetizers, three selections for entrees, and five options for dessert, I decided to give it the old college try. 
To set the mood, a flight attendant slid a large linen placemat over my expandable tray table. Atop it, he set a cloth napkin with silverware, a bowl of warm nuts, and a tiny paper lantern with a battery-powered tealight. To one side, he arranged a ceramic tray with whipped butter, a teensy bottle of Turkish olive oil, a blend of savory herbs, and miniscule, onion-domed salt and pepper shakers. He returned a few moments later with a glass of Kavaklidere Egeo 2021 rosé, recommended by the Flying Chef to accompany my fish entrée. 
First up: a "potpourri" of traditional Turkish mezzes, such as tabbouleh and roasted eggplant. These were quickly followed by an entrée of grilled sea bass in a lemon-herb sauce, served with grilled vegetables and roasted potatoes. All were very good, but the variety of flavors among the mezzes stood out more than the main course.
The portions were generous enough that I felt full by the time a diminutive piece of pistachio-chocolate cake, smothered in chocolate sauce, arrived in front of me. I soldiered on, watching the latest Jordan Peele horror flick while savoring dessert and the last sips of wine. Once my tray was cleared and another flight attendant came by to make my "bed," I pressed the lie-flat button and settled in, happily sated.
In the morning, the Flying Chef made his rounds again. In addition to fresh-squeezed juices and smoothies, I selected from five starters and two entrees. Unlike the mushy cubes of cantaloupe or syrupy canned pears that most airlines try to pass off as fruit salad, the fruit salad on Turkish Airlines was actually fruit, and actually fresh. I was surprised to see three sides arrive alongside it: sliced cucumber and tomato with tangy Beyaz Peynir cheese, yogurt topped with a strawberry, and a slice of smoked turkey. As a tea drinker, I appreciated the handful of tea blends, for energy, digestive health, relaxation, and more.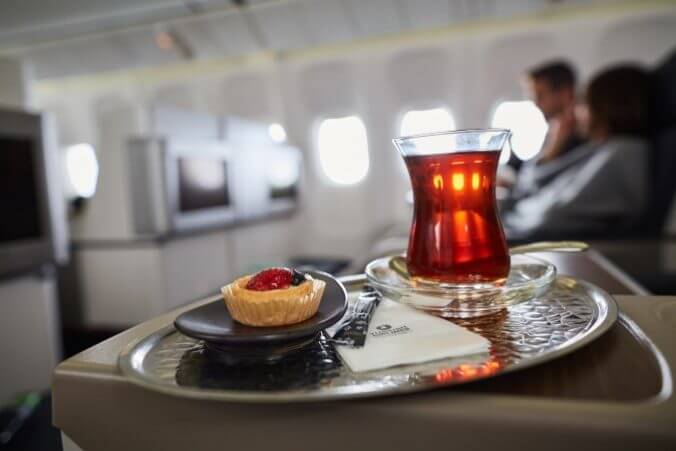 For my entrée, I chose a crepe stuffed with sauteed apples, served with raspberry and vanilla sauces. How the chef managed to make a crepe this delicate and flavorful in the tight confines of a catering galley, I'll never know. But mine is not to question. Mine is to eat, and Turkish Airlines fed me exceptionally well during my flight.
The return trip—a daytime flight with lunch and dinner service—was equally excellent, with one major improvement: during my four-hour layover at the modern and well-designed Istanbul International Airport, I kicked back in the Turkish Airlines Lounge. Near gate E1, the lounge is massive, with five main seating areas, workstations, a kids' play area, showers, glass-doored lockers for stashing your baggage, and even a kitschy player piano at the entrance. 
While it can get crowded, the lounge is comfortable and has even more options for freshly prepared food. In the middle of the main area, you can watch chefs work in a glass-enclosed kitchen, where they dish out soups, stews, and meat-based entrees. Adjacent to the kitchen, a large cold-food bar has all the components you need for salad, plus interesting side dishes like roasted celeriac and carrots, marinated beets, and hummus. 
Additional stations around the perimeter of the main room serve dishes like kebabs and Turkish ravioli. My favorite was the pide, a flatbread topped with meat, goat cheese and spinach, or goat cheese and roasted vegetables. I also sampled from the tea bar, and from the dessert stations—I counted three—which had fruit, cookies, cakes, and, of course, flaky, honey-drenched baklava. 
In addition to the return of the Flying Chefs, Turkish Airlines' anniversary programming includes a new Istanbul Stopover Service, where you can pause in the capital for up to a three-night stay. (You'll be provided with a voucher for a five-star hotel, to redeem on the website, after ticket purchase.) Or for connecting flights between six and 24 hours, you can hop on the complimentary Touristanbul service and explore the city's top historical sights and best restaurants. Business class is never a budget-conscious proposition, but when it comes with added values like these, it's well worth it.
---
Robin Catalano's writing has appeared in National Geographic, Travel + Leisure, TIME, Smithsonian, Conde Nast Traveler, AFAR, Hemispheres, Robb Report, Bon Appetit, Fodor's, ROVA, Insider, Boston Globe, Albany Times Union, and a variety of other regional publications.