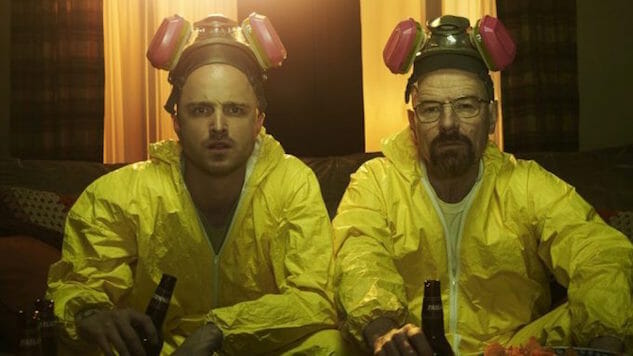 We're living in a time of cinematic universes. Maybe it's better to call them Cinematic Universes™, the result of expansive storytelling and the desire to keeping milking cash cows until they run dry. There's the Marvel Cinematic Universe and the many worlds and stories of Star Wars, the Arrowverse, and the Archieverse. But there's also the Breaking Bad-iverse, set in Vince Gilligan's New Mexico. First, it was just the story of Walter White (Bryan Cranston) and company. It leapt around in time some—even the pilot hop-scotched back and forth, beginning with those khakis flying through the air before cutting back to a pre-diagnosis, pre-R.V. Walt—but even without those leaps, it wasn't the most straightforward of timelines. So much happens so quickly. Some episodes cover a day or two, others sprawl out over weeks or months. The penultimate episode of the series shows us six months, the final episode takes three days.
But that was all before Better Call Saul, and well before the premiere of the Breaking Bad movie, El Camino. But Gilligan and his cohorts weren't interested in dragging out the story of Walter White's transformation into Heisenberg. Instead, they've chosen to dive into the lives of two of his associates. First came Better Call Saul, the story of Jimmy McGill (Bob Odenkirk) in the days before Walt and Jesse arrived in his office. El Camino brings us more Jesse Pinkman (Aaron Paul), and while Saul serves as an origin story of sorts for Jimmy/Saul (and for Jonathan Banks's Mike Ehrmantraut), El Camino is an immediate continuation of that searing Breaking Bad finale). Jesse Pinkman drives off in that car—an El Camino—and what we're about to see is what happens next.
That's about all we know. But before we climb into Pinkman's passenger seat, it's worth revisiting the events of those series and their increasingly complex chronology. This timeline was constructed using the episodes of Breaking Bad and Better Call Saul as a primary source, with help from the exhaustive Breaking Bad wiki, as well as this 2011 calendar from Vulture. It primarily focuses on characters and events that may be relevant to whatever Jesse Pinkman will be facing, so sorry to Rhea Seehorn fans, but this timeline will be light on Kim, as well as many other terrific characters from both series. It now also has updates for the movie El Camino.
Spoilers for all Breaking Bad connected series and movies are below
Early days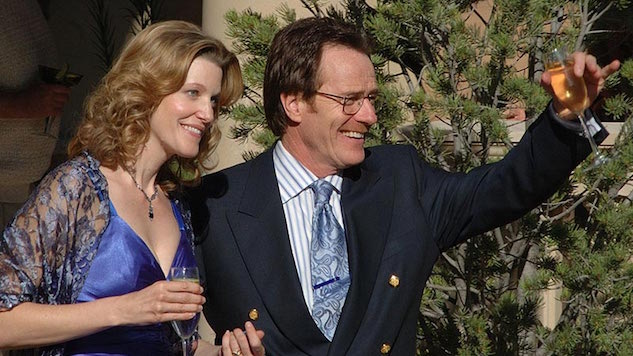 •Early to mid-1940s: Chuck McGill (Michael McKean) and Mike Ehrmantraut (Jonathan Banks) are born
•September 7, 1958: Walter White (Bryan Cranston) is born
•Late 1950s to early 1960s: Gustavo Fring (Giancarlo Esposito) and Kim Wexler (Rhea Seehorn) are born
•Early 1960s: Jimmy McGill (Bob Odenkirk) is born
•1966: Hank Schraeder (Dean Norris) is born
•February 10, 1967: Vince Gilligan is born
•1970 Skyler Lambert (Anna Gunn), later Skyler White, is born
•1971 Ignacio "Nacho" Vargo (Michael Mando) is born
•September 24, 1984: Jesse Pinkman is born
•1980s: Walter White and Elliott Schwartz found Gray Matter; Walt later accepts a $5,000 buyout, and the company goes on to make millions.
•Early 1990s: Walter White and Skyler Lambert meet, get married, and move to Albuquerque, where Walt begins teaching high school chemistry; Jimmy gets arrested and moves to Albuquerque with Chuck; Jimmy uses the alias Saul Goodman in his cons (BCS, "Marco")
•1993: Walter White, Jr. (R.J. Mitte), later Flynn White, is born; Jimmy decides to become a lawyer (BCS, "Piñata")
•Late 1990s: Jimmy passes the bar; Jimmy and Chuck's mother dies in the hospital while Jimmy is out getting food, and she calls for him before passing, but Chuck lies and tells Jimmy she said nothing ("Klick")
•November 15, 1998: Fox broadcasts an episode of The X-Files called "Drive," written by Gilligan and featuring Cranston. It led directly to Cranston's casting in Breaking Bad.
Spring—Summer 2002 (Better Call Saul, Season One)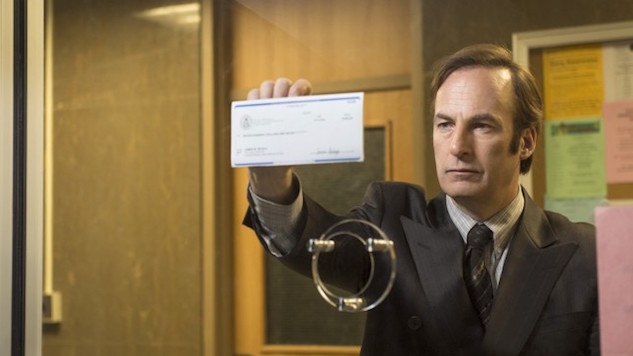 •While working as a public defender, Jimmy meets Mike Ehrmantrout, then working as a parking lot attendant ("Uno).
•Jimmy meets Tuco (Raymond Cruz) at gunpoint ("Uno") but talks his way out of danger.
•Nacho Varga, Tuco's second-in-command, hires Jimmy as legal counsel when he's picked up under suspicion of kidnapping, but Jimmy thinks the couple staged the attack. Mike tells Jimmy his theory is probably right. Jimmy finds the couple ("Nacho"), accepts a bribe in exchange for his silence, and uses the money to pull a stunt to garner some publicity ("Hero").
•Mike gets taken in for questioning about the death of his son and two other Philadelphia cops, and hires Jimmy to represent him ("Five-O"). He then gets back in the nefarious underworld business.
•Jimmy finally lands a great case and gets boxed out of it by his ailing brother Chuck ("RICO," "Pimento").
•Jimmy visits an old friend, Marco, with whom he used to pull cons. They pull their Rolex scam for old times sake, but Marco dies in the process, and Jimmy inherits his pinky ring, one Saul Goodman will be seen wearing in Breaking Bad ("Marco"). The experience pushes Jimmy back to his Slippin' Jimmy ways.
Summer—Fall 2002 (Better Call Saul, Season Two)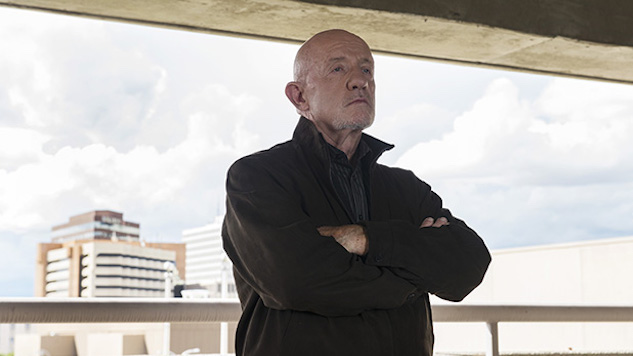 •Jimmy and Kim rekindle their romance ("Switch").
•Nacho hires Mike ("Amarillo") to kill Tuco, and Mike proposes doing so with a long-range rifle. Mike meets with Lawson (he'll be back much later) to buy a rifle but changes his mind, instead telling Nacho he has a better idea. After a meet with Krazy-8 (he'll also be back), Tuco and Nacho "run into" Mike, who flashes some money, messes up Tuco's car, and goads him into knocking him out and pulling a gun. Nacho later tells Mike that Tuco will be in prison for 5-10 years. ("Gloves Off")
•Hector Salamanca (Mark Margolis) offers to pay Mike to say the gun was his to reduce Tuco's charges, ("Rebecca"); when Mike declines ("Bali Ha'i") Hector sends The Cousins (they, too, will be back) to intimidate Mike into accepting.
•Kim and Jimmy scam a guy, this time by getting him to write a check to "Ice Station Zebra Associates." She keeps the check as a souvenir ("Bali Ha'i"). They plan to share office space as solo practitioners.
•Chuck steals Kim's biggest client, Mesa Verde, away from her. In retaliation, Jimmy changes the addresses on a bunch of paperwork for the company so that Chuck looks inept in court and Mesa Verde goes back to Kim ("Nailed").
•Chuck goes into a stress-induced coma ("Klick") and Jimmy refuses to leave him. Chuck later tricks Jimmy into confessing to set his mind at ease, since he appears to be spiraling, and records him admitting to the fraud.
•Mike buys a sniper rifle from Lawson to take out Hector, but he finds a note in his car warning him not to do it ("Klick"). (The note is from Gustavo Fring, though we don't know it yet.)
September 2002 (Better Call Saul, Season Three, Episodes 1-4)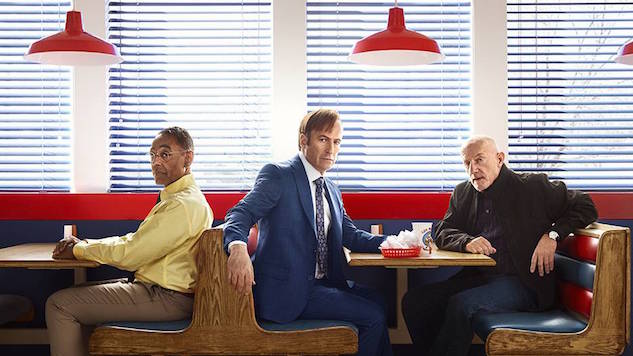 •Mike finds trackers in both of his cars, and traces them to Los Pollos Hermanos. This spurs Gus to contact Mike directly ("Witness").
•Jimmy finds out Chuck taped him and plays into his hands ("Mabel," "Witness"). He gets arrested and Kim wants to represent him but he refuses and represents himself, always a sound strategy ("Sunk Costs"). She eventually changes his mind.
•Jimmy hires Francesca Liddy, his assistant during Breaking Bad ("Witness").
Winter-Spring 2003 (Better Call Saul, Season Three, Episodes 5-10)
•Huell Babineaux (Lavell Crawford) plants a battery on Chuck during Jimmy's disbarment hearing and Chuck melts down. This happens in "Chicanery," which will probably have no bearing at all on El Camino but which you should watch immediately.
•Jimmy get suspended for one year and decides to spend that year shooting commercials for other businesses under the name Saul Goodman ("Off Brand").
•Gus and Lydia Rodarte-Quayle (Laura Fraser) look for an industrial laundry Gus can buy ("Off Brand").
•Kim expresses remorse for her part in Chuck's breakdown ("Expenses").
•Nacho plans to kill Hector by tampering with his medication. Mike convinces him to be cautious ("Expenses"). Mike asks Gus to launder money for him ("Slip") and gets "hired" by Lydia as a security consultant ("Fall").
•Jimmy "slips" on a chicken bone while filming a commercial ("Slip").
•Hector has a heart attack and his doctored pills do not act as they should ("Lantern"). Gus performs CPR and suspects Nacho.
•Chuck dies by suicide after kicking over a gas lantern ("Lantern").
Late spring 2003-end of year (Better Call Saul, Season Four, Episodes 1-6)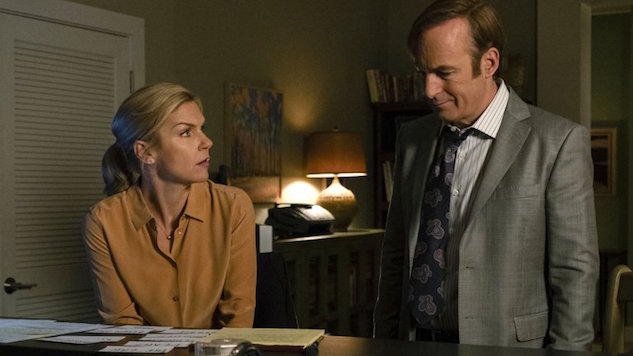 •Jimmy's reaction to Chuck's death baffles Kim ("Smoke," "Breathe").
•Mike annoys Lydia by actually doing the fake security consultant job he was hired to do ("Smoke," "Breathe").
•Gus outmaneuvers Nacho and essentially forces Nacho to work for him ("Breathe").
•Gus meets Gale Boetticher (David Costabile) ("Something Beautiful").
•Gus engineers a violent shootout that results in the growth of his territory ("Talk"), then Mike and Gus find an engineer who will convert the laundromat basement for them "Quite a Ride").
•Kim gets a new job, meaning she and Jimmy won't reform Wexler McGill ("Piñata").
•Huell gets arrested and Kim tries to keep him out of jail ("Something Stupid").
•Gus realizes Hector's health is improving and stops his treatment, resulting in the paralysis he'd have throughout BB ("Something Stupid").
Early 2004 (Better Call Saul, Season Four, Episodes 7-10)
•Kim tells Jimmy she wants to do more cons with him ("Coushatta").
•Hector gets his bell from Lalo Salamanca ("Wiedershen").
•Jimmy's suspension from the bar is extended by a year ("Wiedershen"), but successfully appeals with a moving speech about Chuck and who he wants to be; afterward, it's revealed to a disturbed Kim that it was all a ruse, a major step toward the death of Jimmy McGill and birth of Saul Goodman.
Early 2000s + 2004-2008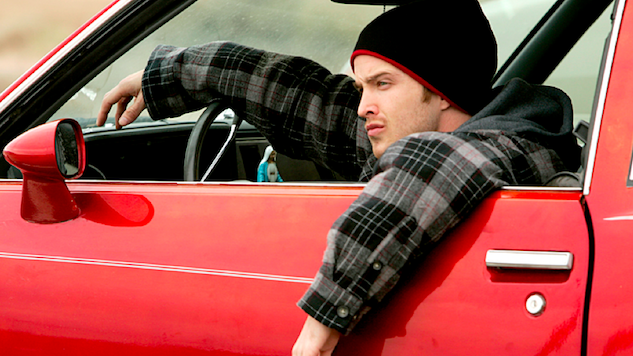 •Jesse Pinkman is a student at J. P. Wynne High School, and is one of Walter White's chemistry students—a bad one. But he does earn a high school diploma (confirmed in El Camino). He also joins the band TwaüghtHammër (BB minisode).
•Jesse gets kicked out of his parents' house and lives with his Aunt Ginny as she's dying from lung cancer.
•Skyler becomes pregnant; it is unplanned.
At this point, the timeline gets insane; all five seasons of Breaking Bad take place between 2008 and 2010.
January-October 2008 (Breaking Bad, Season One)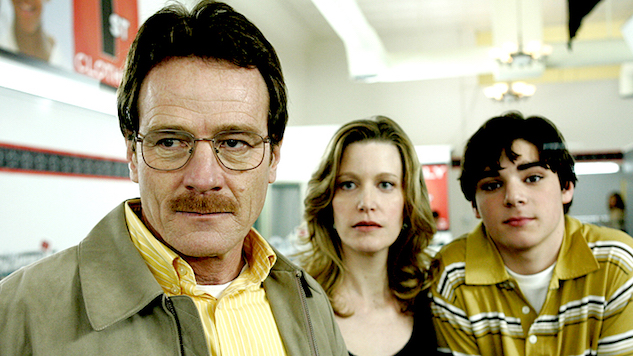 •January 20: "Pilot" airs
•September 7: Walter White turns 50 ("Pilot") and Skyler throws a surprise party.
•September 8: Walt is diagnosed with Stage-3 terminal lung cancer.
•Mid-September: Walt goes on a ride-along with Hank and sees Jesse Pinkman fleeing through a window; "You wanna cook crystal meth?"
•Mid-to-late September: "Buy the R.V., we start tomorrow"
•September 28: Walt kills Emilio and incapacitates Krazy-8 with a chemical smoke, and his pants go flying through the air. ("Pilot")
•September 29-October 1: Walt and Jesse keep Krazy-8 locked up in Jesse's basement; Jesse dissolves Emilio's body and his bathtub in acid; Walt strangles Krazy-8 with a bike lock; Skyler starts to discover Walt's lies and Walt tells her he has cancer ("The Cat's in the Bag…," "…And the Bag's in the River")
•Early October: Jesse moves home, but is forced back out when he takes the fall for his little brother after a maid finds a joint; Walt blows up a douchebag's BMW; Walt starts chemo. ("Cancer Man")
•Mid-October: Walt turns down financial help from Elliott and his family stages an intervention when he doesn't want to pursue treatments; he changes his mind and goes back to Jesse to cook. ("Gray Matter")
•Mid- to Late October: Tuco beats the crap out of Jesse; Jesse blows up Tuco's headquarters and he becomes their distributor; Walt uses the name "Heisenberg"; Hank finds a respirator from Walt's school at one of the old cook sites. ("Crazy Handful of Nothin'")
•Late October: Jesse and Walt have to make so much meth for Tuco that they pull off a heist for several barrels of methylamine; it turns the meth blue. Tuco accepts and then beats No-Doze to death. ("A No-Rough-Stuff-Type Deal")
November-December 2008 (Breaking Bad, Season Two)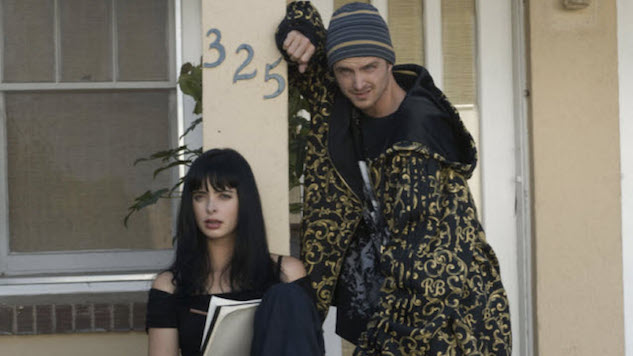 •Early November: Walt and Jesse make ricin to try to kill Tuco; Tuco kidnaps Walt and Jesse; Walt's family searches for him and Hank connects Jesse and Walt through Walt's second cell phone; Hector Salamanca (remember him?) prevents Walt and Jesse from poisoning Tuco; Hank finds them and kills Tuco in a shootout ("Seven Thirty-Seven," "Grilled")
•Mid-November: Walt fakes a fugue state and Jesse pays a woman to give him an alibi; Hank brings Jesse in for questioning and tries to get Hector to act as a witness, but he refuses in flatulent fashion ("Bit by a Dead Bee"); Jesse gets evicted by his parents; Skyler calls out Walt's lies and smokes a cigarette ("Down").
•Late November: Jesse moves in next door to Jane Margolis, using the name "Jesse Jackson"; Skinny Pete, Badger, and Combo begin selling for Jesse so he and Walt can lay low and they can "be Tuco" ("Breakage"); Skinny Pete gets jumped by two addicts and Jesse goes to get it back at Walt's urging, in an episode that's not hugely important in terms of plot but which you should definitely watch ("Peekabo").
•Early December: Skyler goes back to work; Jesse and Jane get together; Danny Trejo's decapitated head on an explosive tortoise ("Negra y Azul"); Badger gets picked up by a very convincing undercover cop and Hank and Jesse hire Saul Goodman to get him out ("Better Call Saul"). Walt pretends to fly out to see his mother, only to have Jesse pick him up outside the airport without Walt going anywhere. Walt and Jesse get stuck in a bottle episode in the desert, solve the problem with science, and long for two separate hotel rooms. ("4 Days Out").
December 2008 (El Camino)
•Jesse paces around a nice hotel room, flirting with someone on the phone. He leaves the hotel room and meets up with Walter White, coming from his own separate hotel room; it becomes obvious the person on the phone was Jane.
•The two have breakfast in a diner, the RV visible from outside the window. Walt frets about how long it will take to sell all the product they've just cooked, and Jesse assures him that his family will get all the money that's coming to them, no matter how long it takes, implying he'll help support them after Walt's death.
•At some other point in 2008—it's unclear when, though it's likely before Jane introduces Jesse to heroin, as they both seem fairly calm—Jesse and Jane drive down a long, lonesome road and talk about life and making decisions for yourself. It's a memory Jesse later thinks of with great fondness.
December 2008-February 2009 (Breaking Bad, Season Two continued)
•Early December: Jesse drops Walt at the airport, Walt finds out his tumor has shrunk by 80 percent ("4 Days Out")
•Mid-December: Walt gets his son drunk at his remission celebration ("Over"); Combo is murdered by a little boy at the behest of another gang; Jane, who is in recovery, starts using with Jesse and introduces him to heroin; Saul sets up a meeting with a mysterious fancy meth bigwig (Gus Fring) but Jesse shows up high and Gus never sits down, so Walt goes back and talks his way into a shot. ("Mandala")
•December 27: Holly White is born and Walt makes his first deal with Gus Fring ("Mandala," "Phoenix").
•Late December-late January: Walt Jr. launches SaveWalterWhite.com; Jesse tells Jane about their big score and Jane pushes Walt to give Jesse his half of the money, which he begrudgingly does; Jane's father Donald catches Jane and Jesse using and tells her she has to go to rehab the next day; Walt comes back to help Jesse, accidentally nudging Jane onto her back, and he watches and does nothing as she chokes on her own vomit ("Phoenix").
•Late January-mid-February: Saul sends Mike to clean up Jesse's place before the cops are called about Jane; Jesse breaks down; Walt brings Jesse to rehab and goes in for surgery, accidentally mentioning his second cell phone while on medication; Walt comes through surgery and Skyler asks him to leave the house; Donald Margolis makes an error in his work as a flight traffic controller, causing Wayfarer 515 to collide with a charter plane and come down over Albuquerque, killing all 167 passengers. ("ABQ")
February-April 2009 (Breaking Bad, Season Three)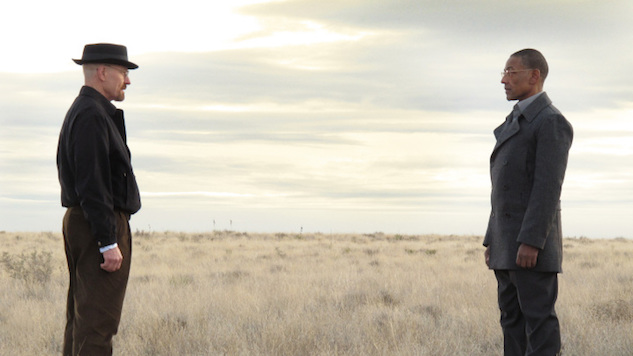 •Mid-February: Skyler asks Walt for a divorce; Walt rents an apartment; he tells her he's been producing meth; Gus tells Walt he'll give him $3 million for three months of his time and he says no ("No Más").
•Late February: Jesse has Saul buy his aunt's house from under his parents at a huge "former meth lab" discount; Walt throws a pizza on the roof; Walt moves himself back in without permission and the Cousins arrive to kill him, but Mike and Gus wave them off. ("Caballo Sin Nombre")
•Early March: "I fucked Ted." ("I.F.T."); Walt spirals about Ted, fires Saul, and refuses to connect Jesse with Gus; Saul connects Jesse with Gus and Gus comes up with a way to play the two against each other ("Green Light").
•Mid-March: Gus shows Walt the lab, and Walt eventually says yes; Walt signs the divorce papers; Hank connects Jesse to the RV ("Más"); Walt begins cooking with the Walt Whitman-loving Gale; Hank calls Walt to ask questions about Jesse, and Jesse and Walt have to fend Hank off together from inside the RV to lure Hank away in time to have it destroyed ("Sunset"); Hank beats the holy crap out of Jesse, and survives an attack by the Cousins, killing one of them ("One Minute").
•Late March: Jesse takes over for Gale in the superlab and he and Walt start cooking together again, but he also starts skimming off the top to sell on his own. Walt agrees to pay Hank's medical bills after Skyler concocts a cover story for the money. ("Kafkaesque")
•Oh, and a fly gets in the lab ("Fly").
•Early April: Jesse meets Andrea (Emily Rios) at an NA meeting. He also meets her young son Brock (Ian Posada), and learns that Andrea has a younger brother, Tomas—the kid who killed Combo—and that the dealers he worked for work for Gus. ("Abiquiú")
•Skyler meets Saul Goodman, is unimpressed, and suggests she and Walt buy the car wash for money laundering purposes, which she will run. ("Abiquiú")
•Mid-April: Jesse wants to poison the dealers who killed Combo and used Tomas with ricin-laced burgers, but Walt instead arranges for a "summit," and Gus agrees to not use kids anymore. Later, someone kills Tomas, and when Jesse goes out on his own to get revenge, Walt intervenes by hitting the dealers with his Aztec, killing one and shooting the other. ("Half Measures")
•Jesse is on the run, and Gus brings Gale back into the lab. Walt realizes Gus is going to kill them both once Gale learns Walt's recipe, and convinces Jesse to kill Gale. ("Full Measure")
April-July 2009 (Breaking Bad, Season Four)

•Mid-April: Gus kills Victor, who memorized the cook recipe, with a box cutter, and tells Walt and Jesse to get back to work ("Box Cutter").
•Late April to early May: Walt buys an illegal gun from Lawson, and tries to get Mike to help him kill Gus. It doesn't work. Jesse spirals. ("Thirty-Eight Snub"). Walt and Skyler buy the car wash, and Hank is asked to help look into Gale's murder ("Open House").
•Mid-May: Walt looks through Gale's notes with Hank, who believes Gale was Heisenberg ("Bullet Points"); Jesse accompanies Mike on his rounds and "saves the day" during an attack staged by Mike and Gus, in hopes of driving a wedge between Walt and Jesse; a drunk Walt makes Hank think Heisenberg is still alive, and Hank starts looking into Los Pollos Hermanos ("Shotgun").
•A bunch of cartel things happen; Jesse gets closer to Mike; "I am the one who knocks!" ("Cornered")
•Late May-early June: Walt manipulates Jesse and asks that Jesse to be the one to kill Gus; Walt makes ricin that Jesse hides in a cigarette; Jesse talks about a "problem dog" in a speech worth revisiting before El Camino. ("Problem Dog")
•June: Hank looks into Gus, asking Walt to help hilm plant a bug on Gus's car; Walt warns Gus and insists Hank is no threat. ("Hermanos")
•Early to mid-July: Cartel stuff happens and Mike is seriously injured; Skyler works to get Ted out of IRS trouble, eventually giving him a bunch of Walt's cash; Jesse and Walt have what seems like a final falling-out, including a physical fight; Jesse teaches the cartel how to make Blue Sky; Gus fires Walt and threatens his family, and Walt wants to pay to help them disappear but the cash is gone. There's also some stuff with Ted, who is an idiot. ("Bug," "Salud," "Crawl Space").
•Brock is hospitalized for poisoning and Jesse believes Walt did it until Walt convinces him it must have been Gus and the reconciled pair attempt to blow up Gus's car. It doesn't work. ("End Times").
•July 14: Walt concocts a plan that works: Hector dings his bell until a bomb explodes, blowing half of Gus's face off. It also kills them both. Jesse learns that Brock will be fine, and it wasn't ricin, but Lily of the Valley. It's revealed that Walt did poison Brock. ("Face Off")
July 2009-March 2010 (Breaking Bad, Season Five [A])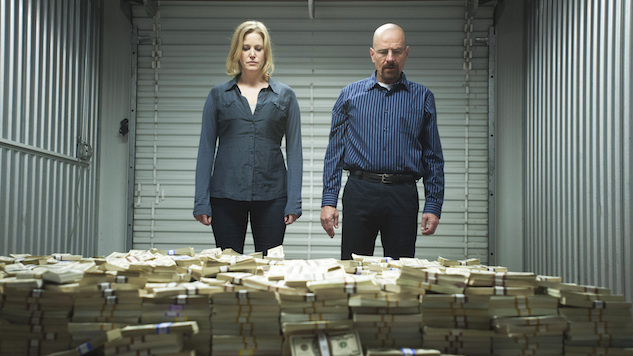 •Mid- to late July: A recovering Mike wants to kill Walt but Jesse stops him and the three of them plot how to erase the superlab security footage from Gus's laptop, which is already in police custody. The answer: "Yeah, bitch! Magnets; ("Live Free or Die")
•Early to late August: Mike's entanglements with Madrigal, the Los Pollos Hermanos parent company, force him to accept Walt's offer of a new partnership; Lydia asks Mike to kill anyone who might be able to link them to Gus, but Mike refuses and visits them all to make sure they know they'll be paid. Walt, Jesse, Mike, and Saul buy Vamonos Pest and Walt is pissed about having to pay off Gus's guys. ("Madrigal," "Hazard Pay"). We also meet Todd, no big deal. (Jesse Plemons).
•September 7: On Walt's 51st birthday, Skyler manufactures a situation to get the kids out of the house ("Fifty-One'). This is one year from the start of Breaking Bad. That is, frankly, bonkers.
•Mid-September: The gang pulls off a methylamine-centric train heist, and then Todd shoots a kid holding a tarantula ("Dead Freight"). Oh, Todd, you terrifying, corn-fed menace.
•Jesse, Walt, and Mike take a vote on what to do about Todd; Jesse is outnumbered and they decide not to fire Todd. While cooking in a Vamonos tent, Jesse sees a news report about the missing (read: dead, with a kidnapped tarantula) kid, and Walt sees his distress and sends him home, but Jesse notices that Walt doesn't seem to be too bothered by the fact that Tom murdered a kid. As he leaves, he gets a phone call from Mike. ("Buyout")
Mid-September 2010 (El Camino)
•In the film's opening flashback, Jesse and Mike meet on a secluded riverbank and talk about leaving the business. Once they realize they're on the same page, Jesse asks Mike what he would do if he could "start over, start fresh," and Mike tells him he'd move to Alaska. The idea appeals to Jesse, who wants to "set things right;" Mike tells him that's the one thing he'll never be able to do. This might also be the river where Mike later dies? It's unclear.
September 2009-March 2010 (Breaking Bad, Season Five [A] continued)
•Mid-September to early October: The DEA focuses on Mike. Mike and Jesse tell Walt they want out, and that they should all sell their shares of the methylamine to Declan (Louis Ferreira) ("Buyout"). Walt instead tells Declan to buy Mike's share and become his distributor. Jesse walks away from the money and Todd becomes Walt's new assistant. Mike refuses to give Walt the names of his guys and Walt shoots him. ("Say My Name")
•October-March: Walt gets Todd's Nazi uncle involved, and all Mike's guys die in simuntaneous prison murders. The Whites have a storage unit full of cash. Walt gives Jesse his share. Skyler asks Walt to quit the drug business, and after finding out that his cancer is back, Walt says yes. During a party to celebrate the kids coming home to the White house, Hank finds Gale's copy of Leaves of Grass and figures out that Walt is Heisenberg. ("Gliding All Over")
July-September 2009 (Breaking Bad, Season Five [B])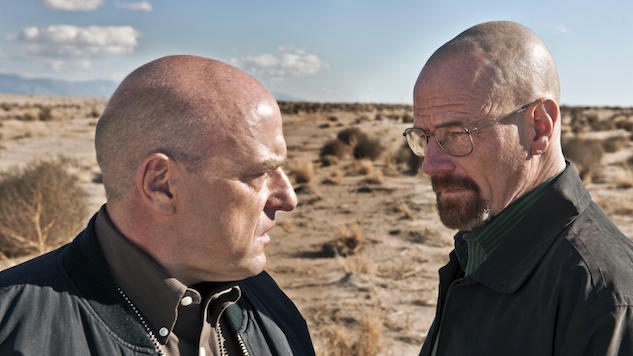 Everything that happens from Hank's discovery to Walt fleeing to New Hampshire takes place in less than two weeks, from early to mid-March.
•Walt figures out that Hank knows and the two have a confrontation. A bunch of very upsetting family stuff happens. Walt buries his insane amount of money in the desert. ("Blood Money," "Buried").
•Jesse continues to spiral, and gets arrested after tossing money out of his car. ("Buried")
•The Whites demonstrate that they can frame Hank as Heisenberg ("Confessions").
•Jesse doesn't turn on Walt, and Walt encourages Jesse to get out of town, but right before Jesse meets the extractor (Robert Forster), he figures out that Huell lifted the ricin cigarette and thus that Walt poisoned Brock. Jesse makes Saul confirm this and then goes to burn down the White household. ("Confessions").
•Hank stops Jesse, and Jesse turns on Walt ("Rabid Dog").
•Jesse and Hank lure Walt to the place he buried the money in the desert, and Walt prepares to surrender ("To'hajiilee")—but Walt has promised to improve Todd's Nazi Uncle's meth in exchange for killing Jesse, so despite Walt trying to call it off, the Nazis show up and all hell breaks loose. Hank is executed. Walt demands Jesse be killed, but Todd suggests questioning him first and killing him after. Walt tells Jesse he watched Jane die and did nothing. Todd's Nazi Uncle's gang leaves Walt a single barrel of cash. ("Ozymandias").
•Listen, "Ozymandias" is way too complicated and layered to be summarized okay? There's a wrestling match with a knife. Walt kidnaps Holly and then tries to both hurt and take the heat off Skyler by simultaneously lying and telling the truth. Jesse realizes he's being forced to cook with Todd or they'll kill Andrea. Walt gets out.
March-September 2010 (Breaking Bad, Season Five [B]; El Camino; Better Call Saul Season Five)
•Mid-March: Saul Goodman flees with his box of mementos and a fond goodbye to Francesca. (Better Call Saul, "Quite a Ride").
•Mid-March: Oh, and Saul disappears with the help of Ed the extractor, presumably to that Omaha Cinnabon of his dreams ("Granite State").
•Sometime in 2010: Todd threatens Skyler. Jesse attempts to escape and Todd murders Andrea, telling her it's not personal. Todd is a nightmare. ("Granite State")
•Later in 2010: Todd and Uncle Nazi hire Neil Kandy to reinforce the welding on Jesse's nightmare meth cooking prison and they all force him to try to break it with his body weight as they laugh. (El Camino)
•Still later in 2010: Uncle Nazi and his pals leave town, and Todd takes Jesse out of the cage to help him with a few errands—picking up a top for the back of his El Camino, and getting rid of the body of his cleaning lady, who he murdered after she found his cash stash. He brags about an idea for a new hiding place. Later, they drive to the desert to bury her body. Jesse finds a gun in Todd's glove compartment, but can't bring himself to fire, and Todd promises him pizza. It is incredibly distressing. (El Camino)
•Mid-March to September, 2010: Walt sits slowly dying of cancer in New Hampshire, eventually breaking down and calling Walter Jr. at school. It does not go well. He then sees Elliott and Gretchen on TV, talking about how he was barely involved with their company, and he decides to head back to New Mexico ("Granite State").
•September 7: Walt turns 52, treating himself to Denny's and an illegally purchased machine gun (from Lawson). He threatens to kill Elliott and Gretchen if they don't give Walter Jr. Walt's money when he turns 18. He kills Lydia by replacing her Stevia with Chekhov's ricin. He says goodbye to Skyler and admits he did it all for himself. He gets Todd to bring him to Uncle Nazi territory where he kills all the Nazis with Chekhov's trunk machine gun; Jesse then strangles Todd. Walt dies. Jesse flees, away from the compound and right into the storyline of El Camino.
September 2010, (El Camino)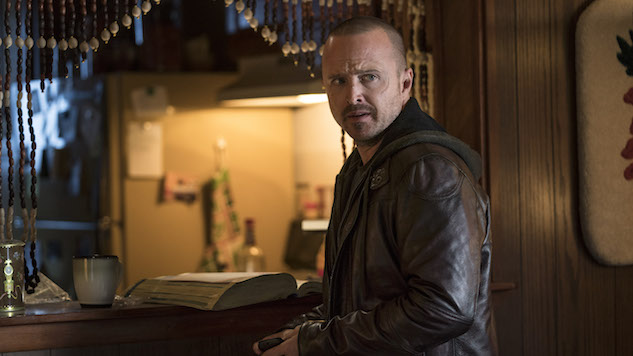 •Jesse flees from the Uncle Nazi compound, stopping along the way to hide from a parade of cop cars, pulling a gun from the glove compartment of the El Camino that he seems to already know is there (we learn in a flashback that this is the gun he pulled on Todd in the desert).
•He arrives at Skinny Pete's, where he and Badger are playing videogames. They help him hide the car and he falls asleep as they watch the news. When he wakes in the morning he has a flashback to his captivity and pulls a gun on them; they calm him down and convince him to shower. Jesse rips an unseen page out of the phone book and calls Old Joe, the guy who helped them with, among other things, "Yeah, bitch! Magnets!"
•Old Joe arrives to get rid of the El Camino, telling Jesse it's on the house, when the car's LoJack system goes off and he flees, telling Jesse to do the same. Then Skinny freakin' Pete goes into genius mode, calmly issuing orders: Badger will leave immediately and drive Pete's car down to the Mexico border to abandon it, while Pete will keep the El Camino, and Jesse will leave in Badger's car. The cops will be looking for the wrong vehicle. They give him around $8,000 in cash (probably cash they got from Walter in "Felina") and Pete gives him his beanie to help disguise him, calling Jesse his "hero and shit." Pete waits for the cops to show up, parking his new car (soon to be impounded) in the front yard, as both he and Badger earn permanent places in the hearts of Jesse Pinkman fans everywhere.
•After hearing a radio report confirming that Lydia is going to die (another report confirms Walt's death as well), Jesse arrives at Todd's apartment and tears it apart, looking for cash. After a long night he finds it hidden inside the door of the fridge, only to have two cops arrive. Jesse surrenders himself, then realizes the two aren't cops at all, and Jesse saves his own life by admitting he knows where the money is. Knowing they can't stop him without drawing the actual police, he takes one third, then realizes one of the cops is Neil the evil welder as he leaves.
•Jesse visits vacuum repair shops, drawn from that phone book page, until he finds Best Quality Vacuum. Ed the extractor tells him he owes for the pickup he missed in "Confessions," and even with Badger and Skinny's money, he's still short for a new extraction. Ed calls the cops, and Jesse runs, but soon after calls and tells him he'll get his money.
•Jesse calls his parents to tell them to come pick him up; after they rush out the door, he runs inside, opens their safe, and doesn't find cash but does take two guns.
•Jesse goes to Neil the amoral welder's welding company, asking for just enough cash to cover his escape. Seeing one of the guns Jesse has, Neil challenges him to a shootout/duel, "like the wild west." Just before Neil shoots, Jesse shoots him with the second gun, hidden in his pocket. He then shoots Neil's fellow fake-cop, takes the driver's licenses of the other people there, and puts out the small fire he started in his jakcet when he fired the gun ("Dude, you're on fire.") He collects the money and blows up the property before driving off.
•Ed crosses the border into Alaska, driving a moving van. He lets Jesse out of the back, then quizzes "Mr. Driscoll" on his new identity. Jesse gives Ed a letter for Andrea's son Brock. The tags on Jesse's new SUV indicate that it's later than 2010—July of 2013 to be exact, which is when production wrapped on Breaking Bad (so a little out-of-time nod from Gilligan there, since this is still likely 2010). Jesse drives off into the wilderness, smiling.
Unknown date (Better Call Saul flash-forwards)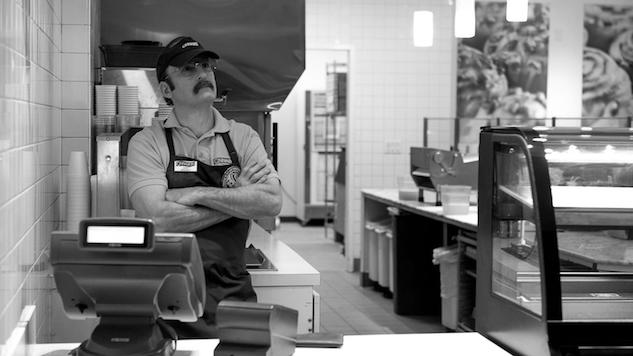 Is this real, or is this just fantasy?
•"Gene," a guy who looks a lot like Jimmy McGill/Saul Goodman, is working behind the counter at a shopping mall Cinnabon in Omaha, Nebraska.
•In a piece for Thrillist, Kenny Herzog points out that there's some evidence that indicates these scenes take place in 2057. That would make Jimmy 95 years old, so obviously, that's not the case—but there's a chance that those black-and-white flashforwards could be some sort of dream or fantasy of Jimmy's, especially considering the fact that he described working in a Cinnabon in Omaha as his "best case scenario" in Breaking Bad's "Granite State."
•To further confuse things, Bob Odenkirk pressed Gilligan and Saul co-creator Peter Gould on whether or not "Gene" would come out of hiding if he knew Walter White was dead, and Gould and Gilligan said they haven't even confirmed whether or not Walter is dead in Gene's timeline —meaning those flash-forwards could take place before the events in "Felina."
•Anyway, either in 2010, shortly after 2010, in 2057, or in Jimmy's head, Gene watches his old TV spots and weeps, gets locked in a trash room and doesn't use the emergency exit because the cops would get called and carves "SG was here" on the wall, reports on a shoplifter before breaking down and yelling at him to stay quiet and get a lawyer, then faints on the floor of the Cinnabon and gets taken to the hospital.
---
Allison Shoemaker is a TV and film critic whose work has appeared in
The A.V. Club
,
Vulture
,
RogerEbert.com
, and other publications. She is also the co-host of the podcasts Hall Of Faces and Podlander Drunkcast: An Outlander Podcast, the latter of which is exactly what it sounds like.