Scrolling CBS All Access: The 10 Best Original Series to Stream Right Now
In which we answer the age-(years-)old question, is it finally worth it to subscribe to a broadcast network's proprietary streaming service?
Photo Courtesy of CBS All Access
TV
Lists
CBS All Access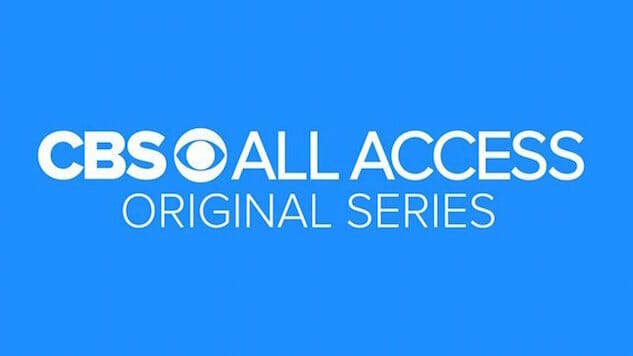 When I was in college, I got an off-campus job in a dying industry: Working the counter at an independently owned video rental store. As a liberal arts college hipster, I reveled in my easy access to things like Little Miss Sunshine and Russian Ark and Jeux d'Enfants. As a Russian lit major, though, burnt out on endless reading lists and deep critical analysis, what I found myself actually taking home the most, week after week (after week, after week), were box sets of CBS's broadcast procedural gamechanger, CSI: Crime Scene Investigation. The same semester I read through Nabokov's entire bibliography, Mashenka (Mary) to Look at the Harlequins!, I also watched Gil Grissom (William Peterson) and Catherine Willows (Marg Helgenberger) lead their quirky Vegas-based team through at least seven dubiously scientific seasons investigating all the murder, mayhem, and interdepartmental mischief the post-Y2K Neon Capital of the World had to offer. It was mindless, but in that mindlessness, it had value.
All this is to say: In the vast and ever-expanding world of increasingly niche subscription streaming services, CBS All Access has a purpose, and it's one that goes beyond getting contemporary TV hipster cred by finally catching up on the mind-bending, pro-civics glory that is The Good Fight.
Naturally, the streamer's earliest 2020 offerings—Star Trek: Picard (January 23) and Interrogation (February 6)—are generating a lot of buzz, and certainly lots of people will finally be finding themselves ready to pull the 7-day free trial lever to catch one or the other. But while CBS All Access spent years as the subject of both public and industry hand-wringing over whether or not such a limited collection of Originals and classics—from an alphabet network, no less!—might be worth the monthly fee, the streaming landscape has at last expanded enough to include equally narrow single-studio platforms like Disney+ and Apple TV+, neither of which comes with access to live television or sports. (Or, perhaps most distressingly, dozens and dozens of seasons of dutifully mainstream broadcast procedurals.) If CBS All Access was made for any moment, this might be it.
Cost: $5.99 per month (or $59.99/year) for the Limited Commercials plan, or $9.99 per month ($99.99/year) for the Commercial Free plan. Both have a 7-day introductory free trial period. Gift subscriptions are available via physical gift cards from a variety of retailers.
Bonus discount alert: Are you currently enrolled as a college student? Great news! Once you're done paying for tuition and room and board, and all the unnecessarily exorbitant textbooks just barely updated from their previous versions your various survey courses require, you can get the Limited Commercials plan for $4.49/month (a 25% discount).
Available on: Roku, iTunes, Google Play, Android TV, Apple TV, Chromecast, LG TV, Vizio, Samsung, XBOXONE and Amazon Fire TV (on supported devices), as well as online at cbs.com.
What Makes It Unique: While there are a handful of genuinely compelling Original Series only available behind the All Access paywall, CBS's proprietary streaming platform is most notable for its brief-but-rich collection of broadcast classics—think I Love Lucy, Perry Mason, Taxi, Sabrina the Teenage Witch—as well as its equally brief-but-deep well of classic and contemporary procedural pillars like both Hawaii Five-0s, both MacGyvers , every NCIS, several CSIs, and everything Michelle and Robert King have ever produced. Additionally, it gives you access to CBS's daytime and late night programming (The Talk; The Bold and the Beautiful; Colbert; Corden), sports and pop culture specials (coming soon: The Grammys), and access to live feeds of your local CBS, CBSN, CBS Sports and ET Live channels. Also, there are some movies. (Some as in, at time of publication, forty-one—the curation of which eerily resembles a snapshot of the most-rented titles at Mac-Groveland's premiere indie movie rental store ca. 2005.)
Perhaps the service's most useful feature, though—or most frustrating, if you're not a subscriber—is the fact that an All Access subscription blows the on-demand limit of the last five episodes to have aired out of the water, unlocking all episodes of currently airing shows, no matter how long ago they originally ran. In practice, this means that you don't have to wait to catch up on buzzy shows like Evil or Young Sheldon until the whims of the streaming rights gods make them available in full on Netflix.
What You'll Find on This List: Taking as a given that, unless you're Paste's resident loathsome Millennial, Shane Ryan, you don't need us to explain the value of having pop culture bulwarks like The Twilight Zone (156 episodes), Cheers (275 episodes) and Frasier (264 episodes) available for all your comfort-bingeing needs—and also taking as a given that the fingertip availability of nearly the entire NCIS family (alas, a mere 530 episodes, as only Season 11 of NCIS: Los Angeles is currently streaming) will be a strong enough incentive all on its own to get a gift subscription for the primetime CBS-stans in your life—we are limiting our focus mainly to the All Access Originals, with a few standout streaming exclusives from the CBS vault thrown in in a brief lightning round for good measure.
As for our ranking parameters, since so much of the conversation around CBS All Access since its inception has been about whether or not access to a mere handful of Originals is worth the relatively steep monthly subscription fee, that's the question we've made our main focus. In terms of subjective opinions about each show's artistic/narrative quality in a vacuum—or rather, in a world where you already have an All Access subscription and just need to decide what to watch next—your mileage, as they say, may vary.
---
The CBS All Access Vault Lightning Round
The Twilight Zone (Original)
Find it in: Classics
Why it's worth subscribing for: Well, to better engage with Oktay Ege Kozak's exhaustive ranked list of all 156 episodes, for one. But also, we live in a time of surreal uncertainty and world-warping chaos. Let Rod Serling be your guide to keeping your senses through it all.
BrainDead
Find it in: Drama
Why it's worth subscribing for: It's perhaps too nationally absolving a fantasy to believe all politicians in Washington have had their brains taken over by malevolent alien bugs, but sometimes you need a good shock to the system to see the horrors right in front of your face, and 2020 needs nothing if not a shock to the system. Plus, Mary Elizabeth Winstead, Aaron Tveit, Tony Shalhoub, Danny Pino, Johnny Ray Gill, all acing the gig under the sharp eyes of Good Fight team Michelle and Robert King? Genius.
Everybody Hates Chris
Find it in: Comedy
Why it's worth subscribing for: Terry Crews! Tyler James Williams! Tichina Arnold! If everyone's settling into old sitcoms, let's make 2020 the year of Chris.
Limitless
Find it in: Drama
Why it's worth subscribing for: Obviously because, as Paste's own LaToya Ferguson so persuasively argues, it's a too-short-lived procedural that fucks.
NCAA on CBS
Find it in: Sports
Why it's worth subscribing for: The NCAA has, like, problems, but recent policy moves in California and elsewhere give hope that these killer young athletes' situations might soon improve. Plus, you know, March Madness.
Twin Peaks
Find it in: Classics
Why it's worth subscribing for: Well, it's Twin Peaks. Presuming you didn't buy the last rental copies of the cult favorite series' original two seasons from your local rental place's blowout shutdown sale back when Netflix took over the disc rental industry, you might be looking for a good place to stream it.
Star Trek (like, a lot of Star Trek)
Find it in: Classics/Drama/Movies/Originals
Why it's worth subscribing for: From Captain Kirk to Admiral Janeway, from shorts to series to films, CBS All Access has twelve Star Trek titles currently available to stream. That ought to last you at least a year.
Okay, lightning round over! On to our official ranking of CBS All Access's small selection of Original series.
---
TBD. Interrogation
One murder, multiple decades, the enjoinder to watch the episodes in any order—Interrogation could be crime TV's next big thing.
Worth subscribing for? Only time will tell! Well time, and, eventually, us, in this space.
---
Missing from the sizzle reel above is the fact that several of these Star Trek shorts, which naturally span both time and space, also span filmmaking type, covering everything not just from comedy (tribbles! funny Spock!) to drama (hello, Captain Serious), but also including several animated stories, all of them with different aesthetic approaches. All of them are lovely in their own way, but "Children of Mars", which is almost entirely free of dialogue, is a particular (tear-jerking) standout.
Worth subscribing for? Sorry to that man, as the great Keke might say, but of course not. This is a small collection of very short shorts, most of which only work when tied into the platform's bigger Star Trek project. That said, since most everyone will be subscribing for those other projects in the first place, these shorts are absolutely worth watching. You're already in! Live (in the expansive and still-expanding Star Trek world) a little!
---
9. One Dollar
One of All Access's earliest original offerings, One Dollar's gimmick is that the audience gets to know the down-and-out residents of a small Pennsylvania steel town in socioeconomic decline by way of a one-dollar bill moving through the town's residents, just as a major murder mystery crops up. As Assistant TV Editor Amy Amatangelo (Paste's first and best stop for all things broadcast-adjacent) explains in her initial review, the gimmick and the murder mystery are fine, but it's ultimately the series' smaller stories, the ones "which get to the heart of human nature and the daily struggles we all face," that provide the most compelling reasons to watch.
Worth subscribing for? Straight from Amy's mouth to our ears—no. "The problem for CBS All Access remains the same: Is One Dollar enough to pay $6/month for the streaming service? Unfortunately, it's not. It's a solid, albeit flawed, series—and you can find plenty of those without paying more money. After all, every dollar counts."
That said, like the series coming in at #8, having been canceled makes One Dollar easier to budget for, time-wise, so if this kind of class-based mystery story is up your alley, it might well be worth checking out.
---
As Paste's Jacob Oller explains in his review, Strange Angel, which marries the birth American rocketry with decadent sexual occultism, is the kind of show that seems almost too wild on its face to work. Thanks to direction that is equal parts sharp and steady and performances that are equal parts and funny and scary, though, it nevertheless manages to pull all that wildness off. To wit:
When you find out that a real-life innovator of rocket science was a janitor who got sucked into Aleister Crowley's spooky occultist Thelema scene in 1930s L.A., your first reaction is naturally to seek out the most salacious corners of this oddball life. The best quality of CBS All Access' Strange Angel is that it tempers that initial impulse with so much humanity that you'll think, Well, sure, if the circumstances were right, even I could perform so much bloody, sexy magick that my friends and neighbors could confuse me for a Red Hot Chili Peppers album.
You know, if that's the kind of thought you're looking to have on a CBS All Access and Chill night in.
Worth subscribing for? Not really. For one, it's canceled. But in that cancelation there is opportunity, as a limited, two-season excursion into a cosmic occult historic sexcapade is much easier to binge within a 7-day trial period than when you know you won't be missing anything in the future once that trial period is over.
---
Kevin Williamson's modern fairy tale-cum-horror project, Tell Me a Story, is a lot. Not in terms of blood and guts, really—in reviewing the anthology series' first season, which is set in New York and weaves together (extremely) loose versions of The Three Little Pigs, Hansel and Gretel and Little Red Riding Hood, Assistant TV Editor Amy Amatangelo noted that "Williamson makes horror [we] can tolerate, the kind where he upends tropes, adds a dash of humor, and doesn't wallow in unnecessary gore"—but definitely insofar as it just takes, well, a lot to modernize, serialize, and both gender- and genre-flipping a full trio of classic fairy tales, all while juggling a sprawling ensemble cast of über-familiar medium-name actors. (Think James Wolk, Kim Cattrall and Michael Raymond-James in Season 1, Matt Lauria, Odette Annable and Carrie-Ann Moss in Season 2, and the TVD-verse's own Paul Wesley and Danielle Campbell as different characters in both.)
For the most part, while the connections to the fairy tales ostensibly at play in each season occasionally stretch past the point of legibility—Season 2, which officially wrapped the same day Picard premiered, sees the story moved to the music scene in Nashville, with a slow-burning Cinderella, a gender-flipped Beauty and the Beast, and a weirdly Misery-inflected Sleeping Beauty taking center stage—Williamson and his team pull off the project's riskiest moves. There is more soapiness to the execution than some might prefer, and spreading such narrow, well-trodden stories across so many new characters means that some episodes spin in place more than they should. Ultimately, though, the performances are big and fun, and the anthology model's promise of a neatly wrapped ending mostly make up for that.
Worth subscribing for? Not on its own, but definitely check it out once you're in. With apologies for the recursiveness of this description, it's the kind of show that, if it's your kind of show, is very much your kind of show.
---
6. No Activity
Co-created by (and starring) Australian comedian Patrick Brammall, who, along with Trent O'Donnell, also co-created and starred in the 2015 Australian original, No Activity comes to CBS All Access thanks to Will Ferrell and Adam McKay's internet comedy joint, Funny or Die. With three seasons that feature a real murderer's row of television's favorite niche funny people—Jason Mantzoukas, Amy Sedaris, Tim Meadows, Sunita Mani, Jesse Plemons, Arturo Castro, J. K. Simmons, Bob Odenkirk, Cristin Miloti and Adrian Martinez, just to name, like, a fraction—it's surprising that No Activity such a slept-on show. Considering both its streaming home and the fact that its premise is deadly dry, mostly static conversations between pairs of people waiting to do/see/solve crimes that rarely come, maybe it shouldn't be so surprising. That said, once you settle into the crawling pace, it's a remarkably arresting (sorry) watch.
Worth subscribing for? For dedicated fans of deadpan modern comedy, I think maybe? It's too quiet and niche to make sense as a broadcast sitcom, which makes it also too quiet and niche to compel the average comedy fan to seek it out explicitly, let alone pay money for it. But it is so weirdly engrossing, and the cameos are so dense and fun, you should definitely give it a shot during your trial period. Dive straight into Season 3, even! Start with Season 2! Jump around, completely at random! Life is a series of boring conversations, and the world's falling apart, who cares what chaos you introduce to your streaming habits!
---
In her review of Why Women Kill's first season, Assistant TV editor Amy Amatangelo reserved solid praise for series creator and executive producer Marc Cherry's visceral understanding of the prickly dynamics that come into play between life partners over time. Following the domestic dissatisfaction of three wives (Ginnifer Goodwin, Lucy Liu, Kirby Howell-Baptiste) living in the same house in three different decades (1963, 1984, 2019) that eventually becomes the scene of three different murders, Why Women Kill, Amy explains, weaves in and out of the decades, and especially the difficulties of marriage peculiar to each (murder not withstanding), with aplomb, making astute social commentary while also making audiences laugh. As for the bright, deeply specific tone set by all those buzzy promos? "The tongue-in-cheek tone can be tricky," Amy determines, "but beginning with the opening credits, which is set against the Frank Sinatra classic 'L.O.V.E.' and pulpy comic book scenes, Why Women Kill gets [it] just right."
Pro-tip: For a more-than-definitive list of all the reasons women kill, check out this (ahem) killer piece of service journalism from LaToya Ferguson.
Worth subscribing for? Not as much as it seemed like it might be when its key art first turned our heads, but definitely fun to dip into once you've run out of Star Treks and King joints.
---
In addition to ranking all 156 episodes of Rod Serling's original run of The Twilight Zone, Paste's Oktay Ege Kozak has also ranked every episode from the first season of Jordan Peele's CBS All Access revamp, with "Blurryman" (Episode 1.10) coming in a strong first place. ("This brilliantly trippy and meta episode is both a love letter and a cautionary tale for the hardcore Twilight Zone fan," he writes. "The clever and hilarious way the episode messes with the opening narration is just the start in this thriller full of welcome surprises, especially for fans who have been paying extra attention during the previous nine episodes. The second act might be criticized for turning into a generic monster thriller, but that's kind of the point considering the story's themes on art versus entertainment.") The weakest part of Peele's 2019 update, Kozak notes, is its decision to blow up the original's 25-minute format, many of the first hit-and-miss season's episodes filling up much longer time frames, but in general, as a Twilight Zone diehard, he rates it "perhaps the most loyal to Serling's original vision in terms of both technical execution and narrative tone, boldly examin[ing] society's ills through the prism of pure genre spectacle.
Worth subscribing for? Yes, but almost as much for the fact that subscribing will also give you immediate access to the original.
---
The one thing that is absolutely true about Star Trek: Discovery, CBS All Access's first foray into contemporary Star Trek serialization, which was also the first Star Trek property to feature two women of color—Sonequa Martin-Green and Michelle Yeoh—in lead roles, is that it is absolutely beautiful to look at. A science vessel barely repurposed for war, the Discovery is sleek and smart, an aesthetic matched by both the crew's uniforms, tools, and makeup, as well as the CGI rendering of both the ship's mycelial network engine, and the greater expanses of space and individual planets the crew visits throughout their journey. All this visual success, though, often ends up masking a plot that is—especially in the first season—chaotic and inexplicable. That said, it's still fun, and in bringing both Captain Pike (Anson Mount) and young Spock (Ethan Peck) in to anchor Martin-Green's Burnham in the second season, the show set itself up to both tie off necessary questions of narrative-universe continuity, and to send the Discovery off to a literal new frontier.
Worth subscribing for? Yes, but it's kind of a cheat to say so, as anyone subscribing for access to one Star Trek series will be subscribing for access to all of them. But while Discovery's storytelling went off the rails more than it stayed on them in its first two seasons, it has set itself up for a whole new, extra-universal gambit in Season 3 that promises some really interesting things.
---
Coming out of the gate with a glowing 9.0 from Paste's Liz Shannon Miller, Star Trek: Picard is likely to be CBS All Access' most widely compelling draw to date. There is mystery; there is conspiracy; there is derring-do; there is a very strong cast of well-loved actors gearing up to embark on some very un-Trek-like rogue adventuring. (Santiago Cabrera coming in with two different accents, no less!) But the most important thing to know about Star Trek: Picard, Miller explains, "is that while bringing back one of the franchise's most iconic characters might seem like a deliberate retreat to the past, the first three episodes are much more about the new: New characters, new mysteries, and a whole new era of the Trek universe to explore. That last element is particularly key—one of the first exciting things about the show is that in the recorded annals of Trek, we're further into the future than ever before (with the exception of some one-off instances of time travel), and that future is darker than one might expect. In a culture obsessed with prequels, this fact alone makes Picard a gift."
Note: As of January 30, 2020, the first episode of Picard is available to stream for free on CBS All Access's official YouTube channel. Who knows how long it will stay there, so if you're interested, get on that sooner rather than later!
Worth subscribing for? Yes! Of course! Make an old, rogue Star Fleet Admiral's day!
---
The Good Fight Michelle and Robert King's gloriously sharp-tongued Good Wife follow-up/Trump-era banger has been THE selling point for CBS All Access since go, very nearly worth the price of admission all on its own. (Full disclosure: That's the single reason this reporter subscribed.) It is nearly impossible to articulate how much humanity and civic depth and cathartic anger and bold conversations and bolder disagreements and wildly catchy animated musical interstitials and beautiful, truly beautiful clothes The Good Fight features, but luckily, so many of you reading this will be doing so after having signed up to watch Picard that you can tune in and find out for yourself. With Season 3 ending how it did, and at least one major character moving on to other things, who knows where Election Season 2020's Season 4 will go. But that wild mystery, well, that's half of the show's immense pleasure.
Worth subscribing for? As the great Diane Lockhart has every ability to say, now that she's behind the All Access paywall, Fuck yes.
---
Alexis Gunderson is a TV critic and audiobibliophile. She can be found @AlexisKG.
For all the latest TV news, reviews, lists and features, follow @Paste_TV.