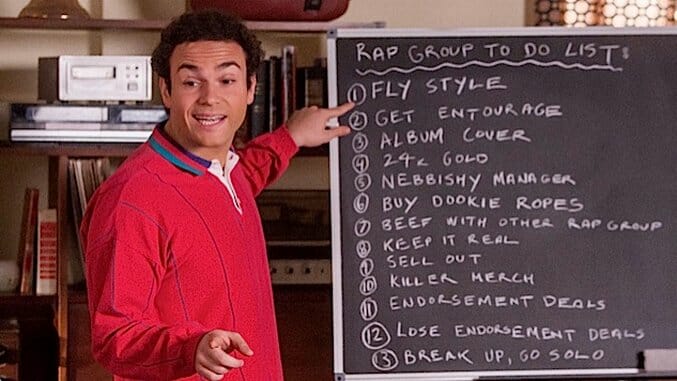 I'm someone who almost never gets emotional about celebrity deaths. One, the deceased celebrity has usually had a long and storied life prior to their passing and, two, it's not as though I ever have had an intimidate, personal relationship with them. While I could very much understand someone experiencing great sadness at the loss of a beloved actor or musician, the idea of being genuinely distraught was never something I could comprehend.
I say all this because that changed the afternoon I learned that Adam "MCA" Yauch had lost his lengthy battle with cancer. I was bummed for weeks afterwards. As an impressionable music fan, The Beastie Boys provided almost everything I was looking for in music—exuberant, yet experimental production, off-the-wall music videos and a wicked sense of humor. They were goofballs who made transcendentally great art. What can I say? The idea that this was the official end of The Beastie Boys required mourning.
Being the massive Beastie fan that I am, I'm naturally—in the interest of full disclosure—much more susceptible to the charms of "Tasty Boys," The Goldbergs tribute to the group and their influence on '80s suburbia. Inspired by his love of the group, Barry decides to form his own rap group, The Tasty Boys, with Adam (Adam's assessment of the situation: "I'm just happy he's including me, like DJ Jazzy Jeff!"). After holding auditions for a third member, the brothers settle on Geoff Schwartz due to his uncanny resemblance to Ad-Rock (and indeed, the resemblance is quite impressive). Rather than actual working on music, however, the group settles on simply creating hype for themselves. In a funny way, this strategy predates the plight of future hip-hop upstarts, with several of today's rappers gliding on hype and a few choice singles for far too long. By the time their first album actually drops, the public has either moved on, or the hype is so insurmountable that the result is guaranteed to be disappointing (see Kreayshawn).
Barry's mantra of going with the flow and not thinking anything through contrasts strongly with Erica's musical ambitions, which consists of meticulously preparing a song only to never perform it out of nerves. Given that we've seen Erica perform in front of crowds before (a talent show in Season One), her nerves about performing can't help but seem a little inconsistent, but I suppose there's more pressure and fear of rejection when it's your own material.
The storyline concludes with The Tasty Boys ready to make their debut at the school pep rally, only to realize that they have nothing prepared and none of them are even remotely good at freestyling. After Geoff flees for fear of embarrassment, the three Goldberg siblings—after a pep talk courtesy of Erica—perform a lip-sync to "Shake Your Rump." Adam and Barry experience a rock star moment while Erica overcomes her fear of performing. It's a fun, gleefully earnest tribute to The Beastie Boys and the celebratory power of their music. That being said, the joyous response from the student body, with some acting as though they're seeing the real Beastie Boys, is a bit of an oddity. Having been in many pep rallies throughout high school, it's hard to imagine that the response to a lip-synched bit would garner anything beyond bored indifference or a sympathy laugh. Yes, I completely realize that the show functions on another level of existence, but it seems like a bit much nonetheless.
As per usual, the adult-centric B-story presents a more traditional sitcom premise—Beverly desperately wants to remodel the kitchen whereas Murray, an established creature of habit, is allergic to change. In one of the episode's best recurring gags, the Goldberg patriarch's resistance to the new is visualized via the stockpile of Coke cans he's collected in the wake of the announcement of New Coke.
Against her husband's wishes, Bev attempts to follow the TV advice of Bob Vila and redo the kitchen herself. Predictably, she ends up demolishing it. Murray then takes the initiative and hires his friend Bill to restore the kitchen to its previous look (I'm super envious of the expediency of these home renovations), much to his wife's annoyance. In the end, Murray vows to start being a bit more flexible. It's not the freshest of concepts but, as always, Jeff Garlin and Wendi McLendon-Covey sell it.
"Tasty Boys" is vintage Goldbergs—funny, monumentally cheesy at times and unabashedly in love with its 1980s subject matter. No, it's not one of the show's stronger half-hours, but—similar to the "Shake the Rump" performance—its unfettered enthusiasm is contagious and impossible to not appreciate on some level.