The 10 Best Cosima and Delphine (#Cophine) Moments in Orphan Black History
Photos: BBC America
TV
Lists
Orphan Black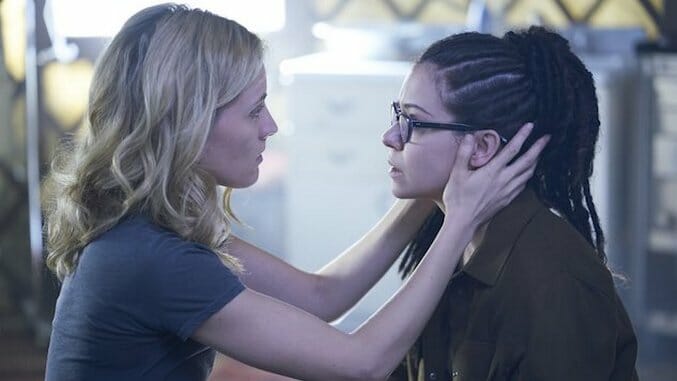 Orphan Black isn't a perfect show. It's unabashedly messy, with a multitude loose ends. (Is Cal still in Westeros? Why exactly are Sarah and Helena the fertile and healthy clones?) The romantic relationships on Orphan Black are as knotty as the storylines, and none more so than that of scientists Delphine Cormier (Evelyne Brochu) and Cosima Niehaus (Tatiana Maslany), one of the sestras.
Cosima and Delphine — "Cophine" to the shippers — are the most maddening and electrifying couple on the show. They've had trust issues, which isn't good for any relationship, but Delphine and Cosima have acted mostly from a genuine place of love and concern for each other's well being. So, in honor of Orphan Black's series finale, we offer you 10 quintessential Cophine moments: the good, the bad and downright sexy.
1. "Enchantée…"

In "Conditions of Existence" (Episode 1.05), Cosima eavesdrops on a phone conversation/lovers' quarrel in the lab. She's intrigued by her French colleague, and even more so when she sneaks a peek at the straight A's on the transcripts the woman has "accidentally" left behind. Cosima chases the woman down to return the papers, and needless to say, Delphine had her at "enchantée."
2. "I just want to make, like, crazy science with you."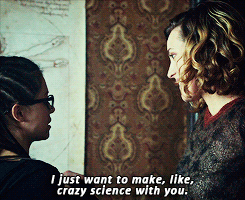 After mistakenly making a pass at Delphine in an earlier episode, Cosima tries to smooth things over in "Entangled Bank" (Episode 1.08). She's hoping that Delphine forgives her presumptuousness by appealing to her professional side: "I just want to make, like, crazy science with you." It's a provocative line, delivered so playfully by Maslany. The two scientists then proceed to geek out over an "extrapolation of murine models" before Delphine brings up that kiss she can't stop thinking about. She then launches into a frank monologue about bisexuality, seemingly talking herself into taking the plunge with Cosima: "I've never thought about bisexuality, for myself, you know. But as a scientist, I know sexuality is a spectrum. But, you know, social biases…they codify attraction contrary to biological fact." Science is sexy.
3. Postcoital Snooping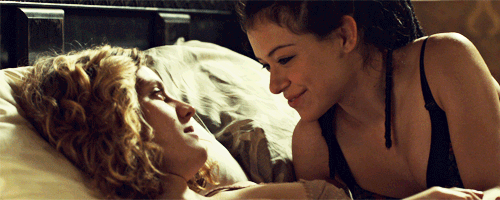 After Cosima and Delphine consummate their relationship, an emotional Delphine asks Cosima to get ice cream. When Delphine's left alone, she immediately rummages through Cosima's apartment to find out what Cosima knows about her clones. She uncovers the files and calls Dr. Leekie (Matt Frewer) to report the findings, but insists that Cosima must be protected. She also fails to disclose Kira's existence. A clone having a child is an anomaly and would be of great interest to all parties. At this point, we're left to wonder: What's Delphine's endgame?
4. Meet Dr. Delphine Cormier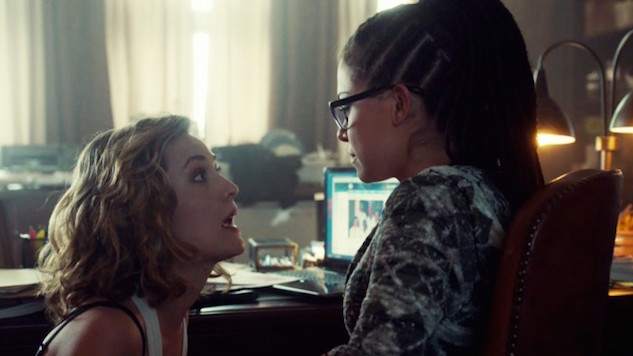 In "Unconscious Selection" (Episode 1.09), Cosima finds out that her girlfriend: A) is already a doctor and is just posing as a student; B) leaked information about her clone family to Dr. Leekie and Dyad; and C) isn't named Delphine Beraud. She's beyond pissed off, but Delphine pours her heart out—confessing that she didn't intend to fall for her, but has. "You know, I had never been with a woman before," Delphine tearfully confesses. But then Cosima's claws come out: "Yeah, it showed." Ouch.
5. "I'm the science!"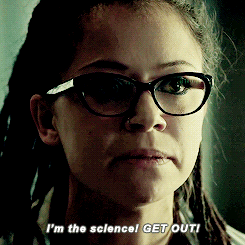 Lying to your girlfriend is a big no-no, but it's OK if you're trying to save her life. That's what Delphine keeps telling herself, anyway. In "Knowledge of Causes, and Secret Motion of Things" (Episode 2.07), Cosima finds out that the stem cells being used in her treatment were from Sarah's daughter, Kira, and not from some other source. Not only was Cosima lied to (again), but the fact that Dyad scientists are using her and Kira for experimentation without consent is unfathomable. The rage has been building, and Cosima finally unleashes and kicks Delphine out of their lab: "This is my lab. My body! I'm the science! Get out!"
6. Three's Company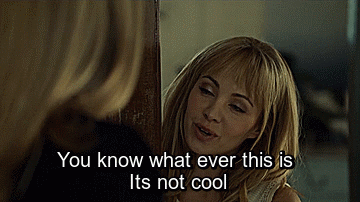 After Delphine breaks its off with Cosima in order to protect the sestras (which we didn't quite understand), Cosima gets involved in a rebound romance with Shay. The new girlfriend may or may not be a spy for one of the organizations out to get the clones, so under the guise of protecting the sisters and Cosima's health, Delphine keeps very close tabs on the new couple. She even goes so far as to interrupt Shay and Cosima's canoodling time—at Shay's house—to collect a urine sample from Cosima. We saw right through that one, Delphine. It's an awkward scene that we love because it shows that even the cool, calm Dr. Cormier gets bitten by the green-eyed monster.
7. Who Knew Hypothermia Could Be Sexy?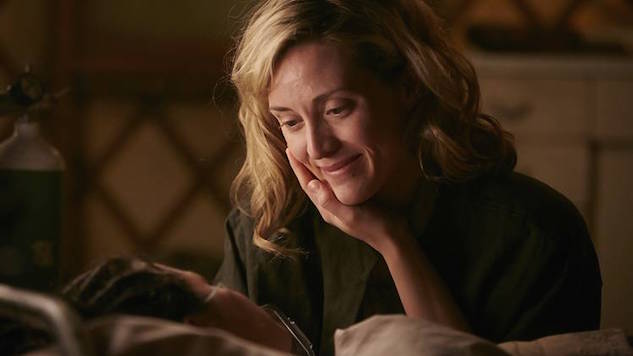 We're kidding, obviously, but in the clone world it can be. Look no further than the Season Four finale, "From Dancing Mice to Psychopaths." Cosima and Charlotte find themselves lost and freezing in the woods on Westmoreland's island. They're found (i.e., captured) and brought to the yurt village. Cosima thinks she's hallucinating when she sees her angel emerge from one of the buildings—Delphine was shot at the end of the third season, after all. But the French doctor is definitely not dead (and just happens to be on the island), so the doctor orders everyone out so she can strip down for skin-to-skin contact with her hypothermic girlfriend. Before she blissfully passes out, Cosima, ever the scientist, tells her girlfriend that she's finished the "homework" for the cure they started together.
8. No Wedding, but a Commitment…

Cosima insists on joining the dinner party at Dr. Moreau's Dr. Westmoreland's house In "Ease for Idle Millionaires" (Episode 5.05), only to be betrayed again by Delphine, who tells Westmoreland that Cosima was digging around in his basement for information about his failed experiments. The two women begin arguing again, and Delphine explains that she had to give Westmoreland something so she'd be allowed to leave to go to Geneva to meet Felix (again, just go with it). Of course, she can't tell Cosima why and their pattern starts over again. But this time, the two talk about the promises they made: Delphine to protect Cosima and her sisters, and Cosima to "defy them" (whoever "them" may be). Together, they make a big choice to accept their relationship, warts and all.
9. Pushing the Button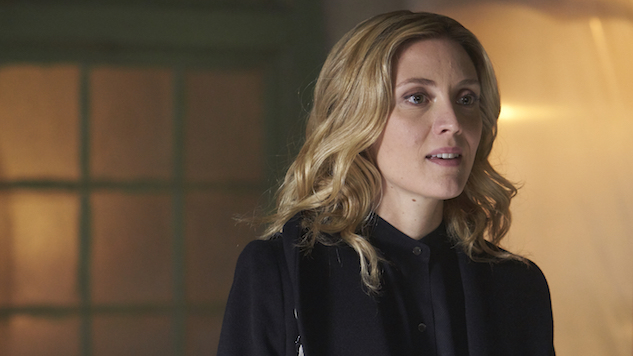 There's a small but significant moment in "Guillotines Decide" (Episode 5.08) for Cophine. After years of running from Neolutionists, Prolethians, the military et al., the sestras can finally expose the human experimentation, genetic meddling and testing to the rest of the world. Cosima and Delphine hit the "enter" button on the computer—together—to send the files and evidence to news organizations. Cosima cries tears of relief and joy as she realizes that the challenges and dangers they've faced may have all been worth it after all.
10. The Cophine Effect

Lastly, as complicated and crazy as Delphine and Cosima's romance is, it still serves as an example of two women in a relationship who are turned on as much by each other's intelligence as their physicality. Orphan Black managed to move beyond the usual LGBT storylines of one partner's difficulty in coming out or over-sexualizing the coupling for titillation. Cophine's existence has hit home for many fans, who look to the characters as models of women on TV who are brainy, imperfect and by no means defined by their sexuality.
The series finale of Orphan Black airs Saturday, August 12 at 10 p.m.
---
Christine N. Ziemba is a Los Angeles-based freelance pop culture writer and regular contributor to
Paste.
You can follow her on Twitter and Instagram.