Mates of State: Re-Arrange Us
[Barsuk]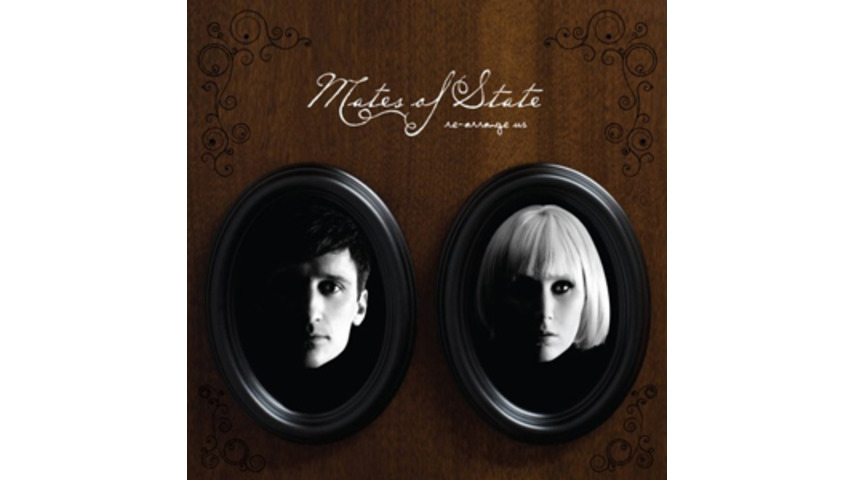 A satisfying family affair
We all know That Couple: professionally accomplished, interpersonally fluid, slaloming between challenges as though doing nothing more demanding than strolling down senior hall from Trig to AP English (yawn). Then the kids came, and That Couple pulled off parenthood with aplomb as well, their rug monkeys demonstrating enviable manners and scarily perfect genetics. It's enough to make most mere mortals throw up their hands in frustration.
Mates of State's husband-and-wife team, keyboardist Kori Gardner and drummer Jason Hammel both sing, in close harmonies as reminiscent of the Elephant 6 Collective's Wilson Bros. obsession as they are shaggier modern-day entities like Quasi. They are indie-rock's That Couple, and Re-Arrange Us is their fifth attempt to perfect the sunny-day real estate they've claimed as their terra firma. It's a record about life's small domestic joys, sung with enough gusto and bug-eyed wonder to make you question how in the world you've overlooked such unappreciated gems as household color schemes (the rolling cadences of "Get Better"), patterns in the paint ("Now"), small talk in the bedroom hall ("My Only Offer") and red colonial houses on snow-white streets (pretty much the rest of the album).
Mates of State may have begun a decade ago as something of a curiosity—plainsfolk from Lawrence, Kan., singing idiosyncratic love songs with Hammond organs where the guitars should've been—but they've evolved into something far greater: pure pop for adults who haven't quite grasped that they're adults yet. The duo's song structures haven't become any less appreciably quirky over the years—the rhythms still shift unpredictably, often throwing down from third to fifth gear within a single track ("You Are Free" starts out bossa nova, then swiftly graduates to bottom-heavy swing at the coda)—nevertheless, they've become easier on the ears.
Think of Re-Arrange Us as the antidote to Richard and Linda Thompson's Shoot Out the Lights: an album about the undying perpetuity of love.
Others Tagged With