Signs of Life 2008: Best Music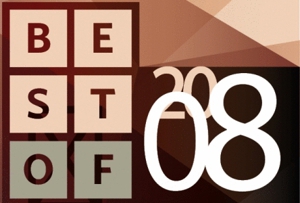 Page 1 of 5
Check out Paste's top 50 albums of 2008...
50. TV On The Radio - Dear Science [Interscope]
Leave it up to TV on the Radio to craft its most upbeat, party-ready release to date as the economy crumbles, presidents change and wars rage. Dear Science is not the band's best, but tell that to the glorious beats, funky guitars and epic horns that surround Tunde Adebimpe's poetry throughout.

49. Sandra McCracken - Red Balloon [Towhee]
Listening to Sandra McCracken's crystalline voice offers the sonic equivalent of drinking ice-cold mountain spring water at its source. Her lyrics are utterly defiant in their optimism and the folk-pop arrangements on Red Balloon are varied enough to lock in your attention from start to finish. Gorgeous, heartfelt stuff.

48. REM - Accelerate [Warner Bros.]
After years of critically lambasted discs full of messy jangle pop, the Athens trio crawled their way back from the brink with a record full of razor smart lyrics and musical throwbacks. While no Monster, it's a vital return to their rock and roll form.

47. Laura Marling - Alas, I Cannot Swim [Astralwerks]
Whether they're her own, imagined or borrowed, eighteen-year-old Laura Marling does battle with some considerable demons on her first full-length debut: Miserable lovers, various psychoses, God himself. But despite her youth, ghastly pallor and the lovely, lightly string-and-horn touched strumminess of these songs, our money's on Marling for the win.

46. Lykke Li - Youth Novels [LL]
Those Swedes really know how to turn out pop princesses. Leading the innovative cool-girl pack on her ambitious debut, Li is the hook heavy, Euro-dance infused soul sister to friend El Perro del Mar's lo-fi anthems. Don't miss the kooky-good video for her slick "I'm Good, I'm Gone."

45. M83 - Saturdays = Youth [Mute]
Smooth, buoyant energy marks M83's fifth album, dedicated to the digital outfit's decade of choice, the 1980s. Purged of the ironic distance that normally colors such nostalgia, the record's expansive tracks create a sublime vision with nods toward John Hughes and other lost luminaries.

44. Kathleen Edwards - Asking For Flowers [Zoë]
This Canadian gem is a go-to for those looking for humor, heartbreak and political awareness in one rootsy package. We'd expect nothing less from a record with a song called "I Make the Dough, You Get the Glory."

43. Amanda Palmer - Who Killed Amanda Palmer [Roadrunner]
Remember Tori Amos? Palmer is like that, but throatier—a little less ethereal, a little more punk. Ben Folds produced this solo debut, which courses with anger, wit and damaged romanticism.

42. Thao Nguyen and the Get Down Stay Down - We Brave Bee Stings & All [Kill Rock Stars]
Written and recorded in the year or so after Thao Nguyen graduated from college and landed her first record deal, this debut captures all the nebulous beauty and terror of being young in the world—a smoky-voiced, riff-picking, hand-clapping mosquito trapped in the amber of Tucker Martine's rich, bubbly production.

41. The Tallest Man On Earth - Shallow Grave [Gravitation]
Exposing Dylan imitators everywhere as stunted imposters, The Tallest Man stands atop the tempestuous spirit of his forebear and spins shimmering, fantastical tales over arrays of finger-picked guitar and banjo to forge this Americana masterpiece all the way from Scandinavia.