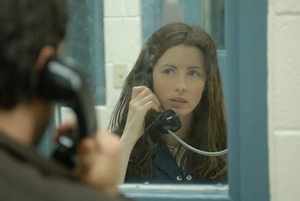 Release Date: Jan. 9 (limited)

Writer/Director: Rod Lurie

Cinematographer: Alik Sakharov

Starring: Kate Beckinsale, Matt Dillon, Vera Farmiga, Alan Alda, Angela Bassett

Studio Information: Yari Film Group, 108 mins.
Topical thriller is well-acted, thought-provoking popcorn entertainment

There are lots of big ideas on display in Nothing But the Truth, a fictionalized account of the Valerie Plame case, the CIA operative whose identity was outed by New York Times journalist Judith Miller in 2003. Thankfully, those ideas are handled with more grace and subtly than writer/director Rod Lurie's similarly topical film, The Contender. In that film, Lurie saddled his characters with big, didactic monologues to communicate the film's themes, a technique that's toned down but not entirely absent here.
Kate Beckinsale plays Rachel Armstrong, a D.C. political reporter jailed for refusing to name her source in a story exposing the identity of a CIA agent (the outstanding Vera Farmiga). Whereas Miller was jailed for 90 days for contempt of court, Armstrong is jailed for much longer, the consequences of which have a devastating effect on her husband (David Schwimmer) and young son. Matt Dillon plays the flinty prosecutor who puts her behind bars, and the great Alan Alda plays her trusted attorney.
Nothing But the Truth is more than just a TV movie about the Plame case. Lurie broadens the story enough by throwing a lot of ideas out there, even if not all of them stick. A jab at sexism in the media, for example, for criticizing Beckinsale's character for being a mother that abandons her child carries more weight than a snide crack at celebrity journalism during a TV interview from prison.

Lurie leads up to an eye-rolling reveal that feels fabricated and false, contradicting any sort of authenticity the film attains beforehand. That said,
Nothing But the Truth
is that rare adult film that is
about
something, and one that's blessed with excellent across-the-board performances. Beckinsale, in particular, is surprisingly strong, imbuing her character with the right amount of vulnerability and fire, while Farmiga steals every scene she's in.
Considering that the film's distributor just filed for bankruptcy,
Nothing But the Truth
might be difficult to find in theaters. But it's worth seeking out, standing as Lurie's best film work to date and a gentle reminder that Farmiga and Beckinsale are two talented, tough actresses in it for the long haul.
Watch the trailer for Nothing But the Truth:
Others Tagged With