The Mighty Boosh - Season 1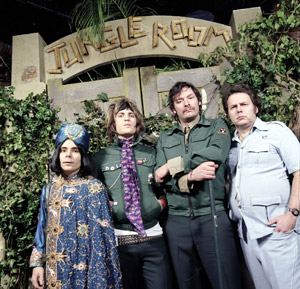 DVD Release Date: July 21
Starring: Julian Barratt, Matt Berry, Noel Fielding, Rich Fulcher
Studio: Baby Cow Productions for BBC Three
Magic, rock 'n' roll and fashion. Oh, and a zoo. Such is the world of The Mighty Boosh, the most recent British comedy export to finally reach the shores of America. The brainchild of comedians Noel Fielding (Vince Noir—the trendy, arty one) and Julian Barratt (Howard Moon—the nerdy, jazzy one), The Mighty Boosh is the latest in a long history of usually bizarre British comedy duos, with Fielding and Barratt managing to make the oddness of Little Britain's Matt Lucas and David Walliams look positively sitcom-esque by comparison. And like the comedy of Little Britain and those that came before it, the worry might be, will Americans "get it"?
But the wonderful concept behind The Boosh is that there isn't anything to get. So don't even try. Yes, there is a green bloke with a massive Polo mint (that's Lifesavers to you yanks) around his eye. Yes, there is a guy with a mailbox in his afro. Yes, there is a giant piece of bubblegum called Charley. Yes, there are Mod Wolves who dance in a snazzy retro number. Don't ask why—you won't get a reasonable response. It's really just best to sit back, relax and take in the sights and sounds.
Of which, by the way, there are many. All the scenes were created in the studio, never going on location (to a forest, for instance), conjuring up the tone of a child's storybook, which is how many of the ideas start, as Noel Fielding's psychedelic, possibly drug-addled, felt-tip penned artwork. The show incorporates the crazy characters that come from Fielding's mind as cartoons and larger-than-life personas. And then there's the music, created solely by Barratt, which features heavily in every episode. The rather elaborate musical numbers, complete with choreography, give the show its distinct flavor. We'll have to wait and see if America's taste buds are ready for it.
Others Tagged With