Dave Rawlings Machine: A Friend of a Friend
[Acony]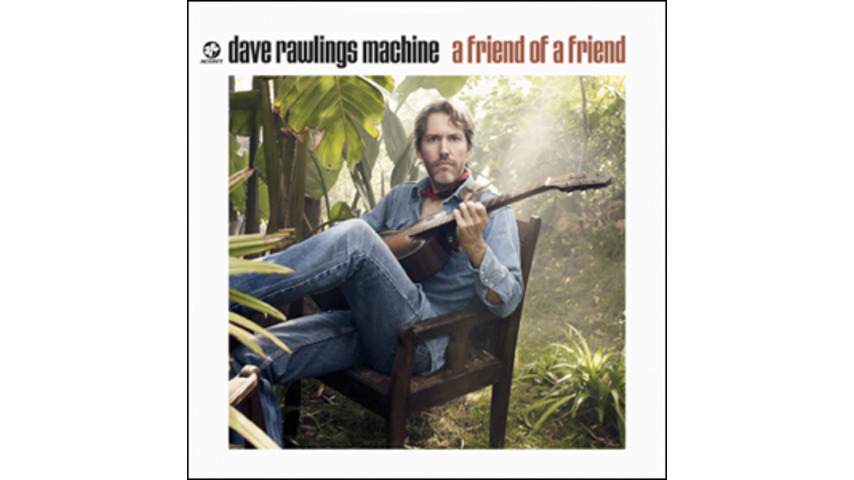 Longtime sideman takes the lead with first solo album
It's hard to believe A Friend of a Friend is David Rawlings' first album under his own name. For more than 12 years, the Nashville-based musician has toured, written and recorded with Gillian Welch, exploring the well-worn byways of country, bluegrass and stringband music while making the old-timey sound new. As a hired gun, he's played sideman to artists following in Welch's wake or creating their own: Sara Watkins, Ryan Adams, Bright Eyes, Guy Clark, Mark Knopfler and Jay Farrar, among others. So his debut as Dave Rawlings Machine is either a case of him stepping up, or everyone else stepping back. Welch herself appears on almost all of these songs, either singing harmony or playing guitar, as do several other musician friends. But Rawlings takes the lead on every track, as a singer and picker.
For nine songs over 40 minutes, Rawlings proves fascinating company — a good man to share a front porch with. As a performer, he makes good use of his distinct, reedy tenor (imagine a twangier Loudon Wainwright). And he has a spry, jumpy guitar style that lends his arrangements some bounce. As a producer, he keeps things loose and lively, mixing covers with originals. A Friend of a Friend plays like a rough, intimate live album instead of a polished studio affair.
The record captures Rawlings in his natural setting, where haste reads as spontaneity and the exposed seams are part of the appeal. The segue from Bright Eyes' "Method Acting" into Neil Young's "Cortez the Killer" sounds like a juxtaposition worked out on small stages before countless audiences, and while Rawlings mutes Conor Oberst's default disgust, his largely acoustic rendering emphasizes Young's lyrics as much as his guitar parts, making for a fresh reading of an oft-covered song.
"Method Acting" is one of several semi-covers on A Friend of a Friend, each a previous collaboration. "To Be Young (Is to Be Sad, Is to Be High) — from Ryan Adams' 2000 solo debut Heartbreaker (on which Rawlings played heavily) — gets a rambunctious treatment that adds a scratchy fiddle courtesy of Old Crow Medicine Show's Ketch Secor. Like Adams' version, this one swings with a palpable sense of youthful abandon that drives the song even more than the percussive strumming. Rawlings follows it with the tenderly thoughtful "I Hear Them All," a co-write from OCMS' 2006 album Big Iron World, which he produced. Taking it out of its original stringband setting, Rawlings accompanies himself on acoustic guitar and lets the song breathe, subtly alluding to folk activists like Pete Seeger and Phil Ochs.
Rawlings is a clever raconteur with a deep knowledge of country history and a tendency to let his songs ramble. Each track here sounds like it has a long story behind it. The album covers a wide swath of traditional American music: "Sweet Tooth" is an endearing Welch duet that draws from Appalachian folk as it stretches its metaphor like saltwater taffy, and "How's About You" is an old Nashville strut that recalls Hank Williams. Rawlings instills a charming ragtime boisterousness into Jesse Fuller's "Monkey and the Engineer," ignoring the Grateful Dead's popular version and going back to the original for inspiration. And opener "Ruby" sounds like California country rock circa Gram Parsons.
Such diversity is instructive — and, rather than delivering a dry seminar on Americana, Rawlings keeps things lively and raucous thanks to energetic performances and a light touch on the production. Details and nuances emerge over repeated listens, revealing the care that went into the recording. The xylophone on "Sweet Tooth" re-creates bass rhythms that might otherwise be played on a jug, adding an unexpected but appropriate jazz vibe. "Ruby" slyly appropriates the melody from "Oh Girl," a hit in 1972 for Chicago group The Chi-Lites — and, whether or not that allusion is intentional, the soul-to-country translation casts 
Rawlings and Welch's harmonies in a new light. Both "Ruby" and closing track "Bells of Harlem" feature sensitive string arrangements by famed composer Jimmie Haskell (you may know him from Simon & Garfunkel's "Bridge Over Troubled Water" and Bobbie Gentry's "Ode to Billie Joe"). Haskell gives the songs an old Nashville grandeur, keying up the drama without overpowering Rawlings' performance. "Bells of Harlem" winds down with a few simple, graceful chords that end the album on a lovely benedictory note.
Reviving the co-written tracks alongside so many Welch collaborations gives A Friend of a Friend a retrospective flair, as if Rawlings is fashioning his own greatest hits. The restless vibe to this ramshackle collection suggests Rawlings' greatest trait is his wanderlust. It's allowed him to work closely with a range of different artists in the past, and it makes A Friend of a Friend a spirited affair. He's already been everywhere, but this debut suggests Rawlings is really going places.
Others Tagged With