Review: Nobuhiko Obayashi's HOUSE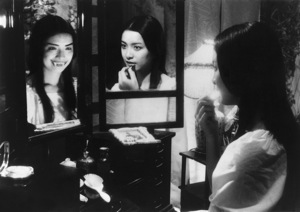 HOUSE
Release Date: Jan. 15 (New York)
Director: Nobuhiko Obayashi
Writers: Chiho Katsura, Chigumi Obayashi
Starring: Kimiko Ikegami, Yoko Minamida
Cinematographer: Yoshitaka Sakamoto
Studio/Run Time: Janus Films. 87 minutes
Japanese cult classic finally gets its due.
Movies are rarely, if ever, as whirringly rich and strange as House. The 1977 fairy-tale-as-fever-dream from Japanese director Nobuhiko Obayashi was the debut of a guy who was known mostly for his TV commercials, notably a popular series for the men's cologne Mandom starring American tough guy icon Charles Bronson. Given a shot at making his first feature by a struggling studio that had nothing to lose, Obayashi did what any aspiring auteur would do: He went to his 11-year-old daughter Chigumi for ideas.
What they came up with is a tragi-comic festival of the uncanny about a posse of seven Japanese schoolgirls, a maiden aunt with heartbreaking secret, her freaky-ass white cat named Snowflake, and the house of the title: an ooky-spooky hallucination out of gothic myth and Japanese folklore, jazzed by an animated, ADD-afflicted spirit that's like Tex Avery and Busby Berkeley on crack. The film was a flop in Japan, and it hadn't made a U.S. theatrical release until now. Over the decades, it has floated in cult-cinema limbo, variously bootlegged, aired afterhours on cable (IFC and TCM), and booked into events like the New York Asian Film Festival, which screened it last year to loudly appreciative midnight audiences. Watching it now, it's hard not to imagine that Tim Burton wasn't aware the film's antic charms before writing Beetlejuice, though Obayashi's influence on J-Horror and Sam Raimi's The Evil Dead also seems obvious.
No summary really does House justice. And every little thing about it demands attention: from the schoolgirls themselves—precocious archetypes who go by the nicknames Gorgeous, Melody, Fantasy, Prof, Sweet, Mac, and Kung Fu—to the anything-goes flourishes of gimmick and technique, which evoke everything from silent film to children's shows, classic surrealist cinema to Italian giallo.
Obayashi crams every frame with a surplus of mad ideas, as if his background in 30-second spots demanded he never let the screen remain calm for an instant. He loves superimpositions, Day-Glo matte horizons and cotton-candy color schemes, crudely animated special effects (like amputated fingers playing a piano and a watermelon that becomes a carnivorous, high-flying human head), and jarring, jaw-dropping juxtapositions. Without spilling all the beans, because you really need to see this without the footnotes, the girls' seemingly giddy acceptance of their bizarre fate comes with an undertone of melancholy—not shock or horror. The story really arrives as a subconscious exorcism of post-war anxieties (not for nothing is there a cameo by a mushroom cloud), expressed through a restless ghost that gobbles up pubescent girls—girls who jump at the occasion as if they were in an amusement park (which, actually, they are). House suggests that the nitrous-oxide hyperdrive of Japanese pop culture—as vivid now as ever in entertainments like Takashi Miike's Yatterman, for instance—is a brilliantly imagined, if not in fact transcendental brand of therapy.
House Trailer:
House Playdates
January 15 – January 21
New York, NY – IFC Center
January 22 – January 24
Coral Gables, FL – Cosford Cinema (HD)
Miami Beach, FL – Miami Beach Cinematheque (HD)
January 22 – January 28
Lake Park, FL – Mos'Art Theatre (HD)
Lake Worth, FL – Lake Worth Playhouse (HD)
February 5 – February 11
Nashville, TN – Belcourt Theatre
February 9-10 & 16-17
Washington, NC – Turnage Theater (HD)
February 19 – February 21
Portland, OR – Cinema 21
February 26 & 27
Albuquerque, NM – Guild Cinema (Digital)
February 26 – March 4
Chicago, IL – Gene Siskel Film Center
March 4 & 5
Lawrenceville, NJ – Rider University (Digital)
March 5
Evanston, IL – Block Cinema
March 12
Winnipeg, MB – Big Smash! Productions (Digital)
March 12 – March 16
Los Angeles, CA – New Beverly Cinema
March 19 – March 21
Wilmington, DE – Theatre N at Nemours (HD)
March 26 & 27
Cleveland, OH – Cleveland Cinematheque
April 2 & 3
Columbus, OH – Wexner Center for the Arts
April 9 & 10
Denver, CO – Denver Film Society
April 13
Boulder, CO – International Film Series
April 17
San Francisco, CA – Castro Theatre
April 23 & 24
Ann Arbor, MI – State Theater
April 30 & May 1
Cambridge, MA – Brattle Theatre
May 7 & 8
Milwaukee, WI – Union Theatre
May 14 & 15
Providence, RI – Cable Car Cinema
May 21 – May 23
Detroit, MI – Burton Theatre
May 28 & 30
Rochester, NY – George Eastman House
June 5
Philadelphia, PA – International House
June 11 – June 13
Webster Groves, MO – Webster University Film Series
July 9 – July 12
Waterville, ME – Railroad Square Cinema