Best of What's Next: Freelance Whales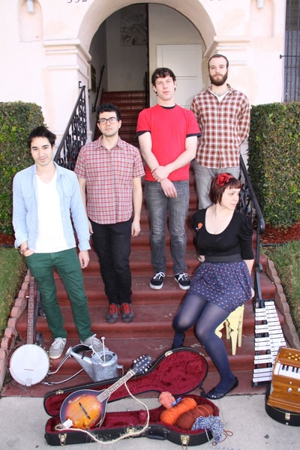 Hometown: Brooklyn
Album: Weathervanes
Band Members: Judah Dadone (vocals), Doris Cellar, Chuck Criss, Jake Hyman, Kevin Read (all multi-instrumentalists)
For Fans Of: The Postal Service, Sufjan Stevens, Passion Pit
When Freelance Whales frontman Judah Dadone was growing up on 20 acres of woods outside Wilmington, Del., his part-Cherokee nanny told him that horses and dogs—and sometimes kids—could see spirits. By age six, he began to make room for the ghost of a young girl he sensed living in his house. These memories, along with bits of dream journaling, weave their way loosely through Weathervanes, Freelance Whales' debut LP on Frenchkiss Records.
"For me, the record is a sort of pre-adolescent love story between a young boy and his imaginary friend, or an actual ghost," Dardone says. "Because he interacts with her mostly in his dreams, the logic of the lyrics undergoes a sort of distortion, or they tend towards the magically realistic."
A few years ago, Brooklyn-based Dadone began gathering Weathervanes' odd collection of instruments—a banjo from his stepfather, a harmonium from India, a water phone from the Lower East Side—and then used Craigslist to find bandmates from across the city to play them all.
The album captures that same whimsy with enough layers of peculiar instrumentation to make Sufjan Stevens jealous. And thanks again to Craigslist, Freelance Whales will be adding to that roster of strange instruments very soon. "Kevin Read and myself decided recently that we wanted to make an instrument that sounded like a chorus of Japanese flutes, which are typically made from bamboo," Dadone says. "We looked on Craigslist and found an Amish family in Lancaster, Penn., who allowed us to come work on their farm for a few days, help them with their bamboo harvest, and keep a load of it for ourselves. If we're not paralyzed by the irony of the Amish using Craigslist, and if our hand-craftiness doesn't fail us, we may have a bamboo pipe organ by mid 2010."
Others Tagged With