Mumford & Sons: Sigh No More
[Glassnote]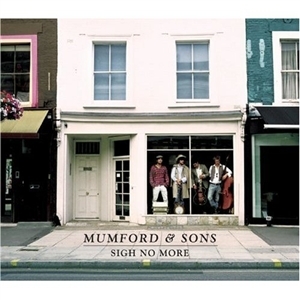 Nothing to be sorry for
Sigh No More flutters to life with an apology. In an ethereal four-part harmony, the British foursome intones Benedict's line to Beatrice from Much Ado About Nothing: "Serve God, love me and mend," and then the voices swell in unison: "And I'm sorry." It's one of the only pastoral moments on the band's hour-long debut LP, but the sentiment lingers.
More than anything else, this much-hyped collection is an album chock full of gorgeous remorse—and it's bursting at the seams. The tired snivels of the spindly-armed strummer have no place here; it's an amped-up, bass-heavy, banjo-picking pity party made of the same violent stuff that once inspired a lusty 17th-century cleric to demand of his deity: "Batter my heart." From that first flowery track to "Little Lion Man," where frontman Marcus Mumford croaks: "It was not your fault but mine, but it was your heart on the line," to "Timshel," where he laments "Death … will steal your innocence," it's wide-eyed, giddy yawp of an almost saccharine nature. Lyrical subtlety is not Mumford & Sons' strong suit, and it doesn't matter at all.
Sign No More works because it's commanding in all aspects of its presentation: The unashamedly universal themes are matched by the group's booming sound and imagery that stretches out over space and time. Bridges on "Sigh No More," "The Cave" and "Little Lion Man" rollick extra-hard as trombone flourishes and banjo chords—jumping around like beads of oil in a deep-fryer—shift frantically over booming bass riffs and drum beasts. With something that could almost be considered audacity (if it weren't so much fun) the album double name-checks the pet myths of the Old World and the New. The Shakespearean title and lead track are echoed throughout the album with imagery that blends royalty and spirituality, in a very Anglican, or Arthurian, move. On "White Blank Page," Mumford queries in a gravelly growl, "Can you kneel before the king, and say I'm clean?" and "Awake my Soul," directly recalls the Thomas Ken hymn, repeated in that church's liturgy for hundreds of years. Meanwhile, "Timshel" is straight-up Steinbeck worship and "Dustbowl Dance" keeps him close at hand as well.
This is an album that knocks you over at first. But when you gather yourself, get back on your feet and listen again, you'll want to hit the play button a second time. Mumford & Sons have no reason on to apologize on Sigh No More—this is a killer debut.
Others Tagged With