Cold War Kids: Mine Is Yours
[Interscope/Geffen/A&M]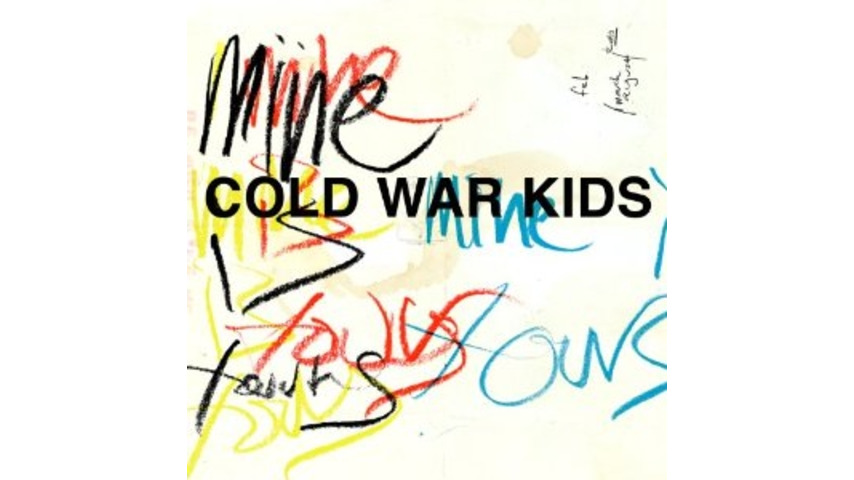 On the band's third LP, Cold War Kids seem rather stunted since their 2006 hit "Hang Me Out to Dry." Between lead singer Nathan Willett's gratingly heavy-handed vocal delivery and the album's inventory of hook-less atmospherics and anemic lyrics, Mine Is Yours gives the impression of a band too eager to please to really take a musical stand. The rhythm section anchors the occasional track with a touch of irresistible funk ("Royale Blue"), but the glimpses of real soul do little to patch up the gaping holes in substance as the songs deliver one lazy cliche after another. Lines like "Finally open my arms wide / finally I let you inside" ("Finally Begin") and "I have been broken open / this was not my master plan" ("Broken Open") leave CWK looking more like an indie-rock Creed than the buzz band that had bloggers frothing at the mouth just five short years ago.
Willett told Paste earlier this month that Cold War Kids approached this album thinking about "a much stronger direction and realizing where we needed to go." Knowing that the Kids hired Jacquire King, engineer of such indie-to-mainstream crossovers as Modest Mouse's Good News for the People Who Love Bad News, to produce this collection of pop-rock nuggets, one has to wonder if the destination they had in mind was the Top 40.
Mine Is Yours' schmaltz is a drag, but it's got a bright spot in "Sensitive Kid," a spare beatbox-thumping story from the point-of-view of the son of divorced parents. After bemoaning his mother's relationship with his best friend's dad and throwing a party in the house his broken family has just vacated, the narrator is admonished, "Sensitive kid, start acting like a grown-up." It's one of the least fussed-over, most mature songs on the record, and it leaves the listener wishing Cold War Kids would take their own advice.
Others Tagged With