Hayes Carll: KMAG YOYO (& other American stories)
[Lost Highway]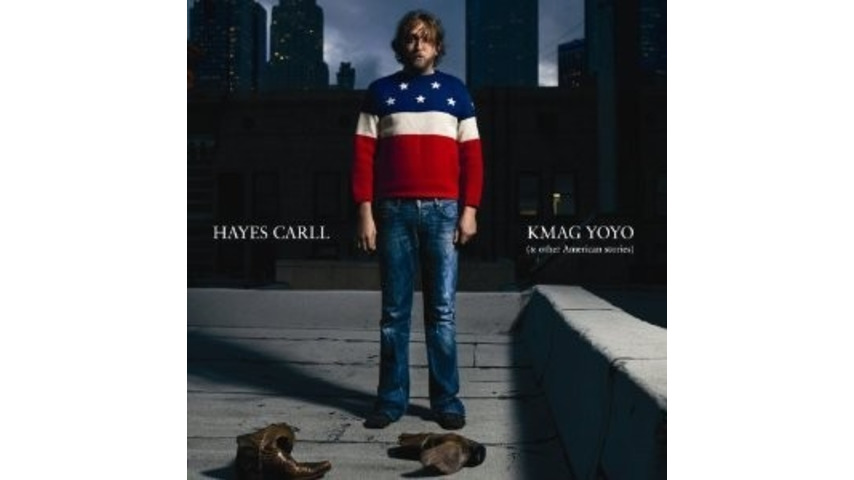 "I'm Like James Brown only white and taller
All I wanna do is stomp and holler."—Hayes Carll, "Stomp And Holler"
Only a dedicated acronym enthusiast—acronymophile?—or a military vet would know what KMAG YOYO stands for ("Kiss My Ass Guys, You're On Your Own"), but it's now also the title of Hayes Carll's best album yet.
Like many of the great country wordsmiths that came before, Carll delivers simple songs that are simply grand. With a nod to Hank Williams and a wink to Woody Guthrie, Carll's good-time music also takes a somber look at current uncertainties.
The rocking opener "Stomp And Holler" sounds fun but the lyrics reveal a treatise on economics: "Everybody knows it's a hard time, livin' with hate and the greed / Most folks earn what they get for a livin', others just steal what they need."
And on "Hard Out Here" Carll reveals his self-effacing insecurities like every good Texas troubadour: "You ain't a poet, just a drunk with a pen."
Then, for the most coverable track on the album Carll has the total self-assurance to write a touching, Willie Nelson-style ballad and reuse the title of a classic for "Chances Are":
"Chances are I took the wrong turn, every time I had a turn to take / And I guess I broke my own heart, every chance I had a heart to break."
Cary Ann Hearst is wonderful on "Another Like You", a darling duet with Hayes. Todd Snider and Corb Lund join him on "Bottle In My Hand", another Guthrie-style story of a modern day hobo.
In both "The Letter" and "Bye, Bye Baby" Carll seems to be saying goodbye to a lover but they also fit as a fare-thee-well before reaching a life of sober maturity, if not in his life, at least in his songs.
In 2008 Carll had proven his talent for story telling with "She Left Me for Jesus". He does it again with a first-person fable of a soldier's journey from an Abilene Dairy Queen to outer space (hence the album's acronym) told in a rapid-fire salute to Dylan's "Subterranean Homesick Blues": "Bowie on the system and a bottle on my knee, Armstrong ain't got nothing on me."
The tongue-in-cheek humor continues on the holiday track "Grateful For Christmas" about a family's holiday get-together: "I wish I had a drink, maybe a dozen. What I wouldn't give for one good looking cousin."
With alt-country lyrics that are more Tom Waits than Guy Clark, Hayes Carll continues to impress, giving us more to think about than just honky tonks and heartaches.
Others Tagged With