The Kills: Blood Pressures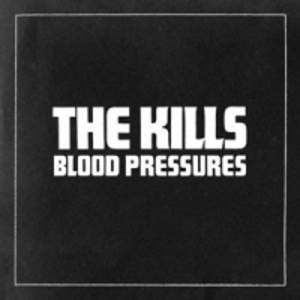 If anyone ever ended up at a Kills show without knowing the band (Jamie Hince and Allison Mosshart) they'd be confused. They'd be rapt by a raw, visceral sound, one that sends you searching through a thesaurus for more adjectives to describe its point-blank shotgun force, and they'd be confused. They'd be stuck on the same question one can't help but ask during any listen to The Kills fourth record, Blood Pressure: "How do two people make such a big sound?"
The record opens with the tom-friendly "Future Starts Slow," deep guitar laying down a question to be answered by higher strums, much in the same way Hince's guitars volley off Mosshart's voice on previous records. The vocals rip in tandem, a duet that hits perfect harmony in the chorus "…You can blow what's left of my right mind." They aren't so much offering themselves up to the audience as serving as our collective surrogate, letting us know what's in store.
Track three, "Heart is a Beating Drum," picks up right where their last album (Midnight Boom) left off, Mosshart alone over beat-and-break rock. The next track, "Nail in My Coffin," fires up with a chainsaw hit of riffs and brings you to the brink of starting your own one-man, sweaty, super-awkward-because-its-at-your-desk-and-you're-in-an-office dance party, before track five, "Wild Charms," gives a much-needed break as Hince goes soft and solo for a quick 1:15 breather.
After that is "DNA," easily the most anthemic song on any Kills album, one that instantly asks for a concert film so you can see Hince thrust and pump with his guitar as Mosshart smothers the mic in sultry swagger. It's followed by "Baby Says," which mixes the moody serenading sounds of '60s doo-wop with a loose, garage rock vibe. It's a love song full of longing, one that shows undeniable confidence. It flows nicely into "The Last Goodbye," a vulnerable Mosshart singing alongside a piano, a scratch of old vinyl beneath it all, the perfect last dance at a punk rock wedding. "Damned if She Do" picks it back up before things take a bluesy turn for the last two songs.
On the new album, everything that's good about The Kills has gotten better. And everything that's good about The Kills is what makes a great rock record. Blood Pressures mixes heavy, gainy hard-rocking guitars with a whole lot of making love to the mic. It strikes the perfect balance of songs that make you want to break whiskey bottles and those just right for moments worth remembering.
Others Tagged With