Jill Scott: The Light of the Sun
[Blues Babe/Warner Bros.]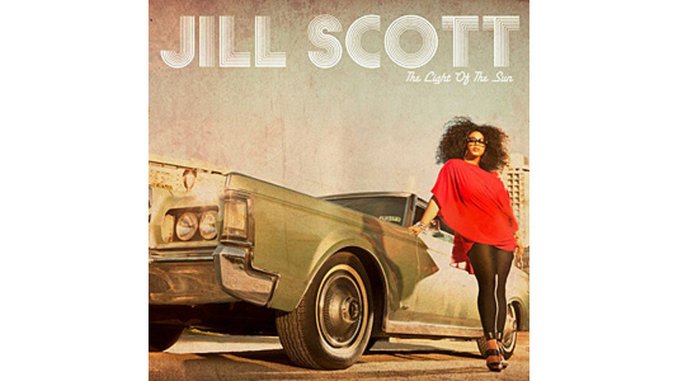 Jill Scott represents the modern thinking woman's evolved boho grit and dreams. Not one to buy into the fairy tales, she refuses to surrender the notion that life can be sweet—even as she throws down a gauntlet of how it is and how it's gonna be over a patchwork of spoken word, lush balladry, hip-hop, funk and sleek grooves.
Scott opens with the in-the-moment "Blessed," which is as much reportage and witness to her state of life as it is a string and percussion track that gently undulates beneath her boiled wool and sunshine alto flutter before leaning down thick. Moving directly into the Anthony Hamilton steadfast desire slice of R&B, this is a celebration of life's sensual reality. But the opening pair of tracks also show Sun to be a celebration of life as it's lived, not as it's blinged at the club—too large, too grand, too inaccessible for most of us.
For a woman whose touchstones are as much bell hooks, Nozake Shange and Dana Bryant as Roberta Flack, Meshell Ndegeocello and Gil Scott-Heron, this is smart sisters-can-do-it-for-themselves-but-why-should-they-want-to? stuff. Whether it's the women's crescent power "Rolling Hills," a chronicle of the potency of girl-parts; the spoken word "Womanifesto" or the saucy "Shame," which features the commanding A Group on response vocals, a javelin-throw of a rap from Eve and the sanctified challenge to a man who's "missing out on me," it's staunch stuff.
With Sippie Wallace frankness, Scott is willing to line it out in "Shame," make the date prove he's worthy on the supple soul of "Making You Wait" and serve up a coquette-ish Betty Boop sweep-out-the-ashes kiss-off over a jaunty ragtime piano/human beatbox rhythm track from Doug E. Fresh on "All Cried Out (Redux)."
And that's the magic of The Light of the Sun—the always progressive Scott's fifth project. Her dexterity in juxtaposing genres, infusing her swooping jazz-singing with near-gospel fervor, kittenish moans and shameless spoken exhortations is commanding. "Le BOOM Vent" calls out a lover who oversteps and stumbles without apology or flinching, just as her internal dialogue over the reality of being swept off one's feet ("He's kinda Don Cornelius to me") versus the reality of what could be ("He could be cold-blooded with another woman behind another door") to reflect the dynamics of dating in the real world.
So it is with Jill Scott. Eyes wide open, legs shut until the power of her womanhood is earned. Better than Sex In the City, this is sensuality from a woman whose love deserves to be won, expertly turned over a sampler of modern black music. Surrender to her, then let the layers envelope you.
Others Tagged With