Wilco: The Whole Love
[dBpm Records]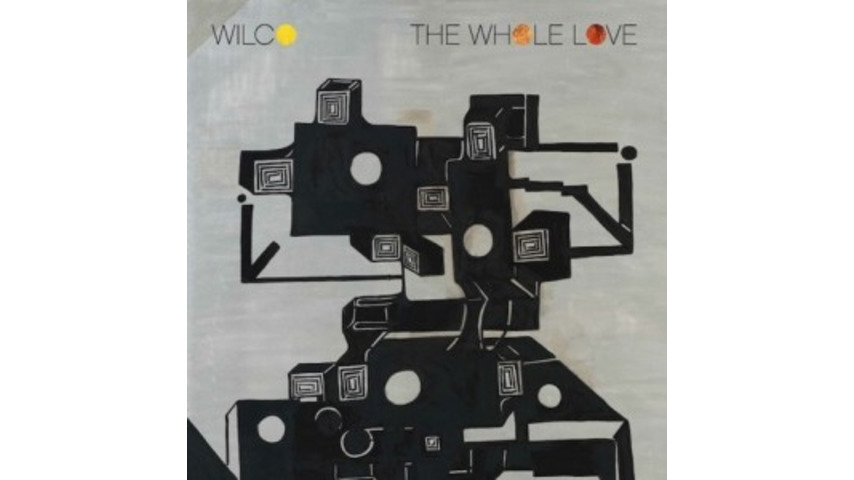 There's a pretty amazing chunk of YouTube clips slowly making rounds around music news sites—a few doozies featuring Wilco mastermind Jeff Tweedy at a Chicago book release party performing sloppy, self-deprecating acoustic covers of Black Eyed Peas hits. His rendition of the ubiquitous schlock "I Gotta Feeling" is quite memorable on its own, but watching Tweedy (one of rock music's most fearless and innovative spirits) carefully recite the lyrics to the Fergie-sung shitfest "My Humps" is simply a treasured moment for Earth's absurdist time capsule.
"I mix your milk with my Cocoa Puff," Tweedy reads. "They say I'm really sexy / The boys wanna sex me." Watching most 44-year-old white guys read those words would be borderline creepy. For Tweedy, it's strangely appropriate—over nearly 20 years, Wilco's career has been (perhaps accidentally) defined by its unpredictability.
Sure, no great band makes the same album twice. But the arrival of every new Wilco album is a rare gift to careful music listeners—there's literally no way of knowing what will come out of the speakers. They may have started as a fairly conventional bar-rock/Americana band (1995's A.M.), but ever since, Wilco has been pretty much everything else. Working with late collaborator Jay Bennett, Tweedy tried his hand at sprawling, epic rock (Being There), explored meticulous pop structures (Summerteeth), and became critical darlings with the layered sonic experimentation of Yankee Hotel Foxtrot. Friction led to Bennett's departure, which led to A Ghost is Born—a raw, fractured statement of boiling sweat and vacant emotions.
Since the band's inception, line-up changes have been as frequent as stylistic ones—only Tweedy and bassist John Stirratt have remained since the early days, with keyboardist Mikael Jorgensen and percussionist Glenn Kotche joining in the early '00s. But 2007's Sky Blue Sky marked the beginning of a completely new Wilco era, adding to the fold multi-instrumentalist Pat Sansone and virtuoso guitarist Nels Cline. As a newly energized sextet, they dialed down the weirdness and ratcheted up the full-band interplay—a beautiful, cathartic combination, even if journalists labeled its '70s-styled, easy-going dreaminess as "dad-rock." On Wilco (The Album), they cemented their new start by keeping the same group of players together for consecutive albums; the music, meanwhile, was more scattered and studio-centric, bringing their live-sounding dynamics to more carefully constructed layers.
Basically, Wilco have run out of new ground to tread. These guys aren't going to release a funk-rock album any time soon (although I'd love to hear that), so it would seem—especially with the same gang back for The Whole Love, their eighth full-length—that the element of surprise is a thing of the past.
Pretty much. "Art of Almost" creeps out of the gate drenched in static before the eruption of a thick kraut-rock groove; Kotche's kit is crisp and tasteful, dancing counter-rhythms around Stirratt's jittery bass. An electronic pulse creeps in—the track building to a punk-ish climax, with Cline dragging his guitar through a slew of melted effects. It's arguably a jarring introduction, especially at seven minutes in length, but its hypnotic clatter isn't too far removed from Wilco (The Album)'s "Bull Black Nova" or Ghost's notorious showstopper "Spiders (Kidsmoke)." "Art of Almost" is a thrilling introduction—but it certainly isn't surprising.
But who cares? The Whole Love—the first release on their new label, dBpm—sounds less self-conscious and more natural than anything they've ever recorded, even though the music itself is full of rich, headphone-worthy details. It sounds a bit like every form of Wilco you've come to know and love over the past several years: basically a new millennium "Best of" package. Tweedy has called the album a split between "snot-nosed, obnoxious pop songs" and atmospheric country, and there certainly is a lot of that here. Lead single "I Might," with its snarling, punk-ish clatter and Tweedy's trademark nonsensical lyrics (references include "pissin' blood," and "Slim Jim pies"), certainly fits in the former camp—as does the excellent "Born Alone," (their catchiest track since Foxtrot's "Kamera") and the pulsing (if slightly goofy) rocker "Standing O." In the latter camp, there's the glowing, fingerpicked quiet of "Rising Red Lung" and, most memorably, "Black Moon," which positively aches with hushed emotion, Tweedy's circling chord progression augmented by Cline's delicate pedal steel.
On the whole, The Whole Love reminds me most of 1999's Summerteeth: their most melodic, layered, and psychedelic LP. Like that album, Love thrives on overdubbed detail—Jorgensen, in particular, indulges his every keyboard whimsy, peppering the tracks with Farfisa organ, Moog synths, Fender Rhodes, and occasional piano. So while The Whole Love sounds wonderful blaring through your car stereo, it reveals its subtleties through repeated headphone spins. You'll catch as many new treasures—be it the spacy synth flurries in the waltz section of "Capitol City" or the gorgeous interaction of glockenspiel and acoustic that spices up the 12-minute closer "One Sunday Morning (Song for Jane Smiley's Boyfriend)"—on your 20th listen as you will on your third.
The Whole Love rewards patient listening, which isn't exactly fashionable in 2011. In some ways, it's the black sheep of their catalog—not as instantly catchy, not as blatantly weird, lacking an obvious sonic identity compared to their other works. Maybe they've run out of creative obstacles. Oh, well. It's the sound of Wilco out to prove nothing, driven only by their desire to craft great songs. In that regard, they've succeeded from start to finish—given enough breathing room and a bit of perspective, The Whole Love reveals itself as their finest album since Yankee Hotel Foxtrot.
Others Tagged With