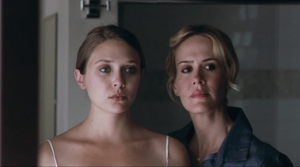 First-time feature writer-director Sean Durkin has crafted an assured and exquisitely controlled indie drama about a young woman's escape from a cult commune and her uneasy reentry into the real world. In the lead is Elizabeth Olsen (younger sister of Mary-Kate and Ashley) in her first film role—a naked performance (literally and emotionally) that exposes a fresh, raw talent. Like a peach, she's vulnerable on the surface, malleable and easily bruised, but with a stone of conviction at her core.
For reasons initially unknown, Martha, aka Marcy May, aka Marlene (a progression of names that, it turns out, marks both her search for identity and her descent into the cult) slips away from the pastoral farm in the Catskills where she lives with her "family" of mostly young adults. She makes a distraught, incoherent phone call to her sister Lucy (Sarah Paulson), who whisks her away to her lake house in Connecticut.
Estranged from her sister for two years, she struggles to reconcile her sudden reliance on Lucy and her husband Ted (Hugh Dancy) with their yuppie lifestyle—beginning with a house far too large for just two people. Ted and Lucy's attempt to start a family is quite literally interrupted by the arrival of Martha, who's lost all sense of appropriate boundaries, stripping naked to go swimming with her brother-in-law just for starters. (The film's one flaw is that it stretches plausibility in this regard: It's hard to believe that Martha would have totally forgotten what is and isn't acceptable behavior off the farm.)
But through carefully orchestrated, hallucinatory flashbacks, Durkin reveals the extent of Martha's indoctrination, explains her awkward behavior and cultivates viewers' anxiety until they're as keyed up as if they were next door watching Paranormal Activity 3. Martha is a strange bird, saying things that don't make sense and overreacting to everyday occurrences like dinner parties. By revealing the cause of her behavior after the effect—and saving the sordid reason she fled the compound for last—Durkin forces the audience to constantly reevaluate Martha's sanity and their own emotional allegiance.
This narrative control is furthered by how Durkin and cinematographer Jody Lee Lipes (Tiny Furniture) use the camera, employing close-ups to keep key players offscreen, slow zooms out to gradually reveal important information and layers of visual and aural obstructions—all to focus attention away from the other characters and toward Martha and her reactions to them.
Their strategy is a smart one, especially because it underplays the magnetic, potentially scene-stealing turn by veteran performer (and recent Oscar nominee) John Hawkes as Patrick, the patriarch of Martha's family on the commune. It's Patrick who renames her Marcy May, a benign, even sweet act that secures his hold over her. He's at once fatherly and authoritarian, warm and chilling. On his silver tongue, even an invitation to "be a part of things" or an acoustic serenade sounds like a threat. The performance cements Hawkes' reputation as a consummate artist—commanding, charismatic, yet menacing from the first moment he appears on-screen.
Ultimately, script, style and performance coalesce in Martha Marcy May Marlene for a riveting yet excruciating viewing experience, underscored by a dissonant, minimalist electronic soundtrack by Saunder Jurriaans and Danny Bensi.
Others Tagged With