Up All Night Review: "Hiring and Firing" (Episode 1.09)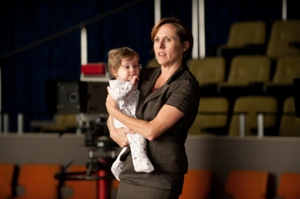 This week has been quite the week for NBC shows—none more than the surprise of the freshman sitcom Up All Night. It was announced that the hit show would move to the prestigious Thursday night lineup starting in January. It's a big step, and hopefully the Will Arnett and Christina Applegate show can bring the block back to glory.
"Hiring and Firing" has two unique storylines that would fall short if they weren't paired together. All season the show's been on a steady rise with only a few hiccups, and last night's episode seemed to follow that trend. The writers used yet another guest star to serve as the catalyst for the plot. Hopefully they don't start to rely on that over and over and are able to zero in on creating deeper stories and development with our main cast. This episode featured Molly Shannon as Nancy, a terrible assistant who deserves to be fired.
She comes in early and stays like a cute songbird throughout: she's fun and you can't really hate her, but sometimes she's a little bothersome. The character is similar to how Ava acted in the earlier episodes before she toned it down and became likeable. Nancy is supposed to have a car on set as a surprise giveaway, but when the curtain pulls back, she's standing there with a clipboard. Control freak Ava is clearly upset and then backstage scolds Nancy in a hilarious way by only having one thing to say, "WTFWTCFTPL,N" (which means "Where the f**k was the car for the poor lady, Nancy?"). It was another great use of the writers sparingly using censorship that started a few episodes back.
Nancy, as I stated earlier, is only a vehicle that drives the deeper meaning of the episode. When Reagan is supposed to fire Nancy (she claims to be a firing machine who the crew called "Ray Gun, pew pew") she all of a sudden can't. It's one of the many ways Ava feels Reagan has changed, something that the best friends/coworkers have dealt with since the birth of Amy.
Again, this episode proves that Up All Night isn't laugh-out-loud funny like other NBC sitcoms, but it tries to portray life as it really is. It scales back from the absurdity of Community and 30 Rock and brings us back to mid-'90s shows that center heavily on relationships. That's not to say that this show doesn't venture into the craziness, because they do. Only it's monitored carefully and only goes over the top to exaggerate a point and not to drive the entire episode.
Again, the other plot rests on Arnett's performance, and he doesn't disappoint. Chris' displeasure with trying to find a babysitter is goofy, but there is a sincere feeling that leaks through, which is what the show has become so good at portraying. His irrational reasons not to hire a babysitter (not using a Mac, not wanting a dude babysitter, or having gauges as ear piercings) are legitimate—at least in his offbeat mind they are.
He feels Amy already resents him and taunts him by saying things like, "You'll never win" into the baby monitor, but somehow when they do find an ideal babysitter he can't seem to muster the courage to leave Amy. Eventually we do get to see him play some hockey, which is a real treat. It's not only funny, but it also helps develop Chris as a character and brings us back to Up All Night's ability to balance the different types of comedy.
On one last note, I've already stated how much I love Jennifer Hall as Missy. I wanted her to be bumped into a more important role, and she has. This episode barely features her, but she steals the show. She had my laugh-out-loud moment of the week.
Others Tagged With