Ravi Shankar: Nine Decades Volume 2: Reminiscence of North Vista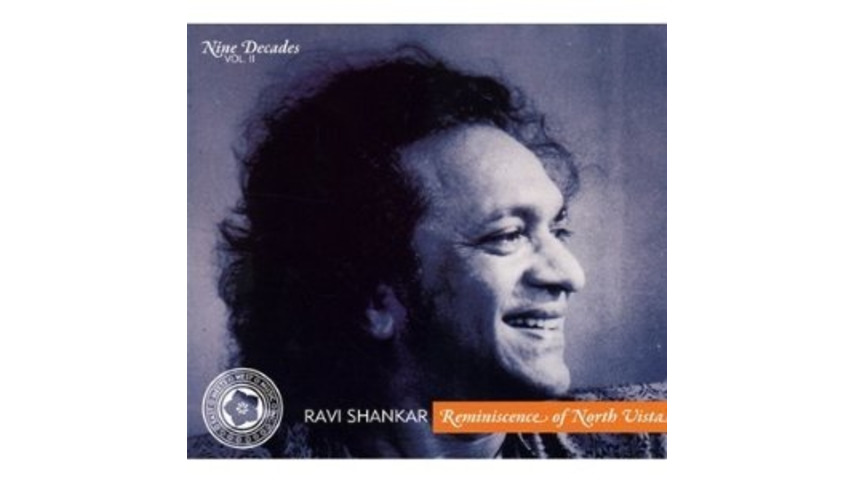 At 91 years of age, Ravi Shankar has earned the right to be reflective. As a dancer, choreographer, composer and virtuoso sitar player, Shankar has spent most of his life— since he was a very young child—on the road, fulfilling a mission to expose the world to Indian classical music. Up until a very few years ago, he maintained a touring and recording schedule that would exhaust most players half his age, but the intense physical demands of playing the sitar have finally forced Shankar to pare down his activities and spend more time at home.
While this may be bad news for concertgoers who have had the privilege of attending Shankar's illuminating live performances over the years, the extra time Shankar has on his hands now has been well spent. For, even though his reflexes may have slowed down somewhat, Shankar's intellect and restless creativity has not, so for the last year or two the sitarist has been attending to the preservation of his recorded and performance legacy by releasing archival concerts on his label East Meets West Music as a part of a personally selected series entitled Nine Decades.
The music for this second volume of the Nine Decades series was recorded at Shankar's home in California on Aug. 29, 1969 just one week after he played the Woodstock Festival. Unlike his performance at that legendary event, which was characterized more by its speed and virtuosity than its subtlety, this home recording finds Shankar and Alla Rahkha, his table player, in a much more reflective mood. At this time, Ravi Shankar was at the height of his popularity in the West and not surprisingly, the parties at his home attracted luminaries from the worlds of music and film, including George Harrison, John Lennon, Mick Jagger, Peter Sellers and Marlon Brando. And, while it remains uncertain how the intricate improvisations and interweaving melodies resonated with the celebrity audience in attendance, the recording preserved here is among the very best of Shankar's music captured anywhere. Comprised of two meditative evening ragas (melodic sketches) the tracks on Nine Decades Volume 2 showcase Shankar at his intuitive peak. The compositions are soothing and can be enjoyed at low volume as background music, but listen actively and you'll hear the work of an improviser who—without flash or bombast—is every bit the equal of Miles Davis or Jimi Hendrix at their freewheeling best.
George Harrison once famously credited Ravi Shankar with 'inventing world music' and though that might be a bit of a stretch, if you listen to Nine Decades a few times, it might be enough to understand that no one alive today has contributed more to the development of the genre than he has. This CD is absolutely essential listening and belongs in everyone's collection.
Others Tagged With