First Aid Kit: The Lion's Roar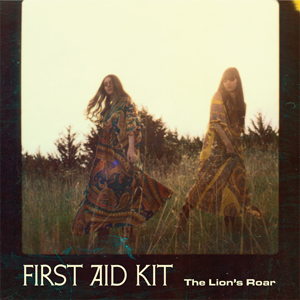 On a hot summer afternoon in 2009, I was driving back from Manchester, Tenn., with my sister and a few friends after four amazing days of music and fellowship at Bonnaroo. It was here—sun-beaten, dirty, and exhausted—in a car somewhere between the festival grounds and my home in Arkansas, that I first met the Söderberg sisters.
Now, I would be lying if I said I had discovered the Swedish folk-duo First Aid Kit on my own. While my sister and I have our differences at times, we've always bonded strongly over music and have had the uncanny ability to recommend artists to each other that we know will be well received. So, when it was her turn to pilot the music on the seven-hour drive back, I was excited to hear what she might have in store for my ears. Buried within a mix of covers (including a Little Boots rendition of Kid Cudi's "Day N Night" and the Pink Floyd classic "Breathe" by The Shins) was First Aid Kit performing Fleet Foxes' "Tiger Mountain Peasant Song."
I was instantly mesmerized. The cover was simple and straightforward—crooning voices and a guitar augmented by perfectly-placed harmony vocals. There is one moment in particular (the harmony on the "How" of "How can the body die?") that gives me goosebumps to this day when it comes around. I had to find out more about this band.
When I got home, I searched the song on YouTube, but after clicking on the video, I was convinced I had selected the wrong clip. It opened with two somewhat-plain looking young girls—very young in fact, the girls were age 15 and 18 at the time of the recording—sitting in a forest, both dressed in flannel shirts. There was no way these girls, innocent children in appearance, could be in possession of the world-weary voices I had heard belt the words "I don't know what I have done. / I'm turning myself into a demon," with such earnestness. Then they opened their mouths, and all doubt was cast aside. I was stunned and all the more intrigued.
A year after hearing the Fleet Foxes cover, Johanna and Klara Söderberg released their first LP, The Big Black and The Blue, and I only fell deeper in love with them. I was already impressed with the maturity of their voices and their talent in re-interpreting an already wonderful song. But their skill with songwriting might be the duo's most impressive quality. Much in the same way the timbre of their voices makes them seem older than their years, their songs seem to be born out of lives lived much longer than their own. How is it possible that these young women have had the sort of life experience to write the stories they do? Their songs are filled with wisdom gained from memories that seem to stretch a thousand years or more into the past. These are the words of truly old souls.
Mike Mogis must have been moved by the girls' talent as well, for he serves as producer on the duo's new record, The Lion's Roar. And this is a man who knows a thing or two about stellar songwriting after spending more than 10 years working with Conor Oberst and Bright Eyes.
The Lion's Roar continues much in the same fashion as the duo's first record while still remaining impressive. If anything, the material on the new LP feels a lot bigger due largely to the use of a full band featuring the girls' father as well as Mogis himself and Nate Walcott, also of Bright Eyes. It opens with the album's lead single and title track, an epic tune that begins much like the Fleet Foxes cover that first got them attention: with the strumming of an acoustic guitar and a voice. But by the time the song is over, it has transformed into an inspiring blend of marching drums, swirling woodwinds and heavy-handed piano chords, all reined in by the sisters' gorgeous harmonies.
While the girls hail from Sweden, they have never been shy about their American influences. Their affinity for American folk and country music is clearly evidenced in "Emmylou," a beautiful track featuring swells of a pedal-steel and light taps of wire brushes on the drums. The song is of course named for legend Emmylou Harris and reveres her work along with that of others of her time and genre, including her duet partner, Gram Parsons, and June Carter and Johnny Cash. It also uses this subject as a metaphor for love. "I'll be your Emmylou, and I'll be your June," they sing, "If you'll be my Gram and my Johnny, too. / No, I'm not asking much of you. / Just sing, little darlin'. Sing with me."
"Dance to Another Tune" is one of the darker tracks on the album, but it's no less breathtaking. It begins with slow, minor piano chords, backed by the subtle roll of harp notes coaxed by nimble fingers and the low hum of a cello. The Söderbergs' finely matched vocals float above the music, delivering simple-but-beautiful lyrics that sound almost like proverbs. "If there's nothing new under the sun, all that will happen has already begun," they sing. The intensity rises as the drums fall in, joined shortly by a trumpet and eventually a hammer dulcimer, climaxing in a tempo change and a swelling of strings. Klara and Johanna almost seem to be lost to the instruments before their voices reemerge with the final lyrical blow: "Will you look at me? / Take a good look at me /And tell me who it is that I am."
Conor Oberst joins the girls on the album's closer, "King of the World," a rollicking goodtime of a song complete with handclaps, fiddle, trumpet, mandolin and accordion. It brings the album to an exciting conclusion that feels like a celebration of all that has come before. The girls sound more than confident when they sing, "I'm nobody's baby, I'm everybody's girl / I'm the Queen of Nothing, I'm the King of the World." And for the listener, in that moment, they are exactly right. The Lion's Roar is a gorgeous record and a spectacular follow-up to their 2010 debut. If this is a sign of the quality of music to come in 2012, we're looking at an exciting year.
Others Tagged With