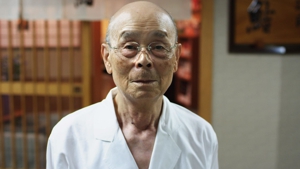 Directed by David Gelb, Jiro Dreams of Sushi is a documentary about one of the greatest masters of the culinary world who no one has ever heard of. This man is 85-year-old sushi shokunin (Japanese artisan), Jiro Ono who runs a ten-seat, sushi-only restaurant called Sukiyabashi Jiro located in a Tokyo subway station. He is hailed internationally as an innovator in the art of sushi, people travel from around the world specifically to eat at his restaurant, and he has been awarded a coveted three star Michelin review, making him the oldest Michelin chef alive. A seat in his restaurant must be reserved at least a month in advance and customers pay $300 a person for a prix fixe tasting menu that takes about half an hour to complete.
The film is shot mainly on a Red One camera, giving the close ups of the sushi and the shokunin's hands at work an incredible clarity and crispness that makes this documentary feel all the more real. The images are set to a combination of classical and modern orchestral pieces, the latter composed by Philip Glass and Max Richter. The modern compositions are beautiful, but at times, they build to such an intensity of repetition that it overwhelms the simplicity of the crystal clear sushi images, and the beautiful composition of the shots of Jiro at work. The music does, however, nicely parallel the repetition, not only in Jiro's daily life, but also in his dedication to the art of sushi. Every day, from when he was a small boy left to fend for himself at the age of seven, Jiro has strived for a more perfect realization of the sushi he, literally, dreams about at night. He sources all of his ingredients from experts in their specific fields—whether it's rice, seaweed, fish, or shrimp—and prepares the ingredients with a purity and a simplicity that is unparalleled.
Although Jiro's work is ostensibly the focus of the documentary, the film is really propelled by the story of his relationship with his two sons; the youngest of whom has started his own restaurant, and the oldest of whom, at the age of fifty, continues to work with his father, training to one day take over his restaurant. This is a situation that could easily become rife with jealousy, anger, and frustration; instead, there is simply an understanding, a patience, and a serious dedication to the art of sushi making. Jiro Dreams of Sushi is a beautifully filmed documentary about a father and his sons who have devoted their lives to the pursuit of the perfect piece of sushi.
Director: David Gelb
Starring: Jiro Ono and Sukiyabashi Ono
Release Date: March 9, 2012
Others Tagged With