Laura Gibson: La Grande
[PID]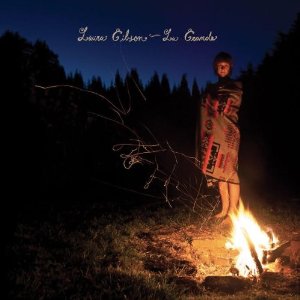 It's no mystery—you don't name your new album La Grande unless you plan on expanding your sonic palette. Nor do you enlist a virtual who's who of veteran overdub buddies (The Dodos, Calexico's Joey Burns, two Decemberists). On her first handful of releases, Oregon-based folkie Laura Gibson has made a career out of barely playing, with a lonesome country-jazz voice that floats softly, like a ghost through a windowpane.
But no more. At least that's the impression given by the title track, what with its emphatic spaghetti-western sprawl: There's a lonesome double-bass, a jazzy drum clatter, creepy backing vocal whispers, a tangle of tom-toms, guitars shivering like spiders down a wilted web. There's a whole lot going on sonically—so shouldn't this sound massive? Yet there's still a chilly distance on every note, as if Gibson and company recorded the track live on the expansive Western plains, surrounded by howling coyotes and plenty of open air. No matter how big the song tries to get, it sounds painfully small in Gibson's hands.
Which isn't to say La Grande isn't a lovely little listen. In fact, Gibson works wonders when she plays to her strengths, utilizing her famous friends' skills to augment and subtly shade her songs. "Milk-Heavy, Pollen-Eyed" is jazzy cocktail atmosphere, somehow both dense and quiet, with loads of sounds speaking peacefully to themselves—acoustic guitar fingerpicking, a gust of glockenspiel, a murmur of clarinet. "Lion/Lamb" is equally affecting, again built on rich harmonic texture: double-bass, distant shaker, harmonies that hover in a wash of striking dissonance, like highway traffic heard underwater. Meanwhile, "The Fire" erupts into a backwoods gospel breakdown, with sweaty organ fills and a pulpit-stomp snare.
Gibson's lightly jazzy, Feist-like vocal quiver almost sounds like a parody in 2012 (Seriously—who isn't singing in that pseudo-jazz style these days?), but it's a voice both genuine and pure, and when she keeps the stylized pitter-patter to a minimum, the effect is downright touching—much like La Grande itself.
Others Tagged With