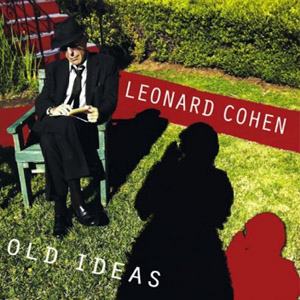 Anyone who was hoping that Old Ideas, the long-awaited new studio album from Leonard Cohen would reveal a poet who finally realized that the glass might be half full after all, will be sorely disappointed with these 10 new songs. The rest of us who harbor no such expectations or illusions are in for a treat as the Montreal singer's newest collection is—hands down—his best studio album since I'm Your Man came out in 1988.
A self-described "manual for living with defeat," Old Ideas is a Leviticus and Deuteronomy of suggestions of atonement for carnal error and misplaced faith that puts to rest any idea that Cohen has mellowed with age. Though his "days may be few" as he sings on "Darkness"—the closest thing to a radio-friendly hit that Old Ideas has to offer—Cohen proves that he's not ready to go down yet as he delves into each of these new songs with a ferocity and focus that has been missing in his work in recent years. The imagery, situations and gravelly voiced assessments of love, life and moral frailty which inform songs such as "Amen" and "Show Me the Place" prove that he's still at the top of his game as he tirelessly exhumes relics from the wastelands of the human heart and soul that most of us would rather forget or lack the nerve to explore in the first place.
As in all of Cohen's music and poetry, the apocalyptic situations the singer describes in Old Ideas are counterbalanced by pronouncements of faith and the kind of gallows humor that Dante might have enjoyed while taking a break from writing the Inferno. When he sings "I'd love to speak with Leonard, he's a sportsman and a shepherd, he's a lazy bastard living in a suit" as he does on "Going Home," it's easy to laugh, but it's not the kind of laugh that comes from enjoying a free and willowy life; rather it's the uneasy chuckle that comes just before the roller coaster flies off the rails. It's the laugh that comes when all hopes are dashed and options are few.
There is certainly no shortage of songs of despair out there for people to listen to, but what distinguishes Cohen's latest effort is the depth of the compassion and the breadth of vision that gives perspective to the individual suffering he describes. Despite accusations to the contrary, Cohen has never been content to wallow in the type of self-centered despair that is only appropriate for a much younger man. Maturity has left him with no one to blame and no way to let himself off the hook. This sad (or liberating, depending on your perspective) situation is best described in "Amen," the seven-minute tour de force that forms the nucleus of Old Ideas as Cohen continues to look for respite when he sings "Tell me again when the victims are singing and the laws of remorse are restored/ tell me again that you know what I'm thinking but vengeance belongs to the Lord." Salvation isn't easy. Angels may be "scratching at the door to come in," but in the end Cohen insinuates that each of us is alone and left to tend as best we can with the fallout arising from our own actions.
During Leonard Cohen's last world tour, the singer re-interpreted many of his songs with gorgeous, elaborate musical arrangements that transformed and elevated their effect. On Old Ideas—as on most of his studio records—Cohen opts for a skeletal musical soundtrack where the melodies and instrumentation are often no more insistent than the brushing of branches against a window in the wind. All of the attention and emphasis is directed towards Cohen's voice as each rasped syllable from his scarred old Methuselah of a throat creates a depth and intimacy that is both horrible and delightful.
Old Ideas isn't likely to win Leonard Cohen any new fans. It's too intense, too raw—the skin has been flayed right off the bones of each of these songs—for it to attract the easy listening crowd and too musically subdued for the average rock fan. But for his old fans and those new listeners with a sympathetic turn of mind, Old Ideas builds on the promise of his recent world tours and return to the limelight with his strongest, most unified album in decades. To follow Cohen through these songs as he shadows the thousand points of light he senses emerging from the darkness is as exhilarating and profound an experience as one will likely ever have with popular music. Beauty and horror rest side by side in what may be the most perfect album 2012 has to offer. In an era of hype and hyperbole where such a word has lost its meaning, Old Ideas is in the truest sense a masterpiece.
Others Tagged With