Rodrigo y Gabriela: Area 52
[ATO]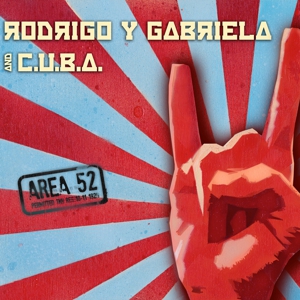 Rodrigo y Gabriela has expanded from a duo of fast-paced guitar maestros to a composition of an expansive sound that includes a 13-piece band called C.U.B.A. on their latest studio album Area 52. This latest album pushes the duo into the realm of a salsa club with even faster rhythms and Cuban-influenced beats.
Of the nine songs on the record, seven are from 2009's 11:11 while "Diablo Rojo" and "Juan Loco" were featured on their self-titled 2006 release. While the collection of songs could have been called anything from jaunty to foreboding, the majority of Area 52 sounds as if it should be played in a dance club and will easily lend itself to remix upon remix.
"11:11" takes a step down from the big band sound and exudes the easy-listening vibe that it was originally presented with the addition of the Cuban flavor and a distorted lead guitar that slashes through the song with urgency.
While "11:11" might be the slowest and least-changed song, all of the others are tweaked by some variant or another. For instance "Diablo Rojo" implements a horn section and a series of cellos before heading into a nearly minute-long drum solo.
Through and through the album is larger than anything Rodrigo y Gabriela has ever done, but in this case larger only means better half of the time. The charm of the band's guitar work sometimes gets lost in the middle of C.U.B.A.'s added instrumentation. The focus shifts away from the melodies that were originally created. Even so, the departure offers something that the band had never previously done and will give fans the chance to enjoy the expansion as long as they're willing to accept it.
Others Tagged With