The Oscar-Nominated Short Films 2012: Animation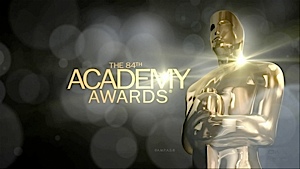 Each day this week we're bringing you Oscar Week coverage. Tune in tomorrow for more!
One of the great pleasures of Oscar season is the opportunity to check out the short films nominated for Academy Awards. This is particularly true of the animated shorts, a consistently strong category that this year once again demonstrates a range of stunning styles from simple line drawings to computer-generated imagery. If they have anything in common, these titles seem programmed around a common nostalgic tone, and interestingly, like Best Picture frontrunner The Artist, four of the five nominees are dialogue free.
Dimanche/Sunday
In Patrick Doyon's Sunday, one of two Canadian films among the animated shorts nominated for an Oscar, the sometimes brutal circle of life is as routine as one boy's typical Sabbath. Called away from the train tracks, where he places coins to be flattened by the locomotive that dwarfs his clattering house when it thunders by, he reluctantly joins his parents at church, where his father snoozes to dreams of sawing logs, hammering nails, and power drilling. After the service, his father runs over a rabbit, foreshadowing much bigger roadkill to come. At his grandparents' house, his grandmother chops the head off a live fish for lunch, and the mounted bear head on the wall turns out to be alive. Other guests arrive, cawing like the ubiquitous crows attracted by carrion outside. Illustrated in drab, sepia-like pencil that reflects the dreary palette of the boy's existence, Sunday takes a surreal turn as his imagination breaks free.
Director: Patrick Doyon
The Fantastic Flying Books of Mr. Morris Lessmore
Drawing on such cinematic touchstones as the films of Buster Keaton and The Wizard of Oz, writer-director William Joyce and co-director Brandon Oldenburg have crafted a lovely fable about the power of story—specifically, the tangible pleasures of books. With delightful visuals bridging black-and-white silents and Technicolor musicals, The Fantastic Flying Books of Mr. Morris Lessmore flies into action with a twister that blows all the words out of our porkpie-hatted hero's books. With the help of Humpty Dumpty, who's animated when the pages he appears on are flipped, Morris discovers an orphanage of tomes, which he cares for by feeding them alphabet cereal, clothing them in book jackets and bringing them back to life simply by reading their contents. Joyce and Oldenburg employ a cutting-edge combination of miniatures, CGI and 2-D animation to illustrate their joyfully old-fashioned tale.
Directors: William Joyce and Brandon Oldenburg
Writer: William Joyce
La Luna
For the first time since the Academy has given awards in the category, a Pixar title has not been nominated for best animated feature film. The Disney-affiliated production company is unlikely to go home empty-handed, however, as La Luna by Enrico Casarosa is as poignant and exquisite as the studio's best work. In it, a young boy, his father and his grandfather—who communicate in vaguely Italian jibberish—row their old wooden boat out to sea under the stars of the night sky. When the glorious full moon rises, the boy learns his family's unusual trade. In a fanciful storyline imbued with magical realism, the visual and sound effects alike are sublime.
Director: Enrico Casarosa
Writer: Enrico Casarosa
A Morning Stroll
Part why-did-the-chicken-cross-the-road joke, part zombie apocalypse, part cultural critique, Grant Orchard's A Morning Stroll revisits much the same plot in three different styles from three different eras. In each version, a city kid encounters a hen bobbing down the sidewalk. The bird climbs a stoop, pecks the door as if knocking and is granted entry. But how each period is illustrated—1959 in black-and-white line drawings, 2009 in flat planes of vivid color, 2059 in 3-D CGI worthy of Spike and Mike's Sick & Twisted Festival of Animation—and how the young man reacts to the unusual sight vary widely according to the times. A Morning Stroll is sharp, funny and unexpected.
Director: Grant Orchard
Writer: Grant Orchard
Wild Life
Set in Calgary, Alberta, in 1909, Wild Life is the only Oscar-nominated animated short this year to feature dialogue, but by no means is this portrait of an English immigrant straightforward. Writer-directors Amanda Forbis and Wendy Tilby combine the techniques of documentary filmmaking—archival newsreels, talking-head interviews, letters their subject ostensibly wrote home—with gorgeously textured, almost impressionistic imagery, including an allusion to Michel Foucault's painting "This Is Not a Pipe." Meanwhile, the fate of this would-be rancher, whose assessment of his situation is a good deal sunnier than its reality, is intertwined with facts about comets. Wild Life paints a sophisticated narrative in stunning visuals.
Directors: Amanda Forbis and Wendy Tilby
Writers: Amanda Forbis and Wendy Tilby