Maps & Atlases: Beware and Be Grateful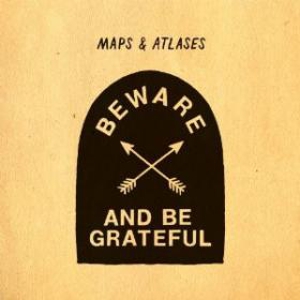 Since when is it a sin to be both artful and catchy? On Beware and Be Grateful, their sophomore full-length, oft-lauded Chicago math-rock quartet Maps & Atlases have suffered the slings and arrows of heavy criticism for their forward-thinking approach. Some have complained about the album's newfound slickness, claiming the band's technical eccentricities have been smoothed over by studio gloss. Others have bemoaned their ever-expanding fondness for multi-cultural riffs. Some have simply bitched about a influx of hooks. On one hand, they're all correct: Beware and Be Grateful is the band's catchiest, slickest, most focused effort to date. Longtime fans of the band's grittier early work will more than likely grimace, but Maps & Atlases seem intent on expanding their sonic horizons—a task they've accomplished with enviable grace. If they've shed a few close-minded fans in the process, who gives a shit?
"Old & Gray" kicks off with palm-muted guitars and a glowing circle of processed vocal harmonies—with frontman David Davison showing off both his fondness for clever wordplay ("The writing on the wall is under three coats of paint / In an apartment we don't live in anymore") and his unpredictable vocal style, moaning and crooning over a funky rumble of bass and thick percussion. On "Fever," Davison comes off as Steve Winwood with a pesky chest cold, his hooky vocal melody bouncing joyously off stereo-panned guitar lines and booming '80s drums. They haven't abandoned their bread 'n' butter math-rock guitar cacophonies: The effortlessly catchy "Winter" and Spanish-influenced "Bugs" are nearly dizzying in their six-string assaults (guitar highlight: the mind-melting, static-y solo on "Silver Self"). But Maps & Atlases are at their best when they push themselves furthest from their comfort zone: Future show-stopper "Remote and Dark Years" is a towering soft-rock radio smash Peter Gabriel never bothered to write.
Others Tagged With