The Newsroom Review: "We Just Decided To" (Episode 1.01)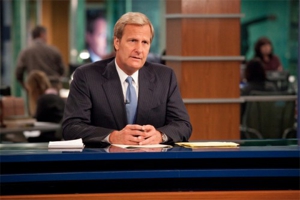 As far as TV shows go, The Newsroom is remarkable. Its cast is incredible, its production values are sky-high, and its writing is intelligent in ways seldom seen on Two and a Half Men. Unfortunately, The Newsroom is not TV; it's HBO.
Further, television's golden boy, Aaron Sorkin, writes the series. Because of these two leading characteristics, expectations for the show are understandably much higher than they would be for whatever CBS and ABC plan to trot out during primetime. Compared to the standard established during the past several years by HBO and AMC, early returns on The Newsroom are disappointing.
Sorkin mounts his soapbox early in the pilot with Jeff Daniels' national news anchor Will McAvoy ripping into a sprightly youth at the Medill School of Journalism. She asks why he and the rest of the presentation panel think America is the greatest country in the world. Beneath all the layers of McAvoy's finely quilted syntax is Aaron Sorkin sobbing and saying (in essence) that the state of the union is dire because it's not how it used to be. Sorkin is angry at the internet and social media and cell phones and change. This attitude is highlighted later in the episode by McAvoy's incredulity that the station employs someone to write a blog for him, and his mockery thereof.
The characters we're supposed to like are old white dudes McAvoy and Sam Waterston's boozy, bow-tied Charlie Skinner and young white dude Jim Harper. It is the presumably old-souled Harper whose shoe-leather (ish) reporting stands in stark contrast to the brash, incumbent executive producer's reliance on computers for immediate news alerts. These characterizations reinforce the recurring flaws of Sorkin's other work, the most notable of which is almost impossible sexism.
The two major female characters in the pilot are Maggie Jordan (played by Alison Pill) and Mackenzie MacHale (yes, that's the actual character's name, and, no, I do not believe this is a crossover from The Young and the Restless), played by Emily Mortimer. Sorkin's screenplay strips Pill of the confidence and charm she displayed in Scott Pilgrim vs. the World and Midnight in Paris (and probably most other things). Meanwhile, Mortimer seems wildly miscast as Sorkin's stock sassy thirtysomething (among other alliterative phrases). In both cases, (as well as the aforementioned Northwestern youth), the women are belittled by many of the male characters in a manner that suggests none of them (or the showrunners) are remotely self-aware, as opposed to the hyper-aware sexism of Mad Men, for example.
Other symptoms of Sorkinitis already evident in The Newsroom include overwritten monologues (although none as egregious as those that plagued The West Wing) and tokenism. As with Dulé Hill in The West Wing, Dev Patel presents a conspicuously non-white character among an otherwise predominantly white cast. Like Hill's Charlie Young, Sorkin attempts to wash away Patel's token status by publicly announcing that he is not white. Whether he succeeds in either case is debatable.
Perhaps it was a foolish expectation on my part to hope that Sorkin might respond to his critics and improve his heretofore successful formula. That said, if Sorkin stays the course, viewers of The Newsroom can expect to watch very fine actors reading exquisitely structured lines rather than the relatable characters of nearly every other HBO series.
Others Tagged With