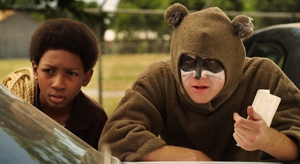 On paper, General Education looks like a passable summer teen comedy. Written by newcomers Elliot Feld, Jaz Kalkat and Tom Morris, and directed by Morris, the film seemingly has the right ingredients: A good-looking, but slightly geeky high school hero (Chris Sheffield); an overbearing dad (Larry Miller); clueless mom (Janeane Garofalo); eccentric little sister (McKaley Miller) and a passel of weird loser friends (Skylan Brooks, Harvey Guillen, Sean Przano and Seth Cassell). Oh, and lest we forget, there's a beautiful girl (Maiara Walsh) and a bully (Tom Maden) thrown in for good measure, too.
Unfortunately, in General Education, even tried-and-true formulas fall flat thanks to the lack of several key elements—good dialogue, fully developed characters and a satisfying story. Even borrowing from more successful films—there's a tennis plot line and a quirky family a la The Royal Tenenbaums and a plight of a high school loser from Napoleon Dynamite—isn't of much help for a comedy devoid of humor.
The film introduces us to Levi Collins (Sheffield), a high school senior who's been given a full tennis scholarship to his dad's alma mater. There's a slight hitch in the plan when he fails Earth Science and doesn't officially graduate. The college needs his final transcript, so Levi enrolls in summer school to make up the class without telling his parents.
His actress/mime-in-training little sister helps him in the deception, which is fairly easy since dad's busy with his mayoral duties and planning Levi's life, and mom's busy drowning her sorrows in a bottle of wine. Garofalo's comedic talent is woefully underused in the film, stuck in a one-dimensional Mad Men-esque housewife character. In one scene, she's ironing her husband's shirts on a kitchen counter in a dress; in another, she's in a bathtub completely clothed, drunk and depressed, but that moment is glossed over in subsequent scenes.
There are too many throwaway characters in the movie, and many of the ones that remain have little to do. Two of Levi's best friends abandon him for a post-graduation road trip to Mexico, and he's stuck at home with Shady Nick, who's finishing high school in his early 20s, and Levi's 13-year-old sidekick Charles (Brooks). In one of the more groan-inducing scenes, we see a flashback of Levi using Charles, who's African American, as a model in a science class, explaining skin pigment's relationship to fast running. No joke.
While sister Emily plays a big part in moving the plot forward at the beginning of the film, she practically disappears in the latter half. Levi's brother (Bobby Campo) drops in toward the middle of the movie after quitting the pro tennis tour. Love interest Walsh seems too smart and mature to be hanging out with the summer school crew, but we find later it's part of a plot twist.
In order to pass the 10-day summer school, Levi must complete a final science project. He chooses to convert his older model Mercedes (a graduation gift from his parents) from running on diesel to vegetable oil. After a series of madcap adventures, Levi presents his project at the 11th hour to the hard-nosed principal and the no-nonsense science teacher who failed him. He starts the biofueled engine, much to their amazement. "This is so impressive," says the science teacher, who's genuinely shocked that a car could run on vegetable oil. Where has she been for the past decade?
General Education tries to combine a number of themes, including a coming-of-age film, a family dramedy, a buddy flick and a summer love story in 94 minutes. That would be a difficult task in the best of circumstances, but with a poor script and few laughs, even the better performers are not enough to gain a passing grade for this film.
Director: Tom Morris
Writer: Elliot Feld, Jaz Kalkat and Tom Morris
Starring: Chris Sheffield, Maiara Walsh, Janeane Garofalo, Larry Miller
Release Date: Aug. 24, 2012
Others Tagged With