The Jackson 5: Come and Get It: The Rare Pearls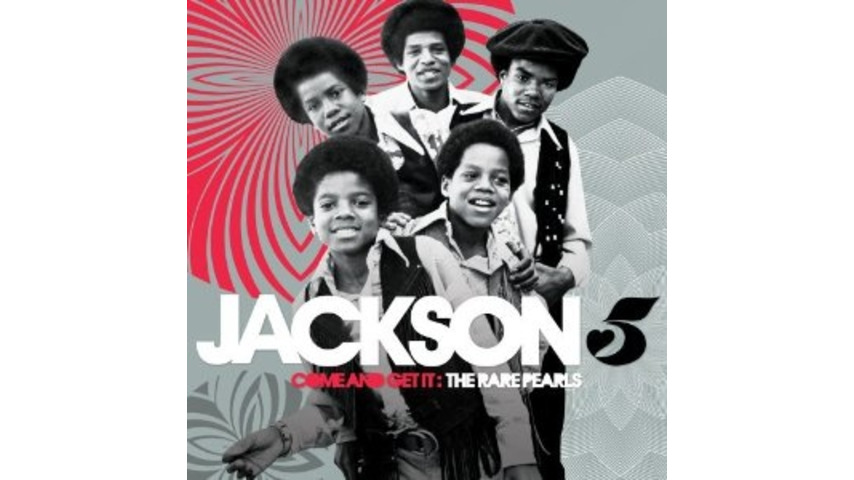 It's nearly unbelievable that, some 40 years after they were recorded, there are still "unreleased" tracks by The Jackson 5. It's a testament to the sheer, Herculean work ethic at Motown in the '60s and early '70s that, in addition to the 10 albums the J5 released between 1969 and 1975, there would be four more albums' worth of material recorded, mixed and mastered that was basically just sitting around. But here we are, just three years after another dozen unreleased tracks were issued (2009's I Want You Back! Unreleased Masters), staring down a collection of 32 more lost tracks.
While much of the material here doesn't rise to the level of the J5's hits, it's not a stretch to point out that much of the material on their contemporaneous albums didn't either; this was, after all, a group defined by their singles. Still, what's fascinating about The Rare Pearls is how much experimentation was done by the Corporation. (Motown's post-Holland-Dozier-Holland in-house production team, the Corporation's main task was writing and choosing the group's songs and producing and arranging the sessions; the Corporation's Deke Richards compiled and produced this set.) Now, of course that experimentation didn't take the form of trying out 10-minute psych-soul jams a la The Temptations, but in trying to determine the best material for the group. And lots was tried, including tons of cover versions.
Although covers made up a good third of most of The Jackson 5's earliest records, what's fascinating about the covers here is the range of styles, from a galloping take on "Feelin' Alright" to a sublimely slinky, funky and sorta raunchy version of Three Dog Night's "Mama Told Me Not To Come." (You will never get over how weird you feel listening to the group growling out these lyrics about whiskey and women.) Additionally, there are forays into interesting and complex light-funk numbers like "Keep an Eye," "Would Ya Would Ya Baby," and "Iddint" that sound totally natural now for a group of this era to have been dabbling in, but they would have been amazingly dissonant for the J5 at the time. Of course, it was all the result of a well-oiled music-making machine, and, when these tracks were made, there was little regard for their importance or future relevance; these were just the numbers that didn't make the cut, as bizarre as that may seem now, given their relative quality to the rest of the group's output. All of it collectively has aged surprisingly well, considering how it was so easily dismissed as "kids' music" at the time. Thankfully, this material was all well-preserved, and the sound quality of this set is superb and well-augmented by informative liner notes and photos.
Others Tagged With