Andrew Bird: Hands Of Glory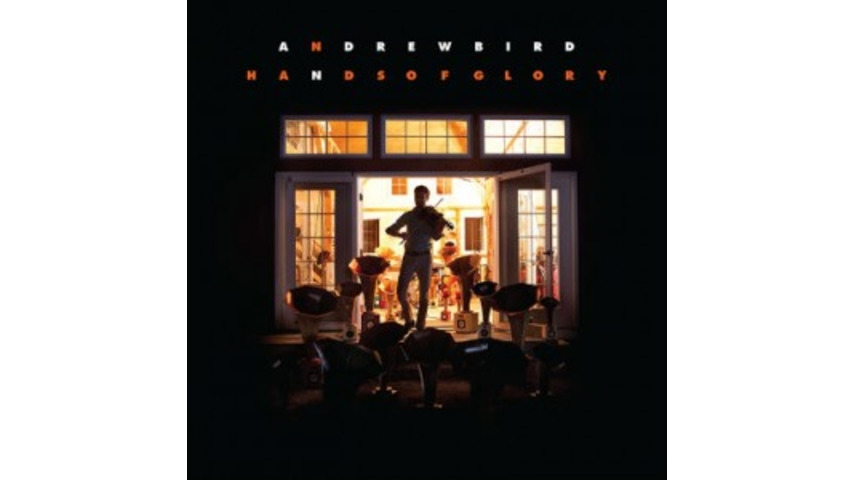 Assuming the Mayans and your particularly obnoxious Facebook friends were right all along and the world is actually ending on Dec. 21, then no one can say Andrew Bird wasted his last year of life on earth as we know it. The past 12 months have been quite busy for the songwriter and Victrola enthusiast: he's launched a sonic art exhibition at the Museum of Contemporary Art Chicago; toured quite a bit; released a sleepy, lovely full-length called Break It Yourself and, as the year winds down, is releasing a companion EP, Hands Of Glory, touring quite a bit still and re-launching his "Gezelligheid" concert series, a handful of very intimate shows at churches in Chicago and New York with stripped-down instrumentation.
"Gezelligheid" is a Dutch word that can be roughly translated to "cozy," "inviting" or "quaint," but in a more abstract way, can also refer to larger feelings of home or belonging. It's a feeling, or an attempt to create a feeling, at least, that makes itself known on Bird's previous full-length, Break It Yourself—the gentle ache of "Sifters," the breezy reel of "Danse Caribe"—and one he seems to be trying to continue to create and expand upon with Hands of Glory.
The quaintness and coziness—the "Gezelligheid"—comes in a very literal sense at points with this album, with comforting, mostly-acoustic tunes that, while still very Andrew Bird with their whistles and intricate plucking, echo comforting tunes of yesterday, from the cowboy-hats-and-harvest-moons folk of "Three White Horses" to the True Blood soundtrack swampiness of "Helicopters" to the goofy, Grateful Dead-ish thigh-slapper "Railroad Bill." A cover of Townes Van Zandt's "If I Needed You" begins with the lonesome whine of Bird's fiddle and rolls along with golden-honey harmonies and a simple strummed backbone—the sort of sweet, loving rendition that would start an impassioned sing-along at a dive bar somewhere in the rustling American southwest. The whole EP feels familiar, either from the carryover from Bird's previous albums (most notably Break It Yourself) or from things you've heard before but can't quite put your finger on—it doesn't shock or change the course of rivers, but it does invite, and welcome, and maybe pour you a cup of tea and ask about your day.
Hands of Glory carries over certain elements from its full-length predecessor, in sound and subject matter and even the order of things. Both end with similar, slow-burning and too-long closers, with Hands of Glory's "Beyond the Valley of the Three White Horses" serving more as a riding off into the sunset. At points, the string arrangement on "Horses" sounds strikingly similar to a section of Break It Yourself's closer, "Hole in the Ocean Floor." (Both feel like an overstayed welcome.)
Break It Yourself's shuffling "Orpheo Looks Back" is reincarnated as "Orpheo," a more deliberate and reflective track with more intermittent quiet moments than its predecessor. Both succeed in their own way: the former is a fun listen and an upbeat juxtaposition considering the actual total bummer that is the Greek myth of Orpheus; the latter is certainly more intimate, more the kind of track you'd expect to hear at one of Bird's "Gezelligheid" shows. His voice wavers through the refrain and on the last keening "It will drive you mad," his falsetto bleeds right into the wailing of the fiddle. Orpheus weeps. And it takes a great level of trust and building of intimacy to cry in front of your audience, in the calm, warm quiet of a church, or through speakers in your living room.
Others Tagged With