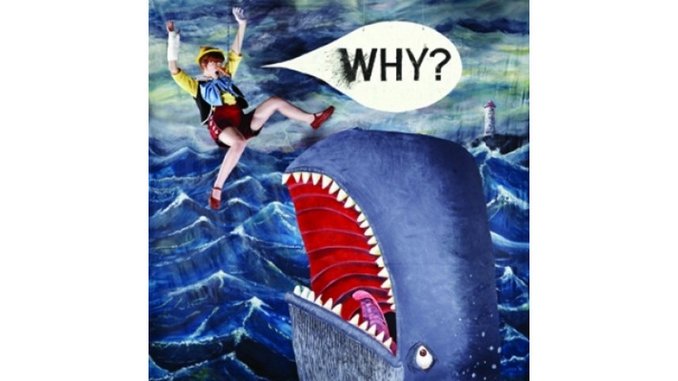 "Good God / what the hell, what the fuck?" raps Yoni Wolf, WHY?'s heady mischief-maker, minutes into his band's fourth album, while harps flutter over clattering beats. "Am I just a red bump in the rash of cash worship?" There's a lot of soul-searching on Mumps, Etc., as Yoni ruminates on illness, death, groupies, the touring grind and his status as a modern "rapper" in the indie-verse. Like any good WHY? album, the results are heady, perplexing and often revelatory.
WHY?'s sonic ambitions have grown exponentially with each subsequent album—Mumps, Etc. is their most layered, headphone-friendly set to date, utilizing an eight-member choir and a string quartet, not to mention plenty of harps, flutes and ass-blasting rhythms. From a purely musical standpoint, they've never sounded more confident: check the moody piano chords on "Waterlines," the mariachi horns and dubby guitar blasts on "White English," or the swelling female harmonies of the gospel-ish "Kevin's Cancer."
Meanwhile, it's a pleasure to have Yoni rapping again after the relatively verse-free pop format of 2009's Eskimo Snow. Dude has an interesting singing voice, texture-wise, but at the end of the day, his unique blend of stoner flow and awkward croon is one of the band's strongest selling points. Ultimately, Mumps, Etc. feels soggy the more Yoni sings—his tone-deaf faux-country whine on "Strawberries" is borderline off-putting.
But this album is also home to some of the frontman's most compelling rhymes, and there's a narrative flow here that gives even the most skippable tracks momentum. On "Sod in the Seed," Yoni reflects, with startling honesty, on his own lethargic mental state: "I make decent cash; I'm a minor star," he raps over a bass-driven thrust, "I never shook this first-world curse." But the true centerpiece is "Paper Hearts," in which Yoni waxes philosophical about persevering over death, his vocal flow sputtering out in dizzying rhythms before a tear-jerking orchestral surge: "I'll hold my death as a card in the deck to be played when there are no other cards left."
It's a poignant, weirdly optimistic mantra for an album that so often dwells on the downbeat. But in the WHY? universe, the biggest surprises are often the biggest revelations.
Others Tagged With