Big Boi: Vicious Lies and Dangerous Rumors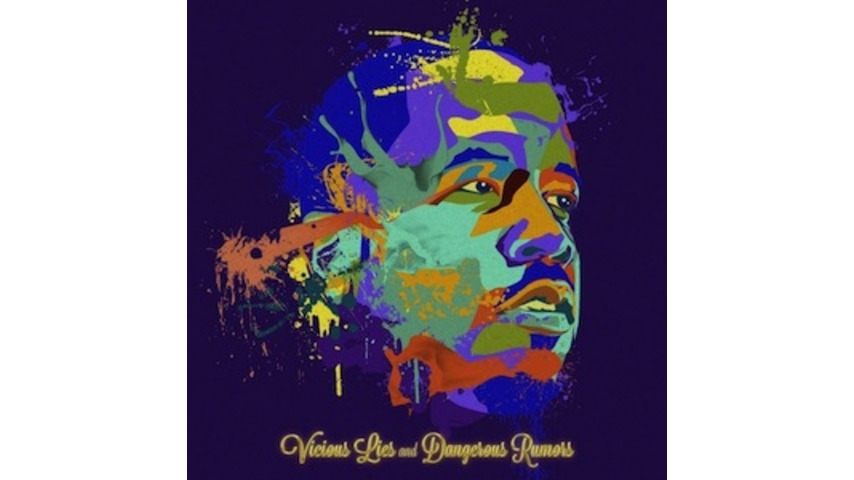 Big Boi's second album, Vicious Lies and Dangerous Rumors has all the hallmarks of a bad record, and yet we want to be soft on it more than most artists' failures. Why? Maybe it's because Antwan Patton has that air of inscrutable cool like Jay-Z, always rapping skillfully and workmanlike but retaining a sly charm that never feels canned or rote. But more likely it's because OutKast is over and no one, especially fans, wants to face that. André 3000 is for better or worse following in the reclusive tradition of Lauryn Hill, D'Angelo and Sly Stone. Something about being an innovator of rhymes, soul and rhythm weighs on our greatest artists so heavily that it pulls them apart completely. We have no idea what André's been doing outside the limelight, or how healthy it is (sounds more like a Gillette commercial than an addiction though, and the dude is vegan), but the once-personal auteur and self-inspiration for "Ms. Jackson" has definitely couched himself somewhere far from the public eye, leaving the easygoing, down-to-earth partner to spread himself thin maintaining good PR.
Big Boi's "official" solo debut after Speakerboxxx as OutKast still, Sir Lucious Left Foot: The Son of Chico Dusty, was a surprise comeback in that it shouldn't have been a surprise. He never went anywhere and all that delicious, hooky-funk was incubating (and though he doesn't want to admit it, perfecting) over four years. It turned out to be his second-best album after Stankonia, a righteous, decade-poll-topping classic. He figured its critical success (none commercial, fuck Jive for letting it die like Clipse) meant it was time to get real and start making art on the regular again. Sane idea, making it even sadder that Vicious Lies is the worst record he's ever had his name on. Everything about this record is a shame: it explores new creative territory, the rhyming is solid and syntactically delightful (Big Boi's pronunciations are always more quotable than his lines), and it's a deserving outcast trying to make good as one-record-every-two-years lifer. And it simply does not work.
Over 17 tracks, a few are pretty good: the single "Mama Told Me" makes excellent use of Kelly Rowland over a Prince-ly beat; "Thom Pettie" utilizes a synth line as unique as any effect from that last Yeasayer record, and openers "The Thickets" and "Apple of My Eye" are the meat-and-potatoes stoner-funk that Big Boi does best. "In the A" might actually be the most intense thing the man has released since "B.O.B.," and it showcases Ludacris and T.I. at their most charismatic and ferocious in years. But none of these are on the level of any OutKast highlight—which I won't embarrass him by naming—much less Sir Lucious, which had maybe three songs that aren't better than anything here. And those are the best it has to offer.
Then there's the shit. Oh god, where to begin? B.O.B. and Wavves fail to mesh on the awful "Shoes for Running;" Phantogram ruin an astounding three songs, at least two of which were almost good (the other being the horrible "C.P.U.") "Tremendous Damage" shows that Big Boi can actually sing(!) but wastes it on a generic piano ballad. Several tracks near the end are empty, overlong, ambient stoner swamps. And elsewhere Big Boi's sexual politics slip ever so slightly, just to the point where it grosses us out when a bonus track demands to see our T&A. Maybe it's the defensive album title or the deficiencies everywhere else, but Big Boi's nice-lothario personality will need as much retooling as his next batch of songs will.
Others Tagged With