Tom Zé: Tropicália Lixo Lógico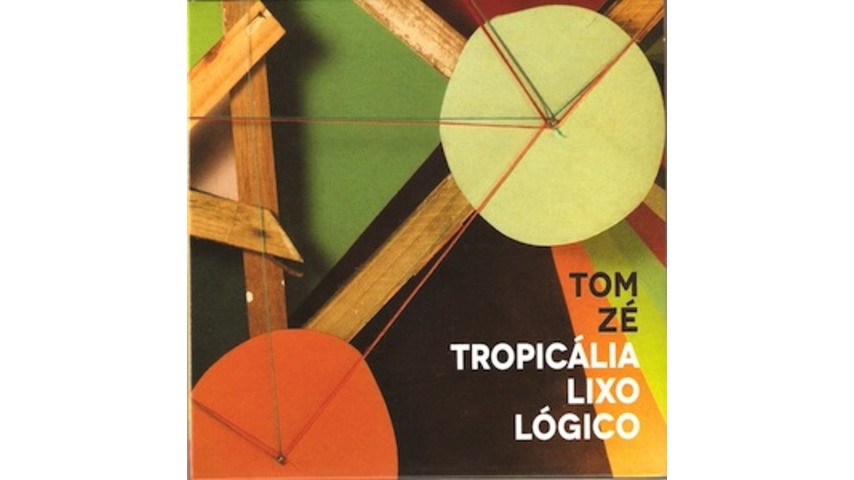 The album doesn't start all that differently from Animal Collective's Centipede Hz actually—the electronic rhythm stabs that mark the opening "Apocalipsom A" are accompanied by cuts and growls and scrapes like any other collage-oriented indie-rock. Except this one's by a 76-year-old Brazilian and no one quite knows where it came from. Tom Zé's a brilliant musician, just your average everyday Tropicália artist, a vet from the enlightenment period of modern Brazilian music, their Sgt. Pepper moment, who didn't get nearly as famous as Caetano Veloso, Gilberto Gil or even Os Mutantes, so that he's currently in the closest thing he'll get to a heyday.
This is fine; Zé makes more sense in the present, having been rescued from obscurity by David Byrne, who releases most of his records on Luaka Bop. But this curious—and curiously accessible—item appeared out of nowhere this year credited to Lapa Records without a download circulating that cuts the ends off of many tracks, sometimes intentional-sounding and otherwise like an unreliable source. Nevertheless, even if the bootleg is all you can find, you want it. It's one of Ze's easiest-to-take albums, which doesn't mean easy listening—it rocks way harder than the Byrne-approved Estudando a Bossa – Nordeste Plaza, which focused on lilting Bossa Nova duets including one with the label owner and ex-Talking Head himself. The metal-resembling, triangular guitar riffs of Ze's Stateside debut Brazil Classics Vol. 4: The Best of Tom Zé return to mesh with elaborate arrangements like flutes and interrogative strings on "Tropicalea Jacta Est" and bouncy call-and-response tunes like "O Motobói e Maria Clara." The folded-in textures are as good as those on any Dirty Projectors or tUnE-yArDs album released since the proggification of indie, and he smokes the even more similar Man Man and Deerhoof, who don't invent their own little instruments and contraptions from leaves and blenders.
The thing would be near-perfect if it wasn't so top-heavy. The second half is much cheesier, from the Afro-Cuban moves of "Debaixo da Marquise do Banco Central" to the ukulele(-sounding) lullaby "Navegador de Canções." Since Zé's voice and melodies aren't as attractive as his library stacks of billowing, spiky sonics and broken, invented instruments, you'll nod off for a few cuts until track 14 comes roaring back with the sleaze-rocking "Aviso aos Passageiros" (dig that bassline and Santana guitar). There's plenty to ponder here and some of the best playing of his career—see the acoustic whirlwind leads on "Capitais e Tais." The album title means "Tropicalia Junk Logic." Make them aware and old Beck fans will rejoice. It deserves to be discussed the way Animal Collective albums are discussed.
Others Tagged With