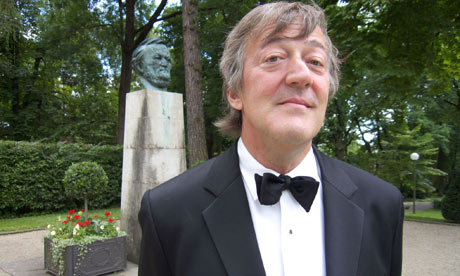 Feature documentary Wagner and Me has few surprises—it informs and entertains its audience and does so quite respectably. But what elevates the film above a standard "talking heads" doc, however, is the way in which it rekindles the spark some people feel for Wagner's music, and, through the infectious enthusiasm of host Stephen Fry, might even light the flame for others unfamiliar with Wagner.
Presented by renowned British presenter/actor/writer, Stephen Fry (Sherlock Holmes: Game of Shadows), Wagner and Me begins in Bayreuth, a Southern German town that is home to a magnificent annual festival celebrating Wagner's musical accomplishments. The epicenter of it all is the Bayreuth Festspielhaus, a theater that was built exclusively for Wagner and his musical dramas.
While in Bayreuth, the film follows the preproduction for "The Ring"—a four-opera "cycle" that is 17-18 hours long and usually plays in a single performance. The four plays are inspired by famous myths and are arguably Wagner's most famous compositions.
Fry, a true Wagner enthusiast, is given an all-access pass to the festivities and rehearsals in the days beforehand. Being granted such liberty is a dream come true for Fry, who reminds the audience that there is a seven-year waiting list for tickets to "The Ring" operas alone. Fry's adoration is slightly uncomfortable to watch at times, yet he is endearing as always with his humor, sincerity and extensive knowledge of one of his greatest heroes.
Fry watches from the sidelines and drools over the Valkyries—female warriors led by the stereotypically winged-helmet soprano, Brünnhilde—secretly wishing he could be one of their tribe. It is a wonderful look into the backstage goings-on of a hugely popular and thus well-funded set of productions, with all sets, costumes and instrumentation top of the line, "a treasure house," as Fry calls it.
Even more stunning are the orchestral and choral rehearsals, which truly are the guts of these productions in the first place. There is no denying that Wagner was a composing genius, a musical prodigy of the 19th century who has perhaps been too often overlooked next to the enduring popularity of other masters like Mozart and Beethoven. It is here that Wagner and Me does what documentaries do best—it lets the subject speak for himself, and his music is powerfully moving.
The film documents a good bit of biographical information on Wagner's life, interesting for the novice but not enough to be boring for the well-versed expert. It shows Wagner as more than a simple composer—he was revolutionary in both music and politics, strongly nationalistic and forward-thinking.
Wagner and Me would of course be remiss if it failed to address Wagner's greatest controversy—his disdain for the Jewish race and subsequent influence over one of history's worst genocides. Fry, who is Jewish, expresses his own inner conflict with Wagner because of this infamous anti-Semitism. While the film touches on Wagner's self-proclaimed repulsion toward Jews, it gives greater focus to how much his music inspired Adolf Hitler. According to the film, many of Wagner's classic mythical themes of Good versus Evil appealed to Hitler, along with the powerful thrill of the music, enabling him to move masses with these enigmatic anthems. Overall, the filmmakers strike a good balance of the cold truth of Wagner's sins versus the enduring value of his talent.
Director/writer Patrick McGrady (The Machine That Made Us and Channel 4's Time Team) clearly has an interest and a flare for covering historic figures and events, and while it is Fry's vision driving this film, McGrady brings it faithfully to life.
Wagner and Me is well edited and directed, not too flashy and full of good content that answers the viewers' questions on this man, his life, his music and his legacy. The sound is crystal clear and intense, as it should be in a documentary of this nature, and the camera work is full of nice shots and montages of Germany, Switzerland and Russia, as well as of the interiors of opera houses, the curve and shine of the instruments, and the passion of the performers and technicians.
The aim of the McGrady's film appears to be a simple one—a filmmaker's desire to reignite an appreciation for this master composer/dramatist, despite the stains on his character and their historic repercussions. For the most part, Wagner and Me succeeds on this score and should achieve its purpose with a target audience of classical music lovers and historians, with a respectable viewership of curious music enthusiasts and high-brow indie film goers.
Director: Patrick McGrady
Writer: Patrick McGrady
Starring: Stephen Fry
Release Date: December, 2012
Others Tagged With