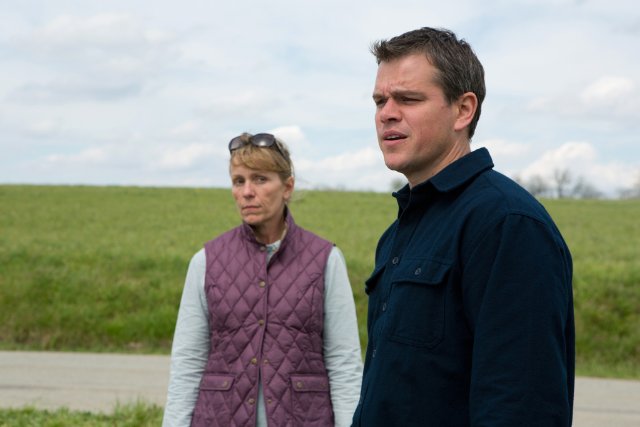 Oscar-winning screenwriter Matt Damon has reunited with his Good Will Hunting director Gus Van Sant on this earnest environmental drama centered on natural gas extraction—aka fracking. Along with co-writer/co-star John Krasinski, Damon puts a human face on a polarizing news story, casting himself as antihero salesman Steve Butler, whose job it is to get struggling landowners to sign their energy rights away. He brings hope to small towns whose way of life is fading, and he believes in his message, having seen his own hometown die with the closing of a Caterpillar plant. "I'm not a bad guy," he insists, all the while offering bribes as the cost of doing business and willfully exaggerating or downplaying the amount of natural gas flowing underground to serve his purpose.
Steve's partner, Sue (Frances McDormand), is at once more realistic and pragmatic about the whole thing. She seems to understand the controversy, but to this single mom, "It's just a job." She's willing to put doubts aside in order to provide for her child at home, all the while preying on her targets' concerns for their own kids, promising them better schools and Little League uniforms. McDormand is wonderful, as always, real and down to earth and vulnerable to a little flattery from a local guy.
This natural gas issue is a complicated business, pitting ecological concerns against the welfare of rural Americans and, frankly, dependence on coal and oil. And between Damon's sincere pitchman and Krasinski's affable environmentalist with the pointedly meaningful moniker Dustin Noble, Promised Land attempts to present both sides of the argument while ultimately falling decidedly on the side of anti-corporatization. Indeed, a third-act plot twist so demonizes Steve's company, ominously and generically named Global Crosspower Solutions, that it undermines all the carefully evenhanded work that went into crafting his character.
Meanwhile, aside from a '70s-esque palette that flattens the visuals and revels in inky blackness, Van Sant is largely stylistically absent from the film—no wonder, as Damon originally planned to direct himself before giving up the idea due to a packed acting schedule. After the crowd pleaser Good Will Hunting, Van Sant and Damon collaborated as director-writer on the exquisitely existential Gerry. But that was more than a decade ago; their latest project represents a step backward in originality and audacity.
Director: Gus Van Sant
Writers: John Krasinski, Matt Damon
Starring: Matt Damon, John Krasinski, Frances McDormand, Rosemarie DeWitt, Scoot McNairy, Titus Welliver, Hal Holbrook
Release Date: Dec. 28, 2012
Others Tagged With