Catching Up With The Deep Dark Woods' Ryan Boldt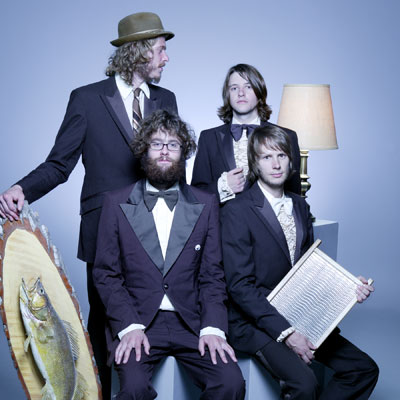 It's been a busy couple of years for The Deep Dark Woods, the Saskatchewan-based roots band, and I was lucky enough to catch Ryan Boldt, the group's main singer and songwriter at his home in Saskatoon during a rare break from the band's grueling touring schedule. But, Boldt's been busy during his break preparing to record a new album, rehearsing with a new guitarist and trying to get tickets for Safe Haven, the newest film adaptation of a Nicholas Sparks novel, which features a new Deep Dark Woods song as well as a cameo from the band. Though they're often compared to other Canadian artists like The Band, Gordon Lightfoot and Neil Young, The Deep Dark Woods have worked hard to create a loose, grungy folk sound that—for all its references to the past—is increasingly their own.
Paste: Hi Ryan. Thanks for taking the time out to talk with me. You've had to deal with a lot of changes recently.
Boldt: Yes, a lot of us in the band, well, we kind of grew up together. We went to summer camp and things like that, so we were all really close. But, Burke—our guitarist and one of my oldest friends—just quit the band. He's done. He's tired of the touring and everything that comes with it.
Paste: He couldn't take it anymore?
Boldt: The life certainly isn't for everybody and after a while, it takes its toll— especially if you have a girlfriend at home. I am recently single myself, so I know how high the price is for what we do. I've recently realized that you have to decide whether or not you're going to commit your life to music or to another person. It's unfortunate, but it's starting to seem to me that that's the way it has to be. We got to a stage with the band where we had to make a decision. Burke chose a normal life with another person, and I decided to stay with music. I don't know yet whether that's a good choice! [big laugh]
Paste: Have you found someone else to play guitar?
Boldt: We found a replacement named Clayton Linthicum from down south in Wood Mountain, Saskatchewan. He's an amazing guitar player and traditional musician. We're going to Europe together, and he gets to play his first show in Paris.
Paste: That's a great way to rope him in. You can tell him all your gigs are like that.
Boldt: Yeah, we have him fooled!
Paste: Have you played in Europe before?
Boldt: Yes. We do well over there, especially in Holland and the UK. We've been over there twice before, and the shows keep getting bigger. It's really great. We're getting really good press, and the BBC has had us on a bunch of times.
Paste: I'm continually amazed by the European fascination with North American roots music. What do you think the appeal is for them?
Boldt: I think they find our music very exotic. It's been like that since the '60s since artists like Cream and John Mayall got so obsessed with American blues and rediscovered it before the Americans did. For me personally, I'm totally obsessed with music from England and Ireland, so maybe it's the same fascination, just in reverse for them. We love Davey Graham and Bert Jansch from the UK, and we've been really influenced by them. We'll be playing the Kilkenny Festival in Ireland right at the end of the tour. But, right before we head over, we'll be going to Banff in the Canadian Rockies to record our next album. We'll be working with a producer from LA named John Wilson. I really like the sound he gets on his recordings. He's worked with Father John Misty, and he's played with people like Bob Weir and Phil Lesh—who used to play in the Grateful Dead. He seemed like a good fit for what we like to do.
Paste: Was the Grateful Dead an influence for you?
Boldt: I am drawn to all types of music, but the Dead were the band that introduced me to traditional music. I was into Dylan, too, but it was the Dead who introduced me to artists like Elizabeth Cotten and Mississippi John Hurt.
Paste: The Dead don't really get a lot of respect in the press these days. I think a lot of people don't realize the richness of what they had to offer. They introduced so many people to Ornette Coleman and Miles Davis' music.
Boldt: It's kind of sad that because of the whole hippie thing that goes along with it, people assume that they're a garbage band who jam too long or whatever. I think that all you'd have to do for people who think like this is play "Brokedown Palace" off American Beauty and ask them if they think that's not a good song.
Paste: I've heard songs like "Pretty Peggy O" in your live set. Is that a song that the Grateful Dead introduced you to?
Boldt: Yes, we actually got to play that song live with Phil Lesh. He played bass and sang on stage with us.
Paste: That must have been a "pinch me" kind of moment.
Boldt: Yeah, it really was. I really couldn't believe what was going on. It was at his restaurant, Terrapin Crossroads. It was amazing. We'd met Phil the year before. He'd come out with his son to one of our shows. Another time, we opened for Bob Weir and Phil, and it was amazing to sit and talk about music with people I'd been listening to for most of my life.
Paste: You're often compared to Canadian groups from the '60s like The Band. Do you think there's a recognizable Canadian sound?
Boldt: That's a good question. I think that you can tell when a band is Canadian, but it's hard to pin down exactly what it is that makes it easy to tell. Back in the day, I think you could identify what was Canadian about The Band or Ian and Sylvia, but it's not like that anymore. Canadian bands now don't sound that different to me. But, I don't listen to a lot of modern Canadian music, so I think it's hard for me to answer that question. I'd rather put on the Harry Smith Anthology than listen to much else when it comes down to it. It's a funny thing to try and express what's Canadian about our sound because when I'm playing, I'm usually trying to copy Americans! [big laugh] Obviously, there must be something Canadian that comes out when I play, but I think I'm more like Eric Clapton who tried to copy all of the old American blues guys back in the '60s.
Paste: …and still came off sounding so impeccably British.
Boldt: Yeah!
Paste: Who have you been listening to recently?
Boldt: I've been listening to the Tom T. Hall album In Search of A Song a lot.
Paste: That's more than 40 years old! Anything current?
Boldt: You caught me there. Have I listened to anything more recent than that lately? Nope, but I have been really liking all the Lee Hazelwood reissues that have been coming out lately.
Paste: Well, we're getting a little more modern here. Lee's only been dead for half a decade or so. So, what is it about archaic American music and the whole mythology that surrounds it that's so appealing for you?
Boldt: Mostly, I like the topics they sing about….
Paste: The hobos and drifters jumping trains after killing their girlfriends by the river…..
Boldt: Yeah! …. and I like the recording techniques. On those Lee Hazelwood albums, for instance, there's so much reverb added to the vocals. Most people nowadays wouldn't be able to handle that, but back then they'd do things like drench all the strings in reverb. George Harrison did that a lot, and I love the sound it creates.
Paste: You've got a song on the soundtrack for Safe Haven, and you appear in the film as the house band at a party. The film's been doing very well at the box office. Was it an enjoyable experience for you to be in a movie?
Boldt: It was fun, but it was stressful because I'm more of a slow song guy. I'm sure you could tell that. [laughs] Anyway, they just told us they needed the song we wrote for the film to be upbeat. Upbeat and chipper. I was kind of worried about that. I wrote the song called "My Baby's Got to Pay the Rent" while traveling between Georgia and Edmonton about a month before they offered us the movie, so I worked on it a bit and tried to change it into a happy song. There were lots of references in the lyrics to American locations I was passing through while writing it, so I thought it seemed like a good song to sing at a Fourth of July house party—which is what we were doing in the movie. Our scene was shot on a deck overlooking the ocean.
Paste: Have you been to the theater to see yourself on the big screen yet?
Boldt: That's funny. I guess it was number two at the box office last weekend, so when I went to go with a couple of friends, it was sold out and we couldn't get tickets. So, I'll have to wait.
Paste: That's gotta make you feel good—having the film you appear in sold out when you want tickets?
Boldt: No doubt!
Others Tagged With