Yeah Yeah Yeahs: Mosquito
[Interscope]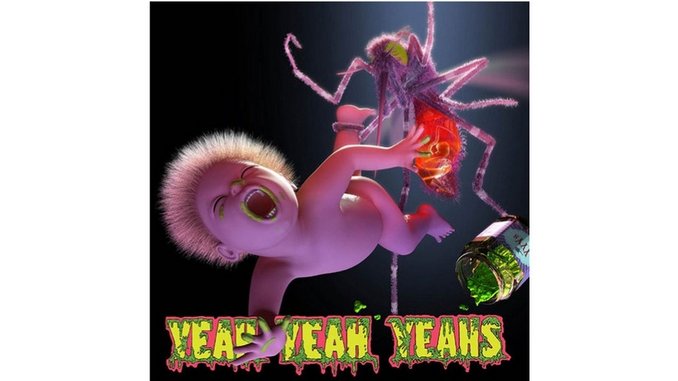 People who can't understand why "Mosquito" is the title track of Yeah Yeah Yeahs' fourth album are thinking too big. Yeah Yeah Yeahs are one of the tiniest rock bands of all time. From David Sitek's pingy production to Nick Zinner's spiny, waistline-matching guitar doodles to Karen O's shrieked whispers to communications as frail as "They don't love you like I love you/ Maps maps maps maps," this band has always been about filtering a large sound through a tiny, tinny megaphone.
A song like "Mosquito," where O tries on voices and accents just to ultimately deliver the tiny-rock manifesto "We'll suck your blood" for a hook is a perfect reminder of just how good this band is at wielding small firecrackers. They fuck with it too; hear Zinner's spry little riff on "Sacrilege" get subsumed by the goddamn Broadway Inspirational Voices choir, before backing down into their most claustrophobic track ever, "Subway," which allegedly takes its rhythm from NYC's J/M/Z line. But for all the "weird" curveballs, this feels like the band's most comfortable, reflective album. Even the R.L. Stine-inspired cover is no grosser than Fever to Tell's neon scrawl. Even their sacrilege feels like the belief itself.
Mosquito is where this band finally grooves, after long threatening—"Heads Will Roll" could've preceded any number of dance tunes, floor jams, DFA remixes. James Murphy helms one track, "Buried Alive," and it's indistinguishable from the rest except that Kool Keith drops in as Dr. Octagon for a weird little verse. But if you're not paying close attention, you could still miss it. This is an album that pulsates so warmly with misty familiarity that you could miss the rap verse because you're lost in the cavernous drums. The dub-damaged "Under the Earth" drifts into the swampy ascent of "Slave" before the disorienting synth-and-rimshots of "These Paths" gently surface to an album peak, bobbing to the top of these scraps rather romantically. Karen keeps ascending in pitch while the music retains an oceanic calm, intensified only by an extra percussion click or two. This all gives way to "Area 52," a rewrite of "I Wanna Be Your Dog" to be about aliens, with a "passenger" reference just in case the Iggy homage could be mistaken for a coincidence.
If it sounds like a mixtape, that's because it essentially is. If it sounds scattershot, that's where you'd be wrong. There was a time where punk, dance, reggae and rap coexisted on the same new wave plane; think Blondie, The Slits, Bow Wow Wow, Pylon. For a band who knows their history with their own vocal and guitar sound, the genre-hopping is a natural fit. It also helps that O is a natural roleplayer, whether relishing a vampiric insect or mourning her own wedding. But her band's swift changes border on microscopic, hard to notice until they bite you and don't let go.
Others Tagged With