Grigris (2013 Cannes review)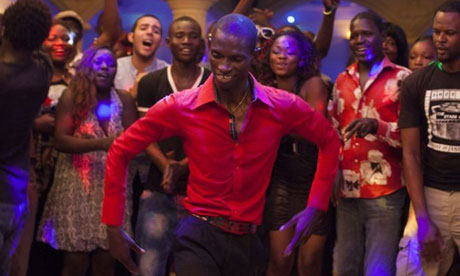 If he lived somewhere else—or had been dealt a better hand—maybe Grigris would have a happier life. And yet despite being hampered by a crippled left leg and living in poverty in Chad's capital city of N'Djamena, this slender 25-year-old almost always has a smile on his face. Maybe it's in part because he's found an escape from the world around him through dancing at a local nightclub, his friends and admirers chanting his name whenever he takes the floor. His moves are graceful, his confidence without question. Despite his difficult situation, his sweet temperament seems bulletproof.
Filmmaker Mahamat-Saleh Haroun's Grigris wonders how a man with such a sunny disposition can survive with his spirit intact, and for most of this casually engaging drama, that answer remains uncertain. This isn't a particularly gripping tale of crime and love, but it works on a character level. You like Grigris more than you love the movie.
Souleymane Démé plays Grigris, who as the film begins learns that his beloved father-in-law is gravely sick, needing money to pay for a lengthy stay in the hospital. But Grigris is poor and no one can help him—except, that is, for Moussa (Cyril Gueï), a local criminal who will pay him handsomely to help smuggle precious petrol in the dead of night. Grigris shouldn't, but what choice does he have?
Grigris is in some ways a predictable crime-doesn't-pay cautionary tale, its underdog hero quickly realizing a way to bring in more money from these illegal activities by cutting out his employers. You don't need to guess how that turns out, but Haroun's calm, simple filming style gives the movie a dry intensity that makes the slim story more riveting than it would be otherwise.
Démé, a newcomer, is endlessly charismatic in the lead role. But he's not coyly adorable: There's toughness and street smarts within him as well, the easy smile a way to hide darker realities. (Haroun has said that he based the film somewhat on Démé's real background in dance, grafting a smuggling plotline on top of that.) Importantly, Démé has terrific chemistry with fellow first-timer Anaïs Monory, who plays a village beauty named Mimi who has had to do questionable things herself to earn a living. It's a simplistic love story, but Haroun, who last made the award-winning A Screaming Man, wisely latches on to Démé, a potent rooting interest who enlivens a meaningful but schematic study of African poverty, a subject too often overlooked by Westerners.
But even if the plotting is a trifle trite, that doesn't mean that Haroun can't find ways to surprise. Once Grigris runs afoul of his criminal cohorts, the film switches gears to become a subdued, slow-motion chase movie, Grigris hiding out with Mimi in the small, isolated community where she grew up. Grigris builds to what seems like an inevitable showdown between Grigris and the bad guys, but Haroun subverts those expectations to deliver something unexpectedly more hopeful—and yet starker at the same time. Crime may be a grim constant in Haroun's homeland, but he argues that there are ways to combat it, even if it means taking the law into your own hands.
Director: Mahamat-Saleh Haroun
Writer: Mahamat-Saleh Haroun
Starring: Souleymane Démé, Anaïs Monory, Cyrus Gueï, Marius Yelolo
Release Date: Screening in the Official Competition at the 2013 Cannes Film Festival
Others Tagged With