Heli (2013 Cannes review)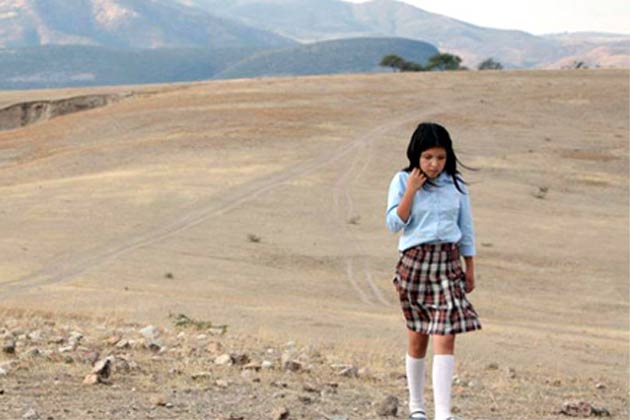 The world of Heli is a dark and desperate one. Set in an impoverished isolated Mexican community, director Amat Escalante's spare, unflinching drama treats crime and violence as regrettably commonplace occurrences. From Heli's perspective, it's not surprising that lawlessness exists in that country's remote regions—but it is somewhat miraculous that it has yet to visit the film's main characters. Until now.
The movie, which got its world premiere at the Cannes Film Festival on May 15, stars newcomer Armando Espitia as Heli, a young man in his 20s who lives in a small house with his wife (Linda Gonzalez), their infant, his 12-year-old sister, Estela (Andrea Vergara), and their father. Lanky and looking more like a kid than a grownup with a child, Heli is nonetheless responsible and protective—not just of his baby but also of his impressionable sister.
No wonder Estela is hiding her relationship with Beto (Juan Eduardo Palacios), an oafish police cadet who doesn't have the constitution for the job and seems interested in marrying the underage girl mostly so he can sleep with her. Wanting to start a new life with Estela, Beto makes off with some confiscated illegal drugs, figuring that selling them will bankroll their future. Heli gets wind of Beto's plan, however, dumping the narcotics to protect his sister. Unfortunately, that doesn't help him when masked, crooked law enforcement officials break into Heli's home, taking him, Estela and Beto captive until they recover their drugs.
Escalante's third feature—his first two, Sangre and Los Bastardos, screened at Cannes but failed to secure U.S. theatrical distribution—boasts a nicely controlled tone that's subdued but pitiless, calmly showing how Heli's home is under assault both from within and from without. Coping with an unhappy wife who's resentful that he moved her so far away from her family, Heli works a tiring, menial job at a local automobile plant, his economic prospects looking terribly dreary. And as the film's brutal opening, which includes armed men hanging one of their victims from the edge of a bridge, suggests, there are plenty of life-or-death fears outside his door—after all, he's living in an area where the gang members and the police might be one and the same.
Despite Heli's moments of grim, shocking violence, Escalante doesn't revel in his occasional scenes of torture or murder. With its wide-open skies and desolate, barren terrain, the environment of Heli could almost resemble a stoic, unromantic Western, with Heli serving as the one good man trying to be virtuous in a world crumbling into chaos. Espitia is quietly engaging in the role, but Escalante's despairing worldview can sometimes be too bleak for its own good. Trying to connect one family's plight to Mexico's struggles with police corruption and drug trafficking, the filmmaker skimps on the character detail. Instead of creating a societal portrait, the bone-dry Heli is a little too methodical and dispassionate for its emotional undercurrents to fully register. No one can argue with Escalante's seriousness of purpose and his confidence as a visual storyteller. (He and cinematographer Lorenzo Hagerman stage a few superb single-take scenes during particularly dramatic moments.) But for all the horrors Heli reveals about modern-day Mexico, it's stubbornly lacking in insight about the characters that live there.
Director: Amat Escalante
Writers: Amat Escalante, Gabriel Reyes
Starring: Armando Espitia, Andrea Vergara, Linda Gonzalez, Juan Eduardo Palacios
Release Date: Screening in the Official Competition at the 2013 Cannes Film Festival
Others Tagged With