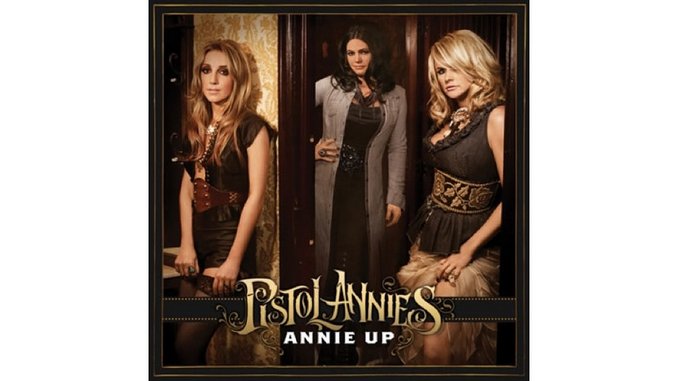 They worked better as a cartoon than a franchise. Like most follow-ups, this is deliberate rather than freewheeling, and you can tell by such attempted concepts as "Blues, You're a Buzz Kill" and "Dear Sobriety." You can also tell by the thudding electric band that puts concrete boots on "Unhappily Married" and "Loved by a Workin' Man." Unlike most follow-ups, this comes on the hell-heels of arguably the young decade's best album so far. So Nashville's finest are running on a big gas tank, with principals Ashley Monroe and Miranda Lambert hitting a stride, having filed Like a Rose this year and the classic Crazy Ex-Girlfriend in 2007 respectively, and third wheel Angaleena Presley still waiting to drop a debut that should hold its own well if her Annies songs are any indicator (plus she's been on a Kid Rock track with T.I., shouldn't that count for something?).
So this isn't Hell on Heels. What is? The last album where every line was tack-sharp and every note arranged like a bouquet without much guile or budget would probably take you back to the Magnetic Fields of 1999. Even mostly acoustic it filled the air with brains and beauty and didn't waste a minute of its 30. But more importantly it was light on its feet—nothing on the appropriately titled Annie Up comes as effortless as "Bad Example" or "The Hunter's Wife." Mired in swampy blues-rock, nothing's as delicate as "Beige" or "Housewife's Prayer" either.
But put the impossibly long-sounding 42 minutes away for a week, and you'll return with astonishment at the opening three tracks: the molasses-thick "I Feel a Sin Comin' On," the riffed-up "Family Feud" sequel "Hush Hush" and the only thing here that could've fit on Heels, "Being Pretty Ain't Pretty," a waltz about how much effort goes into effortlessness itself. Listen sideways and it could be a comment on Nashville perfectionism itself. They're too big to fail though, so lightning half-strikes plenty here, especially on "Trading One Heartbreak for Another" ("I'm finally alive but it's killing who I'm living for"), "Unhappily Married" ("I'll be the bitch and you'll be the bastard") and a "Don't Talk About Him, Tina" from the kind of people Rihanna needs around ("Hey bartender, my friend needs a double").
So "Dear Sobriety" bites Taylor Swift's "Dear John" syntax, and the arena-requisite dynamic shifts from the sprightly "Damn Thing" into the atmospheric "Girls Like Us" don't segue. The choogle doesn't always groove, and the dearth of individual songwriting muddles the characters. But they're still the damn sweetest arena rockers in the land to end on a note like "I Hope You're the End of My Story": "I hope you're the last word I ever utter/ It's never your time to go." Having gone gold so they no longer have to dig for it, their hearts are in every line and note. But they can relax now, and figuring that out is going to be a much harder road than learning to take their commercial potential seriously.
Others Tagged With