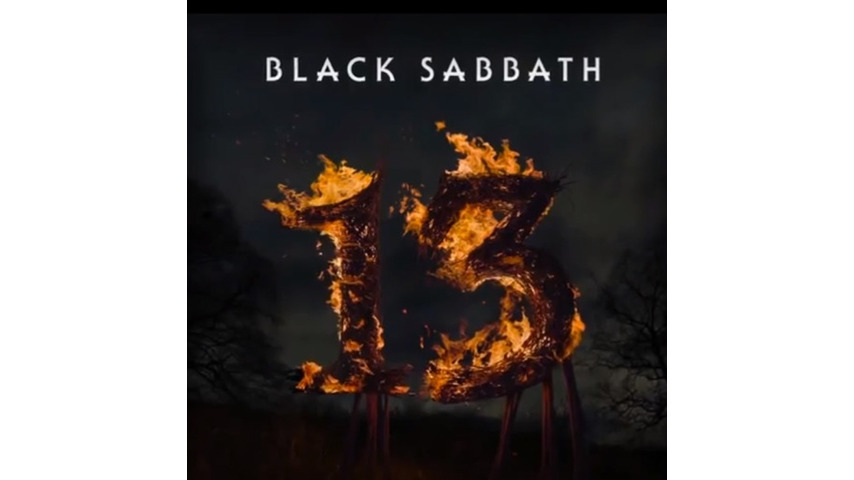 13—the first album in 35 years from Black Sabbath's original lineup—ends the same way their 1970 self-titled debut begins, with the proto-doomy sound of falling rain and a distant church bell. It signals that this is the bookend to the recorded output from the band that invented heavy metal. If that's the case, it's not a bad way to go.
Producer Rick Rubin—as he's done with many artists with varying degrees of success—took it upon himself to help resurrect Sabbath's classic sound. That itself makes this album a curiosity. If anything, Rubin should get credit for making bands revisit their earlier work before entering the studio. In this case he had the members of Sabbath focus on their debut album—the template for four decades of metal. And while it's easy to compare a new Sabbath album that features three-quarters of the OG lineup (drummer Bill Ward bailed after failed contract negotiations) to their spotless first five records, it would be foolish—not to mention unfair.
But the spirit of early Sabbath permeates 13, which is a solid record for those with realistic expectations. "Damaged Soul"— the album's best, and an early contender for a Sab classic—lugs out the heavy blues, with a wiry riff and Ozzy Osbourne letting loose a raging harp solo late in the song's eight minutes. The equally epic "Age of Reason" shows Tony Iommi upstaging his own monolithic riff with a ripping solo. Of course, one of the byproducts of bands trying to recapture the old magic is the tendency to ape themselves. Opener "End of the Beginning" has the same feel as "Black Sabbath," which opens their debut LP. "Loner" cribs the punchy riff of "N.I.B." And "Zeitgeist" is the psychedelic sister of "Planet Caravan."
The lyrics—historically penned by bassist Geezer Butler—also attempt to conjure up some evil, but occasionally come off sounding more silly than sinister. Maybe the biggest letdown is the ambiguously titled lead single "Is God Dead?," which teases at the dark scenario of a deceased God before Ozzy finally professes, "I don't believe that God is dead." Huh? Come on, Ozz, turn that cross around your neck upside down!
The absence of Ward also weighs heavy throughout the album. Former Rage Against the Machine drummer Brad Wilk shows admirable ability and restraint, although the production ends up softening his thunder. But forget that this is a Rick Rubin Joint. Sure, 13 suffers from sounding a little too sanitary, but Iommi's guitar work is still plenty Satan-y. Of course, those riffs have been the only consistent part of Sabbath's four decades on Earth. Even if you take the two weakest albums from the Ozzy Era—1976's Technical Ecstasy and 1978's Never Say Die!—they best many a metal band's best ("Dirty Women," come on!). Those albums could have spelled doom for the band. But 43 years after the release of that monumental first record, I believe Black Sabbath is very much alive.
Others Tagged With