Catching Up With Sigur Rós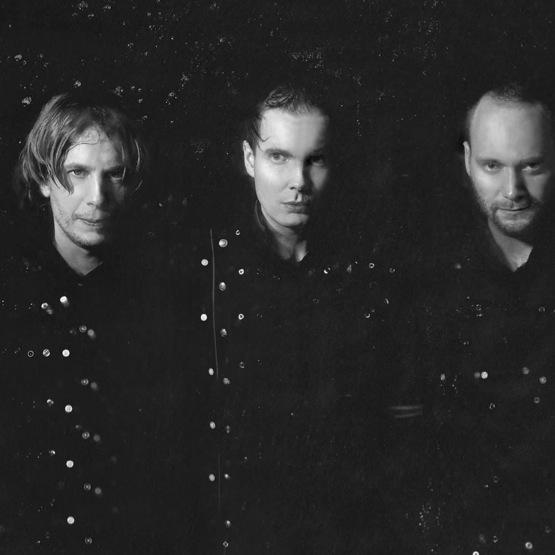 When Kjartan Sveinsson unceremoniously quit Sigur Rós last year, his old band lost a major musical force. Over five studio albums (including 2012's largely ambient Valtari), Sveinsson was the Icelandic post-rock band's most versatile member (and arguably, its secret sauce)—a multi-instrumentalist with a flair for lush orchestral arrangements and angelic keyboards.
But instead of pausing to reflect on their future, the band's remaining trio—frontman Jónsi Birgisson, bassist Georg "Goggi" Hólm, drummer Orri Páll Dýrason—pushed forward, channeling an explosive, visceral vibe for their seventh studio album, Kveikur. It isn't a "departure album" as much as a jolting return-to-form, blending evocative soundscapes with electronic flirtations and a proggy, percussive edge.
Paste spoke with Jónsi during a break in the band's current tour. Along the way, we discussed their sonic evolution and the experimental writing process behind their new album.
Paste: Are you back in Iceland?
Jónsi: We are—we're back in Reykjavik. I'm at the dog park. I'm taking my dog for a walk.
Paste: Kjartan is obviously a brilliant musician, and his contributions to the last four or five Sigur Rós albums were so hugely important. When he told you he was leaving, did the three of you think for a second that you might want to break up the band, or was it immediately clear that you'd continue as a trio?
Jónsi: He'd kind of been thinking about it for many years, thinking about it on and off that he wanted to do his own thing. So it was only fair and understandable. And when he made the decisions to leave, we never thought about getting somebody else to replace him. I think we just wanted to keep on with the three of us.
Paste: I know that the traditional Sigur Rós writing style is very unconscious—everyone sitting in a room, playing instruments without speaking, waiting for some magic to happen. Did that writing process change now, since you were working as a trio?
Jónsi: I think it kind of was a little bit different. Kjartan left, and that was a big change for us. We were kind of missing his fourth dimension from our writing, so maybe we kind of started the album songwriting a little different than usual—a little more experimental, a little more adventurous, an unknown process. We were using the computer a lot, playing with plug-ins and textures and samples and stuff like that, just to play with. I think it was a little different. And we talked about it a little more than usual, actually. I think we wanted to have it a little moodier and darker, a little bit back to basics. We went to Orri's garage, practicing and stuff.
Paste: This album is coming out so quickly after [last year's] Valtari. Was any of this new material written during the previous tour?
Jónsi: Actually, none of the songs on Kveikur were written on tour. It was all written at home, basically, at various places: in rehearsal spaces, in Orri's garage and in the studio. But none of it was written on tour.
Paste: A lot of people are talking about the aggressive, visceral nature of this new album. At times, it almost feels like your band's version of progressive rock.
Jónsi: Yeah! [laughs]
Paste: Do you think that aggression—the emphasis on bass and drums—was simply a reaction to the previous album, which was a lot more ambient and spacey?
Jónsi: We started Kveikur when we were doing Valtari—or before we decided to finish Valtari. We started on Kveikur, started writing songs. So we took a break from Kveikur and decided to finish Valtari with Kjartan. We had a lot of leftover songs. When we were doing Valtari, we had Kveikur in our hands, and we wanted it to be kind of the opposite—well, maybe not completely opposite—but very different from Valtari, which is kind of dreamy with not much drums. So I think Kveikur was kind of the opposite of that—bass and drums really in your face.
Paste: So Kveikur was that album you originally intended to make before Valtari?
Jónsi: Yeah, we started writing songs for Kveikur just the three of us—me, Goggi and Orri. Kjartan had quit the band, basically, or was thinking about it. So the three of us were writing songs, and then we took a break from that and finished Valtari.
Paste: How long did you actually spend writing and recording Kveikur?
Jónsi: I'm not sure. Maybe we've been working for two years or something. We took some time writing the songs without recording, but when we started recording, we did that quite quickly. It was kind of a quick process compared to usual Sigur Rós, which is usually lazy and slow. But this was pretty quick, actually.
Paste: I know that Alex had a really huge influence in the end product of the previous album. This new one is self-produced, which—at least on paper—is something you guys haven't done since Von.
Jónsi: It was basically self-produced. And like you were saying earlier, we usually don't talk about the end result, but with this album, we were talking about it—the three of us—how we should make it sound. [We said] it should be different from previous albums. We wanted to have it darker and moodier. We had sounds and atmospheres in our heads when we started writing the songs, so we basically did it ourselves with the recording, and we got Alex to help us mix in the end. He recorded some of my vocals and strange instruments, but he helped us put the finishing touches on the mixing.
Paste: There's an emotional, visceral quality to this album. I've been a fan of the band since Agaetis Byrjun, and I haven't been this emotionally affected by one of your albums since then.
Jónsi: Yeah! I think when Kjartan left, it was kind of a kick in the ass. We had to step up our game and do something different. I think maybe the last couple albums, we were on auto-pilot. Well, maybe not auto-pilot, but not thinking too much.
Paste: When you do so many albums together in the same way, it probably gets too easy to write music.
Jónsi: Yeah, definitely! For example, on Með suð í eyrum við spilum endalaust, we were working with Flood, the producer. I think we kind of gave him a hard time. Like you said, we know how to write songs, and we just do it this way. I think he was trying to suggest some different ways, and we were pretty close-minded about it. But for this album, we were really open-minded and wanted to try some different things—but kind of on our own terms, in our own way, just by ourselves.
Paste: "Brennisteinn" has the potential to be my favorite Sigur Rós song of all time. I love everything about this song, and it's such an intense journey. What inspired that track?
Jónsi: It started just the three of us working in the rehearsal space in the studio, and we started playing on the computer with this really dirty bass sound, like feeding it to the bass amp. And that's basically how the song started—with this really dirty, growly bass sound. Orri put on a drum beat, and I did some guitar and vocals. And the second half came from another song we were doing, and it fit perfectly with this. And the ambient outro came when we were mixing or something—it kind of came really late in the game. It's a lot of different parts in that song, but they all fit together.
Paste: "Isjaki" is another one of my favorites. It's gorgeous.
Jónsi: That song started—we were playing in the rehearsal space, sampling and making our own instruments—bowing ukuleles and acoustic guitars and acoustic basses. Bowing all the strings and all the notes and putting it down on sampling keyboards. Goggi was playing on these bowed ukulele samples, and we arranged it into a song. That song came together really quickly—like in two hours. It kind of wrote itself. It's also one of my favorite songs—it's a good pop song.
Others Tagged With